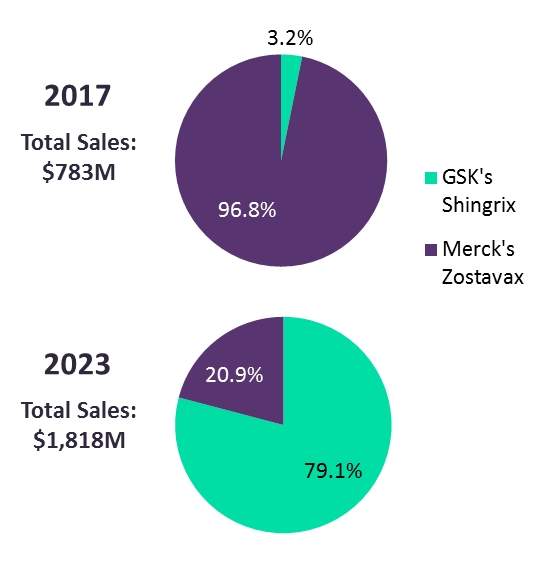 In 2017, both GlaxoSmithKline (GSK) and Dynavax Technologies emerged as clear winners in the vaccines marketplace due to highly anticipated vaccine approvals in the US.
GSK's Shingrix received the coveted ACIP recommendation in the US, positioning the firm as the dominant player in an anticipated multi-billion-dollar herpes zoster vaccine marketplace. Shingrix's superior efficacy in adults ≥50 years of age led the ACIP to recommend it over Merck's Zostavax.
Projected global market shares for herpes zoster (shingles) vaccines approved as of 2017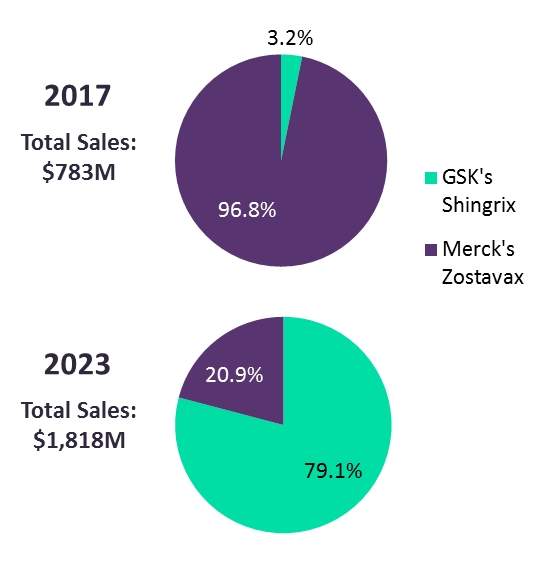 Source: GlobalData, Pharma Intelligence Center; figures ($M) represent projected 2017 and 2023 global sales
In November 2017, Dynavax received long-awaited FDA approval for its hepatitis B vaccine, Heplisav-B. To assuage safety concerns surrounding its adjuvant, the vaccine was investigated in over 12,000 adults across five Phase III clinical trials.
Heplisav-B's superior efficacy and dosing schedule compared with GSK's Engerix-B should allow it to quickly garner market share in the US. Dynavax is opting to commercialise Heplisav-B alone, foregoing partnerships with more experienced vaccine distributors.
Projected global sales ($m) of Heplisav-B, 2017–2023
Source: GlobalData, Pharma Intelligence Center; figures ($M) represent projected global sales