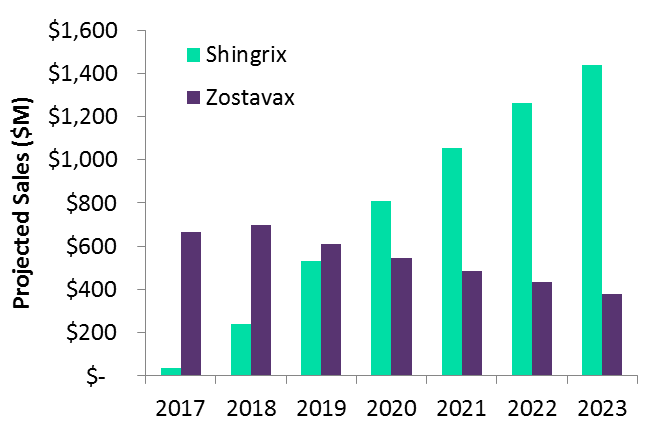 On March 23, GlaxoSmithKline (GSK) announced the regulatory approval of its best-in-class herpes zoster vaccine, Shingrix (zoster vaccine, recombinant [adjuvanted]), for adults ≥50 years of age in Europe and Japan.
The news, while certainly positive, overshadows a series of key deals quietly brokered by GSK with CVS, Walgreens, Albertsons, and other leading drugstore chains, which have made Shingrix available in over 22,000 retail pharmacies across the US.
With adult vaccines historically falling far below desired coverage rates, GSK is counting on Shingrix's widespread availability at retail pharmacies, paired with an aggressive marketing campaign, to accelerate its uptake in the world's most lucrative vaccine market.
This past October, the US Centers for Disease Control and Prevention (CDC) recommended Shingrix over Merck & Co's Zostavax (zoster vaccine, live-attenuated), due to Shingrix's superior efficacy in adults ≥50 years of age. According to Emma Walmsley, GSK's CEO, the CDC's decision opens the door for 100 million US adults to receive Shingrix, positioning it as the dominant player in a potentially $1B marketplace. Given these advantages, GlobalData anticipates that Shingrix will quickly displace Zostavax and meet these expectations.
The figure below provides an overview of projected global sales for GSK's Shingrix and Merck's Zostavax from 2017–2023.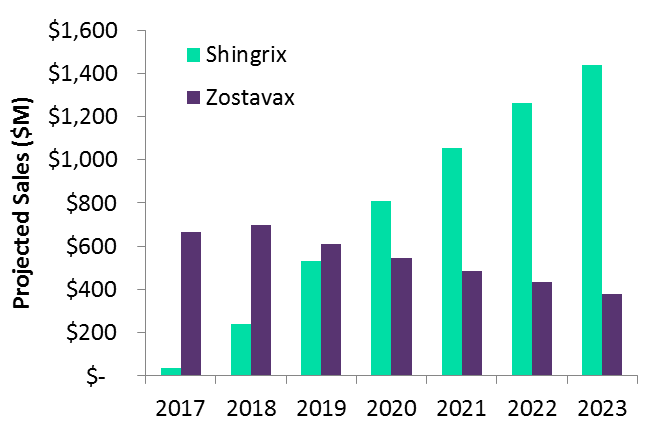 Despite Shingrix's clear advantage over Zostavax from an efficacy perspective, barriers to its uptake do exist. For example, experts who voted against the preference for Shingrix voiced concerns about the potential for unanticipated adverse events associated with the vaccine's AS01 adjuvant system, which could become apparent once used in a larger population. They also criticised the lack of a comparative head-to-head study between the two vaccines.
These concerns notwithstanding, GlobalData views low adult immunisation rates as the greatest barrier to Shingrix's uptake and long-term commercial success—a hurdle GSK is astutely addressing through deals with retail pharmacies.
In contrast to pediatric vaccines, which rely heavily on patient-provider relationships to maximise uptake, adult vaccines such as Shingrix may draw a larger benefit from the retail pharmacy model, which offers a more convenient setting for many adults to be vaccinated. With most public and private insurers covering preventative interventions such as vaccines, cost should not be an issue for most recipients.
Given GSK's commitment to making Shingrix one of its core revenue-generating assets over the next 2–3 years, GlobalData anticipates that the company will overcome these formidable obstacles and make Shingrix its next blockbuster vaccine franchise by 2020.