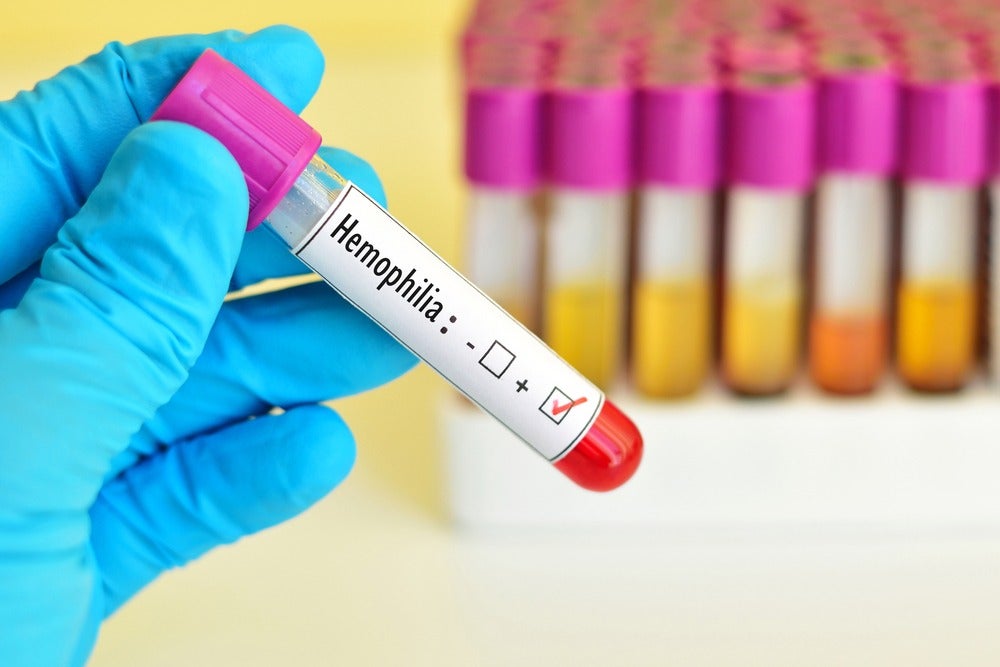 March is Bleeding Disorders Awareness Month in the US, which is observed and sponsored by the US National Hemophilia Foundation in an effort to recognise a variety of conditions that result in abnormal blood clotting and to raise funds and awareness for better treatments and cures.
Although individually these conditions are relatively rare, collectively they impact millions of patients worldwide, with around three million in the US alone.
Hemophilia treatment overview
Hemophilia A and B are inherited deficiencies in the clotting factors VIII (FVIII) and IX (FIX), respectively, which result in poor clotting following minor trauma and uncontrolled, spontaneous bleeding.
Treatments for hemophilia have long centred on prophylactic or on-demand intravenous infusions of plasma-derived or recombinant clotting factors to replace the missing or deficient levels of FVIII or FIX, thus preventing or controlling bleeding episodes and preventing long-term joint damage.
A significant unmet need for new therapies
Although current treatments are effective, there is a significant unmet need for new therapies that can reduce the frequency of prophylactic infusions and alleviate some of the treatment burden associated with intravenous administration, and reduce the risk of development of neutralising antibodies, or inhibitors, against replacement therapies.
The promise of gene therapies to target these significant areas of unmet need and potentially eradicate, or at least reduce the severity of, hemophilia in one single administration has been widely discussed in the disease market for years. Gene therapies would provide long-term expression of the deficient clotting factor in the patient, producing steady levels to reduce or eliminate the need for infusions of factor replacement.
Therapies in late-stage development
Of the 34 hemophilia gene therapies currently active in clinical development, five are now in the late stages, including BioMarin 's ValRox (valoctocogene roxaparvovec; BMN-270) and Spark Therapeutics' SPK-8011 for hemophilia A, and uniQure's AMT-061, Freeline Therapeutics' FLT-180a, and Pfizer/Spark Therapeutics' SPK-9001 (fidanacogene elaparvovec) for hemophilia B. ValRox is vying for the first-to-market advantage, aiming to launch as early as 2020, following an FDA accelerated approval.
Hemophilia treatments: gene therapies
Gene therapies will, however, face great market access challenges to reach their smaller target patient populations as they represent entirely new approaches to treatment that are not necessarily affordable; for example, BioMarin is expecting ValRox to cost $2 to 3 million per patient.
Value assessment, pricing, and reimbursement will present as the major market access hurdles, and as such, models will need to be adjusted to address pressing factors such as the high upfront costs of treatment, and the lack of long-term data and robust statistical evidence of efficacy and safety. Further, new levels of collaboration amongst relevant stakeholders such as governments, payers, manufacturers, and providers will be critical to facilitate viable commercialization of gene therapies.
Assessing the value of gene therapies is complex and time-consuming; therefore, manufacturers will have to provide clear and comprehensive supporting material to fulfil the data needs, whereas payers will have to consider different endpoints to define treatment success.
For example, traditional approval of hemophilia treatments requires that they demonstrate a reduced annualised bleeding rate (ABR); however, draft guidance from the US Food and Drug Administration (FDA) released in 2018 suggests that accelerated approval may be gained from surrogate endpoints for efficacy such as attaining factor activity levels within the range of the normal population.
Further, the FDA recommends monitoring for adverse events for at least five to 15 years following gene therapy administration; therefore, it may become mandatory for manufacturers to provide real-world evidence, either from additional post-marketing studies or patient registries, in order to address uncertainty of treatment success and determine fair value for both the manufacturers and payers.
Therapy reimbursement
Value-based models, including outcomes-based (or pay-for-performance) payments, have been considered for the reimbursement of gene therapies such as Spark Therapeutics' Luxturna (voretigene neparvovec), a gene therapy that was approved for the treatment of a rare inherited retinal disease costing $850,000 ($425,000 per eye). Here, the therapy is reimbursed if it meets defined target performance outcomes within an agreed time for each patient, relieving payers of the costs of unsuccessful treatments.
Annuity payment models have also been discussed, whereby payers reimburse the treatment in instalments that are spread over several years of successful treatment, alleviating the burden of high upfront costs. It is likely that payers will use a combination of new and existing approaches to managing the financial risks of gene therapies.
With the first gene therapies in hemophilia expecting to launch next year, it will be imperative to imminently re-define and implement value assessments, pricing and reimbursement strategies to support their market access and ensure they are widely available and sustainable, otherwise patient access to gene therapies will be hampered by these market access challenges.
Forthcoming reports:
GlobalData. Hemophilia – Epidemiology Forecast to 2028, to be published.
GlobalData. Hemophilia A and B – Global Drug Forecast and Market Analysis to 2028, to be published.