The multinational bank HSBC's acquisition of Silicon Valley Bank UK was praised as the UK Government and Bank of England moved quickly to secure the deal over the weekend. The recent collapse on March 10, 2023, of the then-parent company Silicon Valley Bank, was the second largest bank failure in US history.
Silicon Valley Bank, headquartered in California, was the 16th largest bank in the US, known for providing financing to startups and emerging companies globally across the biotech industry and multiple other sectors. The saviour of Silicon Valley Bank UK has been well recognised by Steve Bates, OBE, CEO of the BioIndustry Association (BIA), stating, "HSBC has acquired some great new growing life science customers and kept the doors of some of the UK's fastest-growing life science companies open." The access to increased capital and international presence that HSBC provides could allow for the potential for biopharmaceutical companies to improve investment in development of therapies.
Silicon Valley Bank is a subsidiary of the SVB Financial Group that covers four businesses: Silicon Valley Bank – global commercial banking; SVB Capital – venture capital and credit investing; SVB Securities – investment banking; and SVB Private – private banking and wealth management. According to GlobalData's Pharma Intelligence Center Deals Database, figure 1 shows the parent holding company SVB Financial Group and its subsidiaries were involved in more than $1.4bn in total venture financing raised from 2010 to 2022 for drug development. There is also an increase shown from 2010 to 2020, with more than $400m in venture financing invested in 2018 alone. Furthermore, 2020 was also a record year for venture financing; however, 2021 and 2022 saw less investment as recovery from the Covid-19 pandemic, the Ukraine crisis and inflation caused market volatility. This, therefore, caused a less favourable environment for risk-averse investors across the biotech industry.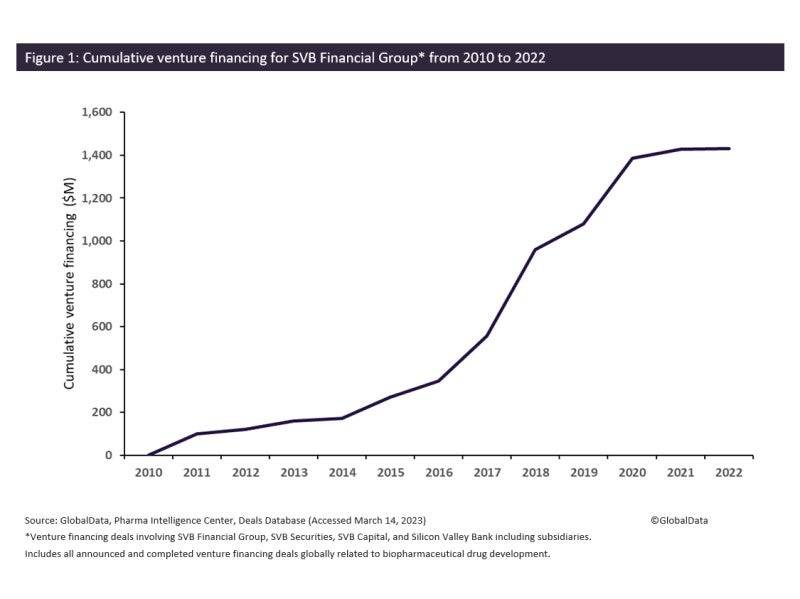 The biopharmaceutical company Pharming Group, based in the Netherlands, which develops innovative protein replacement therapies and precision medicines for multiple rare diseases, stated the HSBC acquisition of Silicon Valley Bank UK would allow it access to its $19m deposit and not bear any losses. Other European biopharmaceutical companies have also stated they expect to recover their deposits, such as Danish Zealand Pharma, involved in the discovery and development of innovative peptide-based medicines, which expects to recover its $23.4m in deposits.
Silicon Valley was a leading provider of venture debt, a type of financing in the form of a loan used by early-stage startup companies to raise capital, and it remains to be seen how this void will be covered and whether there could be a slowdown in venture debt. However, the saving of Silicon Valley Bank UK by the international bank HSBC could provide greater access for biopharmaceutical startups to international markets and global networks of investors. This could open doors to greater collaboration between biopharmaceutical and startup companies and create further opportunities for drug development, driving innovation in the industry.