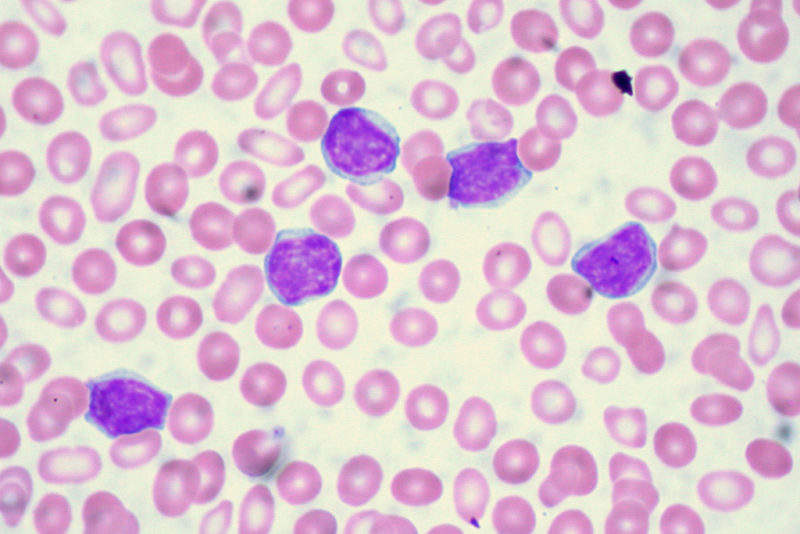 Initial data presented earlier this month at the ASCO 2018 meeting for the Phase II CAPTIVATE study of Imbruvica (ibrutinib) plus Venclexta (venetoclax) in treatment-naïve chronic lymphocytic leukemia (CLL) patients are encouraging, demonstrating the combination regimen to be highly active and safe in the first 30 patients analyzed.
However, patients enrolled in this trial were all under 70 years old and with a median age of 58—considerably younger than the median age of diagnosis for CLL of 72 years—thus restricting the combination regimen's ultimate future approval to a smaller and younger patient pool if submitted for accelerated approval based on the Phase II CAPTIVATE trial results. Furthermore, Imbruvica + Venclexta will face competition from the combination of Imbruvica + Gazyva (obinutuzumab), which has already reported positive data in the Phase III iLLUMINATE study of treatment-naïve CLL patients; it is also being compared to Gazyva + chlorambucil chemoimmunotherapy, while yet another threat is posed by the German CLL Study Group's triplet regimen of Imbruvica + Venclexta + Gazyva, which has a shorter duration of treatment of 12 months compared to the 15 months associated with Imbruvica + Venclexta combination therapy.
Nonetheless, experts interviewed by GlobalData consistently expressed a positive outlook for Imbruvica + Venclexta and its potential to limit the length of therapy, which would not only be of greater convenience for patients and thus simultaneously contribute to improved compliance and potentially improved patient outcomes, but would also prove more cost-effective to healthcare systems in the long term because of the possibility to eventually stop therapy. The doublet (Imbruvica + Venclexta) and triplet (Imbruvica + Venclexta + Gazyva) regimens, at a cost of $287,404 and $302,948, respectively, for the full course of fixed duration therapy per patient in the US, would represent approximately a 59% and 57% cost savings when compared to single-agent Imbruvica or Venclexta taken over five years.
The ongoing Phase II CAPTIVATE study involves treatment with single-agent Imbruvica for 3 cycles prior to 12 cycles of combined Imbruvica + Venclexta therapy, either as a fixed duration treatment or as a continuous regimen until disease progression or unacceptable toxicity with subsequent Imbruvica, Imbruvica + Venclexta or placebo therapy. Initiation with Imbruvica lead-in monotherapy has shown an ability to effectively reduce tumor bulk and lower the proportion of high-risk tumor lysis syndrome (TLS) cases from 23% at baseline to 3%, therefore avoiding interventions and hospitalization of patients. Most promising, however, is the reported ability of Imbruvica + Venclexta to eradicate detectable disease, as indicated through the minimal residual disease (MRD)-negative status of the peripheral blood in 93% of patients and of the bone marrow in 86% of cases for 14 patients who received the full 12 cycles of combination therapy. Furthermore, 77% of the 30 patients who had just six cycles of Imbruvica + Venclexta therapy also demonstrated undetectable blood MRD, highlighting the potential of the combined treatment to induce deep responses early on that may allow for a fixed, time-limited duration of therapy compared to the indefinite treatment currently associated with single-agent Imbruvica or Venclexta.
AbbVie/J&J's Imbruvica is very effective as a monotherapy in treatment naïve and relapsed/refractory CLL patients with demonstrated durable disease control. Nevertheless, the majority of patients treated with Imbruvica will present with residual disease in their blood and/or bone marrow and typically have only a partial remission as their best response, meaning continuous therapy with single-agent Imbruvica becomes essential to control their CLL. Although AbbVie/Roche's Venclexta induces MRD-negativity in a significant proportion of CLL patients even when taken as a monotherapy, it also commonly leads to persistently enlarged lymph nodes. Hence, Imbruvica's impressive ability to shrink CLL in the nodes and Venclexta's capacity for clearing CLL from the blood and bone marrow supports combination of the two oral drugs, with their different mechanisms of action having already demonstrated potent and synergistic activity in early-stage studies.
While the interim data reported for the Phase II CAPTIVATE study are promising, a larger-scale Phase III study is also essential, which commenced in April of this year in the treatment-naïve patient population, but excludes those with high-risk 17p deletion and/or p53 mutation. The superior efficacy that has so far been reported for Imbruvica + Venclexta, which may ultimately suggest a curative capacity for the regimen, as well as its potential as a time-limited therapy that would reduce treatment-related toxicities in patients, all contribute to the optimistic outlook for the combination therapy in CLL.