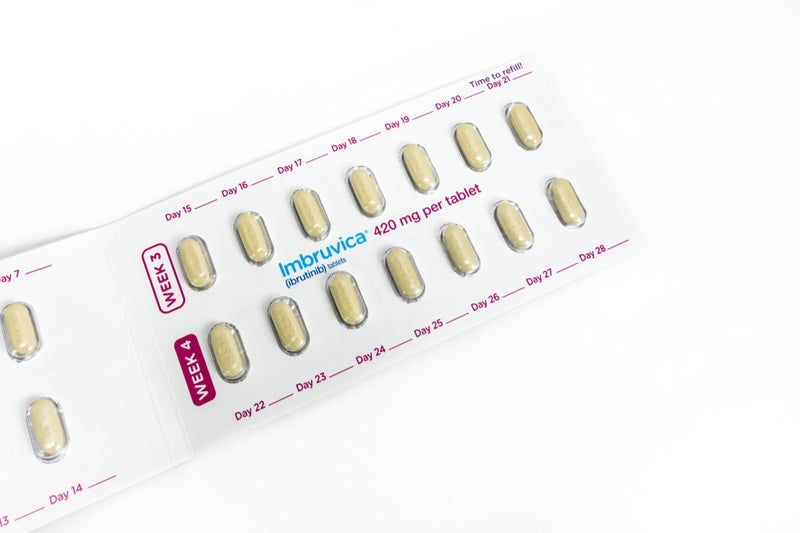 The EC has approved the use of Imbruvica in combination with obinutuzumab (Gazyva, Roche) in adult patients with previously untreated chronic lymphocytic leukaemia (CLL) and in combination with rituximab (Rituxan, Roche) for treating adults with Waldenström's macroglobulinemia, a rare form of lymphoma.
Imbruvica is a selective small-molecule inhibitor of Bruton's tyrosine kinase (BTK), a signalling kinase expressed in B-cells that functions downstream of the B-cell antigen receptor (BCR).
New role for Imbruvica
Imbruvica blocks BTK proteins, thereby preventing both B-cell activation and B-cell-mediated signalling. This leads to an inhibition of the growth of malignant B-cells that overexpress BTK, thus delaying the progression of cancer.
Imbruvica is currently approved in Europe for the treatment of CLL as a monotherapy or in combination for treating adult patients who have received at least one prior therapy. It is also approved for use in mantle cell lymphoma (MCL) for the treatment of adult patients who have relapsed or refractory MCL.
European key opinion leaders (KOLs) have also reported the use of Imbruvica as a monotherapy for the treatment of marginal zone lymphoma (MZL), an indication for which it has approval from the US Food and Drug Administration.
Imbruvica is facing increased competition from AstraZeneca's second-generation BTK inhibitor, Calquence (acalabrutinib). AstraZeneca recently announced promising data from a Phase III trial to support the use of Calquence for treating CLL.
Calquence was shown to significantly prolong the time that relapsed or refractory CLL patients live without disease progression. In August 2019, Calquence was granted breakthrough therapy designation from the FDA as a monotherapy treatment for CLL.
Despite FDA approval for the treatment of MCL in 2017 and positive clinical trial data for other indications, Calquence is still behind the blockbuster status of Imbruvica. Imbruvica generated a total of $5.6 billion for Janssen and AbbVie in 2018 and is forecast to generate $11.9 billion in 2025. In comparison, Calquence generated just $62 million last year, but it is forecast to reach blockbuster status in 2023 and generate $1.6 billion in 2025.
Despite this, AstraZeneca is looking to continue to make gains on Abbvie and Janssen, with Calquence being developed for a wide range of indications, including multiple myeloma, follicular lymphoma, diffuse large B-cell lymphoma, and Waldenström's macroglobulinemia. It also has the potential for label expansion into the first-line treatment of MCL.
Related Reports
GlobalData (2019). Expert Insight: Mantle Cell Lymphoma: BTK Inhibitors Possess the Highest Commercial Potential, June 2019, GDHC2510EI
GlobalData (2019). B-Cell Non-Hodgkin's Lymphoma (NHL): Opportunity Analysis and Forecasts to 2027, June 2019, GDHC097POA
GlobalData (2018). Chronic Lymphocytic Leukemia: Opportunity Analysis and Forecasts to 2027, November 2018, GDHC077POA