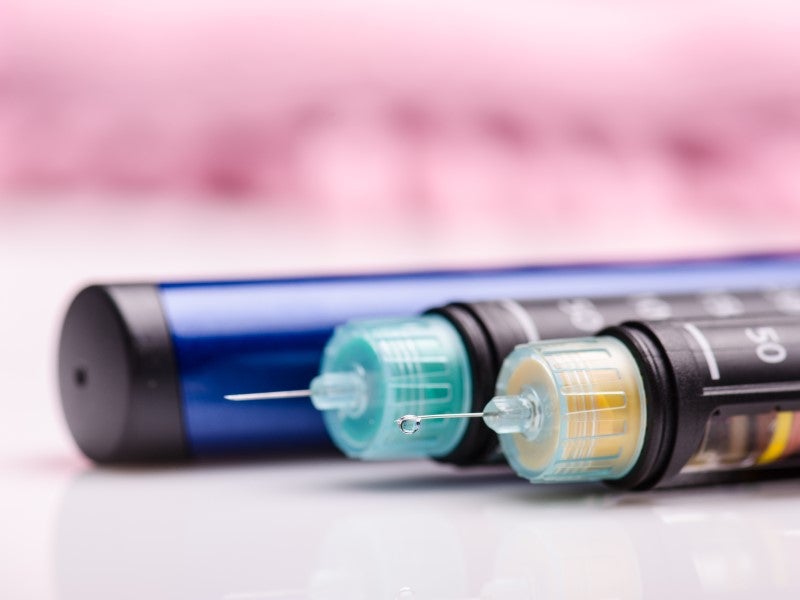 On 3 March, the Juvenile Diabetes research foundation (JDRF) announced a new collaboration with Civica to help combat the nationwide insulin affordability crisis. Civica, a nonprofit generic pharmaceutical company, launched its Insulin Initiative, which aims to drive affordability and accessibility for all Americans, regardless of insurance status.
Civica will manufacture one long-acting insulin biosimilar, Sanofi's Lantus (insulin glargine), and two rapid-acting insulins, Novo Nordisk's Novolog (insulin aspart) and Eli Lilly's Humalog (insulin lispro). Civica anticipates a price of no more than $30 per vial and $55 per box of five pen cartridges – a significant discount to prices charged to individuals today. For reference, according to GlobalData's pricing database, a box of five pen cartridges of Humalog costs $612.51 at its current wholesale price, and the cost of currently marketed lispro biosimilars, also sold by Eli Lilly, is $190.94 for a set of five pens. The high cost of insulin poses a major barrier to glycemic control for type 1 diabetes patients, and GlobalData expects that the rise of biosimilar insulins will provide strong competition to ultimately lower the cost of insulin.
This collaboration announcement is the latest in a series of public steps being taken to drive down the cost of insulin. There has been some progress in recent years – in select states and through certain commercial insurance providers – to lower or cap the cost of insulin. On February 23, New York Senator and Senate Majority Leader Chuck Schumer announced legislation to cap the cost of insulin to $35 for most patients with diabetes. Schumer plans to bring the bipartisan legislation to a floor vote in March. Insulin pricing also had its moment to shine at the State of the Union on March 1, where US President Biden threw his support behind the insulin cap and pushed to let Medicare negotiate lower prices for prescription drugs.
Unfortunately, these movements alone are not enough. PhRMA, a lobbying organisation for the industry, opposes Biden's stance on Medicare, and responded immediately to his address, claiming that allowing the government to set the price of medicines will lead to less access to medicines and less future innovation. Sanofi, in its recently published annual report on how it prices drugs, pointed to rebates and fees that it pays to pharmacy business managers, which raise the cost of drugs. The company said that while it has dropped the net price of its top insulin, Lantus, by 62% since 2012, the out-of-pocket cost to patients has risen 60%.
By entirely changing the production and pricing model, Civica will be able to provide more affordable insulin options to those who are uninsured or underinsured, regardless of whether substantial pricing legislation is able to be passed. Key opinion leaders interviewed by GlobalData hope that biosimilars will help bring down the out-of-pocket cost for patients. Due to payer-pharma contracts, a therapeutic would have to be significantly cheaper for a new contract to be made, or to encourage patients to pay directly out of pocket. Civica's current pricing model may achieve that. By making insulin more affordable, patients will be more likely to adhere to the treatment regimen prescribed by their healthcare providers, as opposed to rationing their insulin due to the cost.
Other companies who have backed Civica's initiative include Kaiser Permanente, Blue Cross Blue Shield, Providence, Trinity Health and Beyond Type 1.