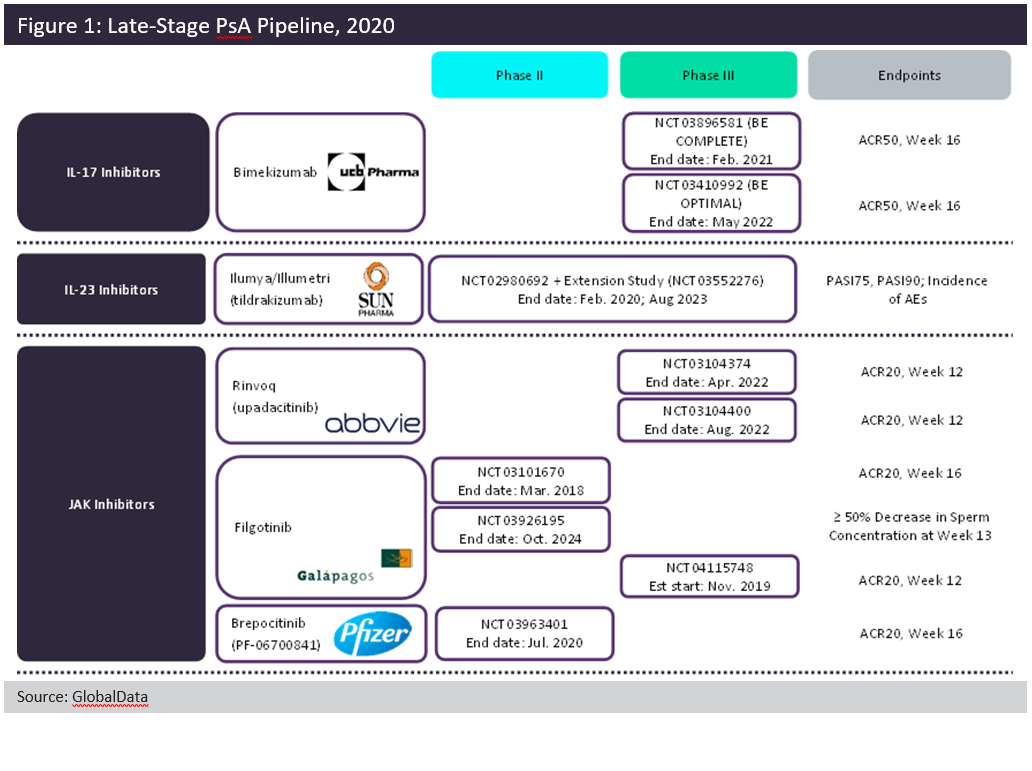 Despite the plethora of therapies currently available to patients with psoriatic arthritis (PsA), there is still room for improvement within the treatment space. GlobalData anticipates the launch of five new agents among the 7MM (seven major markets: US, France, Germany, Italy, Spain, UK, and Japan): two interleukin (IL) inhibitors and three oral Janus kinase (JAK) inhibitors. Figure 1, above, summarises the Phase IIB and Phase III trials for the five late-stage pipeline candidates.
These pipeline agents largely build upon already-approved drug classes within the indication. Tildrakizumab selectively targets IL-23 via its p19 subunit. By the time of its launch, it will be the third therapy in its class, joining J&J's Tremfya (guselkumab) and AbbVie's Skyrizi (risankizumab). UCB Pharma's dual IL-17A/IL-17F inhibitor, bimekizumab, is set to join Novartis' Cosentyx (secukinumab) and Eli Lilly's Taltz (ixekizumab). Although the dual neutralisation of both IL-17A and IL-17F is novel for the field, it is unclear whether this dual inhibition will offer increased efficacy over other anti-IL-17 therapies. Oral JAK inhibitors are set to grow the most in the next ten years.
AbbVie's Rinvoq (upadacitinib) was first approved for rheumatoid arthritis in 2019 and is expected to be the first of the pipeline JAKs to launch in PsA. Gilead and Galapagos' filgotinib and Pfizer's brepocitinib tosylate are expected to follow suit. If approved, these three agents would join Pfizer's Xeljanz (tofacitinib), the only JAK inhibitor approved for PsA. Rinvoq and filgotinib both target JAK1 specifically, in contrast to Xeljanz, which targets both JAK1 and JAK3. Brepocitinib targets JAK1 and tyrosine kinase (TYK) 2. Although there is some novelty within the mechanisms, these five pipeline agents must demonstrate superior efficacy and/or safety in order to stake their claims within the saturated PsA field.