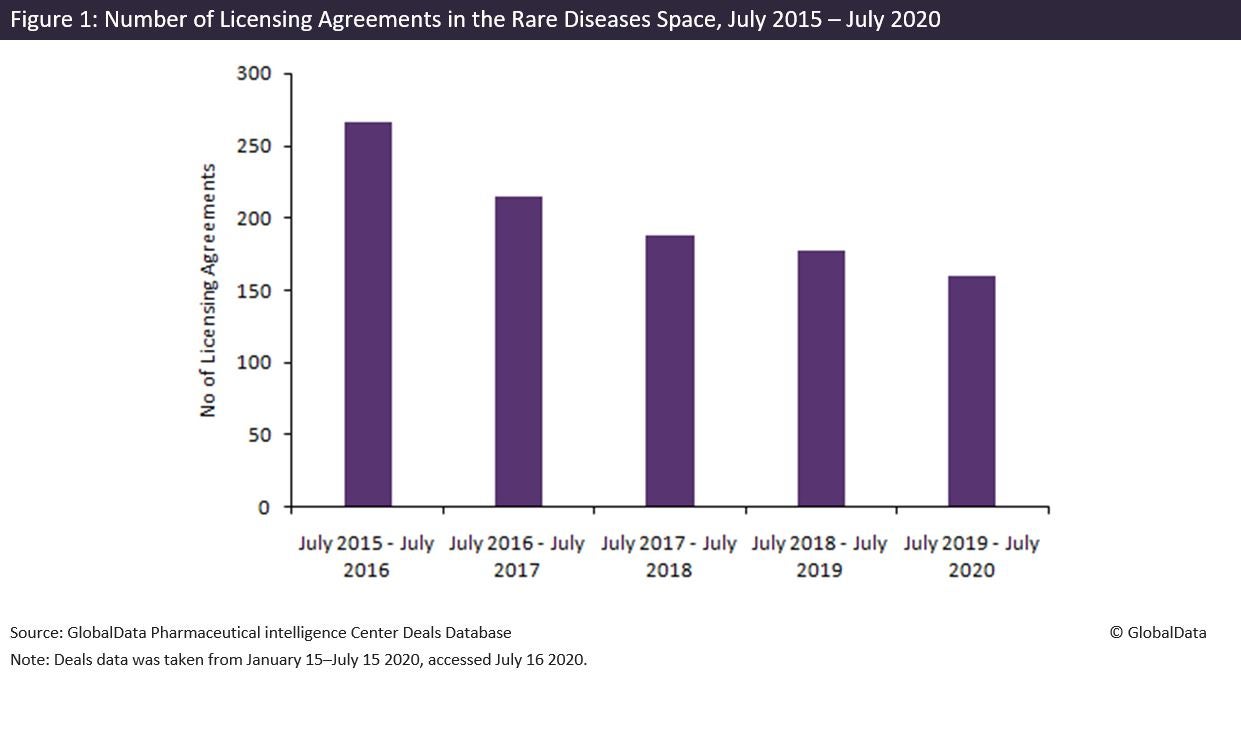 A panel of industry experts met virtually for the BIO 2020 conference this month to discuss deal-making in the rare diseases space, in a talk titled 'Advancing Rare Disease Diagnosis and Drug Development Through Partnership'. The group discussed some of the challenges presented by deal-making in an area where typically a smaller innovative biotech company partners with Big Pharma. The recent partnership deal between pharmaceutical giant Takeda Pharmaceutical Co and private biotech Evox Therapeutics, completed in March 2020 and valued at $882m, is an example of how Big Pharma companies are searching for innovative biotechs to invest in the rare diseases space. Indeed, of the strategic alliances formed by the top ten bio/pharma companies (by market cap) in the last year, 17% were in the rare diseases space, according to the GlobalData Pharmaceutical Intelligence Center Deals Database.
The panel considered the issues that may arise when two partnering companies have significantly different priorities and timelines. Sara Nayeem, Partner at New Enterprise Associates, commented: "When there's a joint steering committee and development is really collaboration, there you can see some challenges. Elaborating on this challenge, Nayeem added, "Small biotech moves more quickly, they may have fewer boxes to check in terms of moving a program forward". Big Pharma can capitalise on the fast-paced nature of innovative biotech by doing numerous deals at early stages. One large cap company that is keeping up with the pace of small biotech is Moderna, which Nayeem observed is 'partnering at a tremendous rate early on'. Moderna's success in developing its Covid-19 vaccine hopeful, mRNA-1273, may well be attributed to its clever deal-making early on – key partnerships with the Biomedical Advanced Research and Development Authority (BARDA) and the Coalition for Epidemic Preparedness Innovations (CEPI) enabled it to progress its candidate at a rapid rate.
Robert Iannone, executive VP of Research and Development at Jazz Pharmaceuticals, concurred that the trend in rare disease deals seems to be moving toward early-stage deals, observing that 'in some cases it's not even around a compound that exists yet'. He also noticed that the trend for what kinds of deals are being made in the rare diseases space was changing, moving away from simple licensing agreements. He noted, "what I'm seeing now, especially in the rare disease space, is much more collaboration and partnership [than licensing agreements]." This trend has been highlighted by high-profile partnerships such as the co-development deal between Gilead Sciences and Galapagos NV in August 2019, valued at over $6.5m. Data from the GlobalData Pharmaceutical Intelligence Center Deals Database also support this, showing that licensing agreements in the rare diseases space have decreased by 40% over the last five years.
When assessing the impact of Covid-19 on deal making in the rare diseases space, the panel seemed to agree that despite short-term hindrances such as not being able to meet potential deal partners face to face, the rare diseases space may well benefit from the emphasis on rapid innovation that the pandemic has brought about. Iannone commented "I'm finding that innovative trends are accelerating [since Covid-19]." The panel seemed to concur that both in terms of the Covid-19 drug development race and in the rare diseases space, committing to partnerships at early stages of development is the key to success.