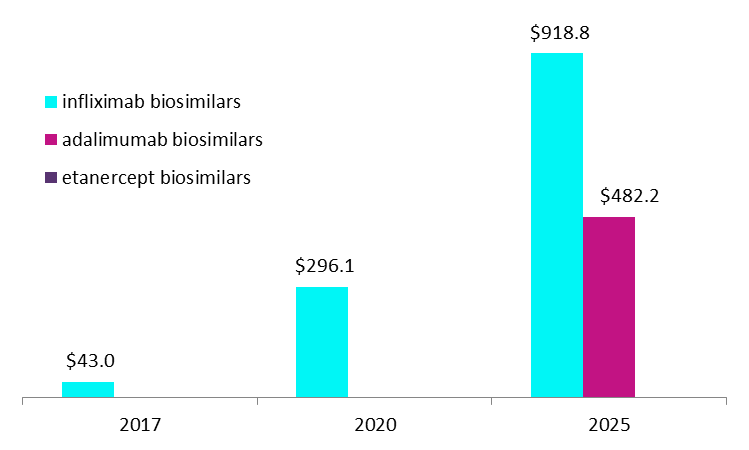 A trial due to start later this month to determine whether Sandoz can launch Erelzi (etanercept biosimilar) prior to patent expiry of Amgen's anti-tumor necrosis factor (anti-TNF) Enbrel (etanercept) appears to have been delayed until 20 June.
The FDA approved Erelzi in August 2016, but Sandoz has not launched its biosimilar due to ongoing patent litigations. Sandoz is disputing two of Amgen's patents covering rheumatoid arthritis (RA) blockbuster Enbrel, the first of which is due to expire in 2028 covering the fusion protein, and the second due to expire in 2029 covering the method of production. Sandoz claims the two patents do not specifically describe the Enbrel fusion protein they cover. If the court rules in favour of Amgen, Sandoz must wait at least another 10 years before launching Erelzi in the US market.
Actual and forecast US RA Sales – anti-TNF biosimilars, $M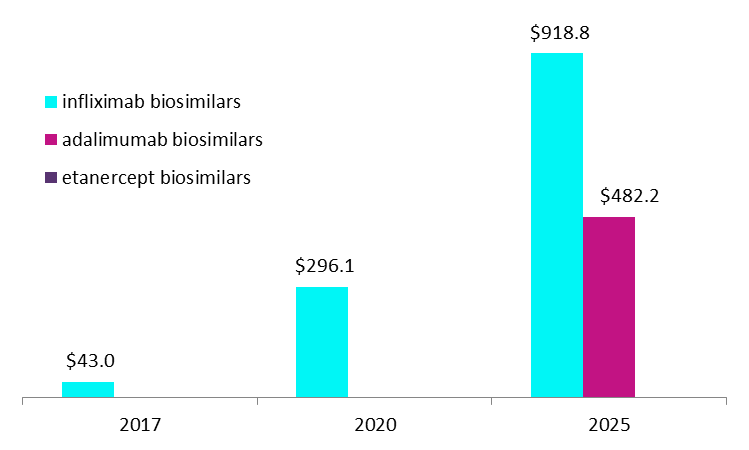 Source: GlobalData
Pfizer's Inflectra and Ixifi, and Merck's Renflexis – all infliximab biosimilars – are currently the only three anti-TNF biosimilars that have launched in the US market; GlobalData expects infliximab biosimilars to dominate the US anti-TNF biosimilar space for the next five years.
Following the Humira patent settlement between AbbVie and Amgen, the launch of not only Amgen's Amjevita (adalimumab biosimilar), but all FDA-approved adalimumab biosimilars, will be delayed until 2023. GlobalData anticipates a similar outcome for Sandoz, delaying the launch of all etanercept biosimilars until at least 2028. In the meantime, infliximab biosimilars will remain the only anti-TNF biosimilars available to patients in the US, generating sales of $918.8m in the RA market alone in 2025, while etanercept biosimilars will still be at least three years away from launch.
Related Reports
GlobalData (2018). Rheumatoid Arthritis (RA): Dynamic Market Forecast to 2025, November 2017, GDHC003FS.
GlobalData (2017). PharmaPoint: Rheumatoid Arthritis – Global Drug Forecast and Market Analysis to 2025, January 2017, GDHC143PIDR.