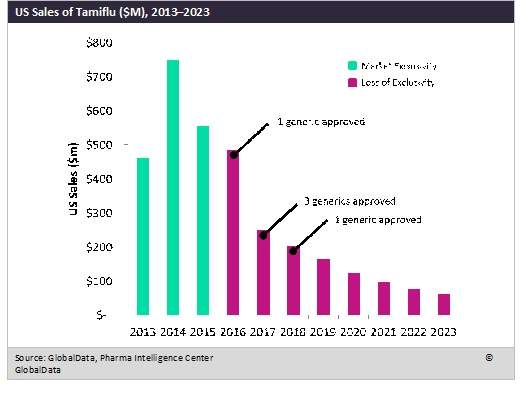 On February 12, Lupin Pharmaceuticals announced the launch of its generic version of Roche's Tamiflu (oseltamivir phosphate) in the US, making it the fifth company to receive FDA approval for a Tamiflu generic in the last 18 months.
The entry of Lupin's generic oseltamivir phosphate into the US market is timely given the severity of the 2017–2018 influenza season, which is quickly turning into one of the worst in recent memory and stoking public fears reminiscent of the 2009–2010 H1N1 pandemic.
Developed by Roche and approved in 1999, Tamiflu is a neuraminidase inhibitor (NAI) that exerts its antiviral activity by preventing both influenza A and influenza B from budding from the host cell. Other approved NAIs include GlaxoSmithKline's Relenza (zanamivir) and Seqirus' Rapivab (peramivir).
While they are only effective if administered within 48hrs of symptom onset, NAIs have demonstrated the ability to shorten the duration of influenza symptoms, with earlier treatment generally yielding better results. By far the most successful influenza antiviral, Tamiflu has enjoyed widespread use in the US and throughout the world, with global sales surpassing $2.9B in 2009 due to the H1N1 pandemic.
Given its historical success, Tamiflu's loss of market exclusivity has been immediately met with generic competition in the US. The figure below provides an overview of Tamiflu sales in the US from 2013–2023, including a timeline for the FDA approvals of generics beginning in 2016.
In the three years preceding its loss of market exclusivity in December 2015, Tamiflu sales never dipped below $450M in the US, and with the growing concerns surrounding the 2017–2018 influenza season and persistent public skepticism of vaccine effectiveness, GlobalData views the generic influenza antiviral market as having healthy growth potential, as evidenced by Tamiflu's projected decline in sales from 2018–2023.
While Lupin may have not been the first Tamiflu generic to market, there should be ample opportunity for the Mumbai-based pharmaceutical company to establish a niche for the drug, thereby strengthening its position in the lucrative US drug market.