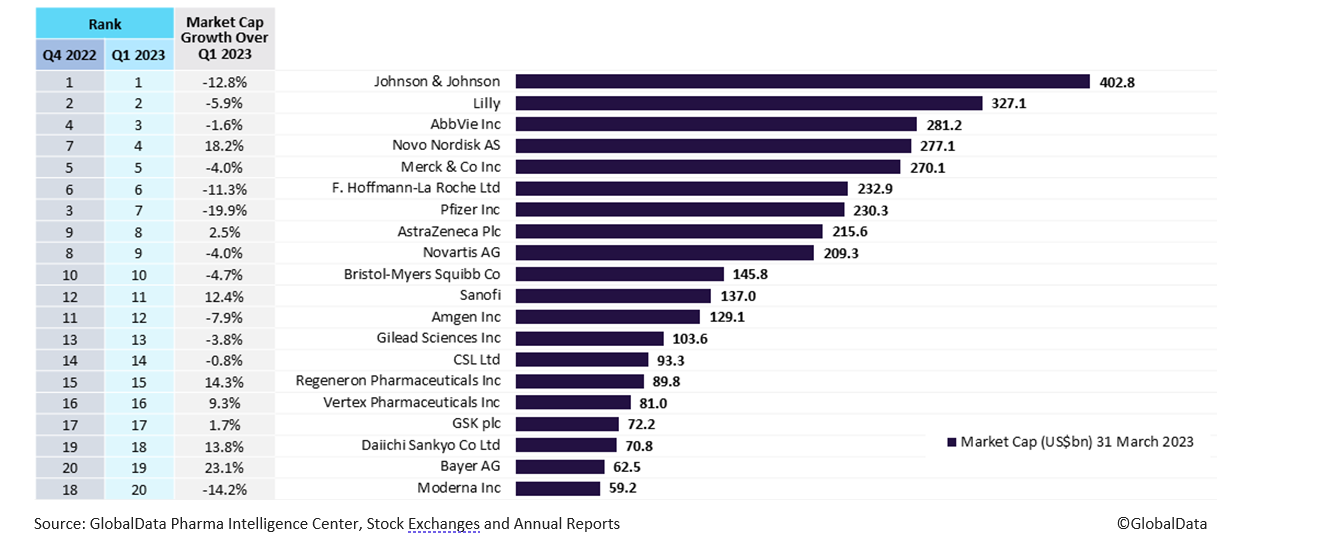 More than half of the top 20 global biopharmaceutical companies saw a fall in market capitalisation over Q1 2023. This resulted in a 3.4% decline in total aggregate market capitalisation from $3.61 trillion in Q4 2022 to $3.49 trillion in Q1 2023, according to GlobalData's pharma intelligence centre companies database.
Although 12 of the top 20 players reported negative growth in market capitalisation, eight companies saw positive growth with five companies achieving double-digit growth to more than 12%. The current macroeconomic environment has become increasingly challenging due to high inflation and rising capital costs.
Bayer reported the highest market capitalisation growth of 23.1% during Q1 2023 largely due to the advancement of a pair of Phase III trials, Oceanic-AF and Oceanic-Stroke, for their blood-thinning drug, Asundexian. The oral coagulation factor XI inhibitor is, according to Bayer, one of the largest Phase III programmes in its history and therefore has the potential as the next blockbuster drug to prevent strokes and thrombosis.
Novo Nordisk reported an 18.2% increase in market capitalisation over Q1 2023, fuelled by its robust portfolio of diabetes and obesity treatments – in particular, its line of glucagon-like peptide 1 receptor agonist (GLP-1) Type 2 diabetes drugs Ozempic, Rybelsus and Victoza. This growth is expected to continue, with a 62% growth in annual consensus sales forecast from 2023 to 2028, fuelled by the company's semaglutide portfolio, according to GlobalData's report, 'Looking ahead to 2023 – the future of pharma'.
Novo Nordisk's semaglutide obesity treatment, Wegovy, has also experienced a significant increase in demand, prompting the company to announce plans to increase production to meet supply demands this year. According to GlobalData's drugs database pharma intelligence centre, Wegovy is expected to generate an analyst consensus global forecast sales of $9.4 million by 2029.
Sanofi and Regeneron's market capitalisation grew by 12.4% over Q1 2023, attributed to a surge in sales of their jointly developed drug Dupixent, which recently gained approval for the treatment of paediatric atopic dermatitis, eosinophilic oesophagitis and prurigo nodularis. Although Sanofi may face generic drug competition this year for its multiple sclerosis drug, Aubagio, the company is expected to maintain their sales of Dupixent, accounting for 43.3% of Sanofi's annual consensus sales forecast growth from 2021 to 2028, according to GlobalData's report, 'Looking ahead to 2023 – the future of pharma'.
Johnson & Johnson maintained its leading position despite a decline of 12.8% on 31 March 2023, owing to the discontinuation of their respiratory syncytial virus (RSV) vaccine at Phase III development and ongoing concerns over lawsuits around the company's baby powder products. Despite Johnson & Johnson's robust pipeline, the company is also facing challenges due to several drug patent expirations in 2023, two of which are blockbuster immunology drugs, Stelara and Simponi.
Although Pfizer lost its position in the top three players in Q1 2023 due to an expected drop in sales of its Covid-19 vaccine, Comirnaty, and antiviral treatment, Paxlovid, the company made major strides in advancing its pipeline development. Pfizer is currently awaiting FDA approval on their RSV vaccine, expected by May 2023
Q1 2023 saw the top biopharmaceutical companies that found success with their Covid-19 drugs over the past two years experience a decline in market capitalisation. These top players are currently facing challenges due to the volatility of financial markets and the impending patent expirations in the coming year. Leading biopharmaceutical companies continue to face inflationary pressures on drug pricing and will look to find strategic ways to offset revenue loss from blockbuster drugs losing market exclusivity.