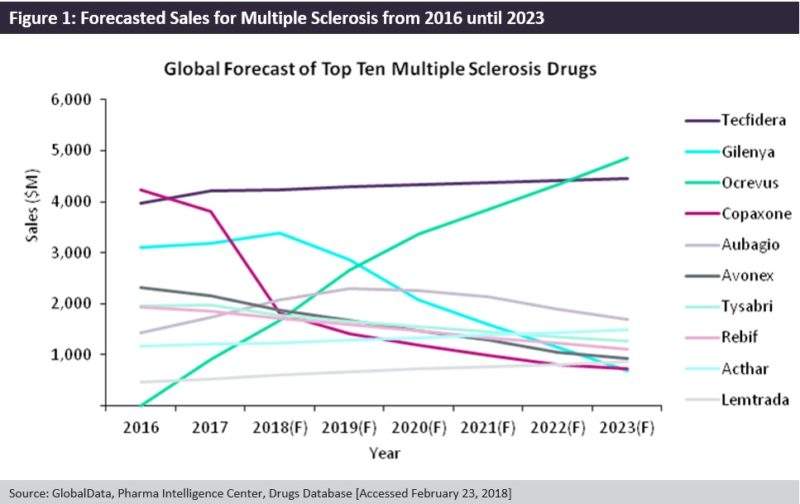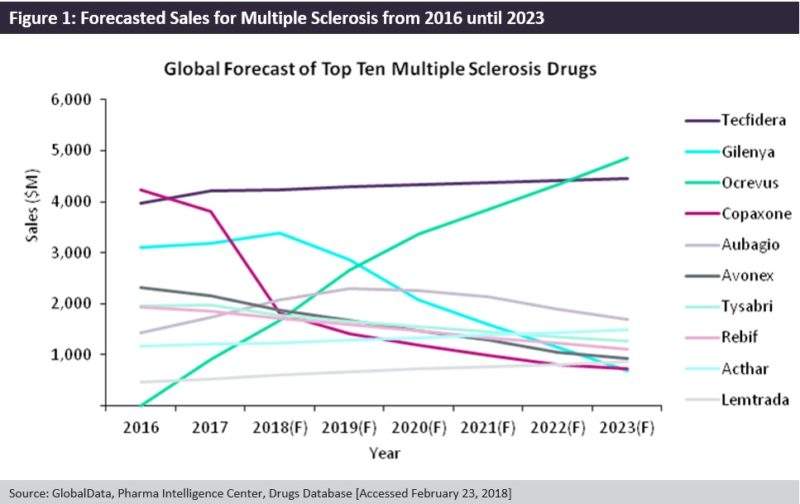 Multiple sclerosis (MS) is an inflammatory autoimmune disease of the central nervous system (CNS) that leads to neurological disability. The MS therapeutics market has entered an exciting phase, with a wide range of treatment options and many promising late-stage pipeline drugs offering diverse mechanisms of action. GlobalData estimates that global sales for MS therapies in 2016 were approximately $21.9B, and expects them to grow to $22.5B in 2023.
Roche's Ocrevus (ocrelizumab), which was approved in March 2017, making it the first drug to be approved for primary progressive MS, has been endorsed by key opinion leaders as being the best monoclonal antibody on the market due to showcasing its superior efficacy for first line MS treatment in its trials. Ocrevus has gained approval in the five major European markets (5EU: France, Germany, Italy, Spain, and UK), US, Canada, and Australia, and is forecast to have the highest sales in the MS market by 2023.
Furthermore, with a market crowded with treatment options, competitors will find it more difficult to differentiate themselves and gain control of market share. Other factors limiting the growth of the market include patent expiries of branded products, which will then expose those companies to generic competition, and pricing burdens on new entry drugs in a competitive market.