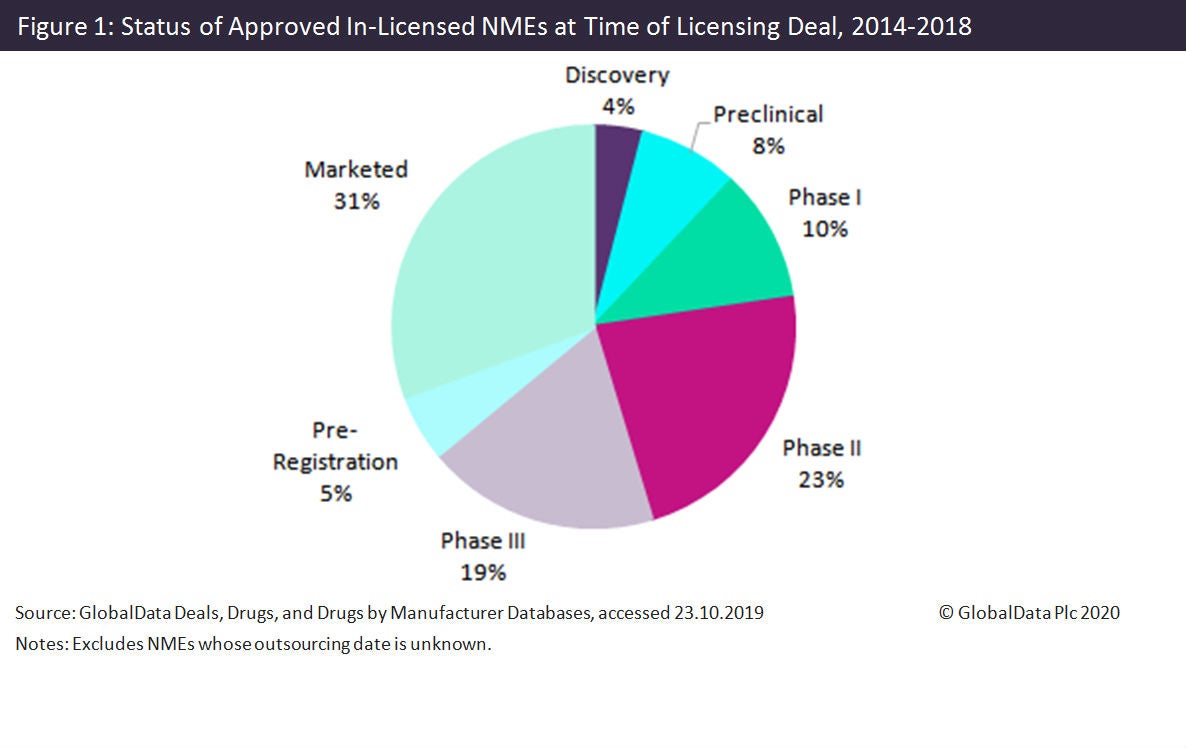 Licensing deals for FDA-approved new molecular entities (NMEs) in the 2014–2018 period are skewing later in the drug development cycle than previously, according to the GlobalData PharmSource trend report titled Contract Manufacturing of Novel In-Licensed Drugs (February 2020).
Based on information from the GlobalData Pharma Intelligence Center on Deals, Drugs, and Drugs by Manufacturer Databases, the report shows in-licensing of NMEs in Phase II and marketed stages has significantly increased compared with the 2003–2013 period. Meanwhile, discovery, preclinical, and Phase I-stage licensing has significantly decreased. Phase III licensing decreased slightly.
Of all NMEs approved in 2014–2018 that were licensed at any point in their lifecycle, most were licensed before reaching the market (Figure 1).
The most common individual stages for a licensing deal are at valuable inflection points in the drug development cycle: marketed (31%), when approval has already been achieved; Phase II (23%), when proof of concept is shown; and Phase III (19%), when efficacy is shown.
Clinical stage (Phase I, II, and III) in-licensing occurred for 52% of (eventually in-licensed) NMEs. A further 36% of eventually licensed NMEs were subject to licensing deals at marketed or pre-registration stage.
Of all stages before marketed, the most common for a licensing deal are Phase II (23% of NMEs) and Phase III (19%).
The preponderance of NMEs that were licensed during the later stages of their development cycle has two principal explanations.
Products developed by regional companies account for some of the late-stage licensing deals. Many of these companies have limited commercial expertise and infrastructure in the US or EU and require a partner to enter these markets. For example, in 2015, the Japanese company Taiho Pharmaceutical Co out-licensed Lonsurf / TAS-102 (trifluridine and tipiracil hydrochloride) to Les Laboratoires Servier for development and commercialisation in Europe. The drug was still under regulatory review in Europe but had already received approval in Japan, where it is marketed by Taiho, making it a low approval risk for the licensee, Servier.
A related motivation for late-stage licensing deals is the benefit to licensors: bio / pharmaceutical companies that can hold on to products into late development can usually command a higher licensing fee because there is less clinical and approval risk.
However, there are signs that the trend for later licensing may be reversing. Within the 2014–2018 period, we observed variation in the share of NMEs in each phase at the time of their licensing deal.
Although in 2014, (eventually licensed) NMEs were equally likely to be licensed at Phase II or marketed stage, by 2017 the most common phase was Phase II, a trend that continued into 2018. Between 2014 and 2018, the peak for licensing at marketed phase was 2015, when 60% of all (eventually licensed) NMEs were licensed at marketed phase; this crashed to only 8% in 2016.