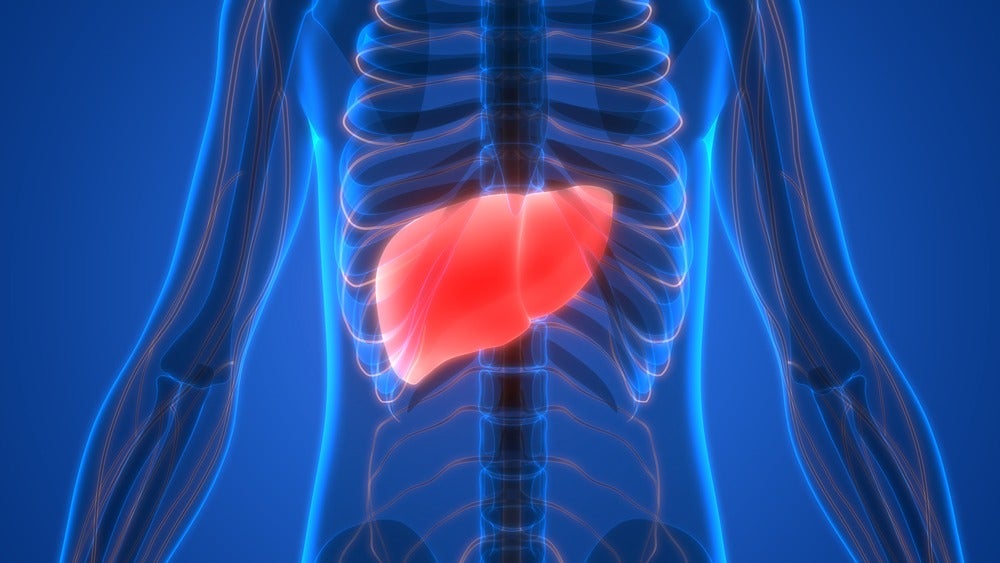 Ongoing and future clinical trials in second-line primary biliary cholangitis (PBC) are likely to face Intercept Pharmaceuticals' Ocaliva (obeticholic acid) as an increasing enrolment hurdle, four European experts said.
Ocaliva's positive efficacy profile has led to its establishment as a second-line standard, and competitors are likely to experience enrolment challenges with placebo-controlled trial designs.
First-line and second-line therapy use refers to the order of medications prescribed. PBC is an auto-immune condition which affects the liver, where the body thinks that the bile ducts within the organ are foreign objects and tries to destroy the ducts' lining.
Primary biliary cholangitis treatment
However, one Australian expert and two US experts disagreed, noting yet-to-be-approved therapies have encouraging efficacy data that could improve upon Ocaliva. While these three experts said Ocaliva's pruritus (itching) side effect will motivate patients to sign on to clinical trials of competing therapies, the European experts said Ocaliva's itching is manageable. Ocaliva's buyer coverage supports patient use, a UK expert noted.
One expert suggested repositioning yet-to-be-approved second-line therapies to a certain subset of first-line patients who may not experience efficacy with the first-line standard of care (SOC), generic ursodeoxycholic acid (UDCA). The other six experts disagreed, noting UDCA has decades worth of efficacy/safety data and patients that need second-line therapy still experience some benefit by using UDCA first.
US-based CymaBay Therapeutics' 240-patient, placebo-controlled Phase III trial (NCT03602560) investigating its peroxisome proliferator-activated receptor (PPAR)-agonist seladelpar was initiated in the second half of 2018, with the US National Library of Medicine's ClinicalTrials.gov website listing a 2020 completion date.
Results from Genfit's 45-patient, placebo-controlled Phase II trial (NCT03124108) for its PPAR-agonist elafibranor were announced in December 2018, with a Phase III anticipated, a spokesperson said. US-based Arena Pharmaceuticals' 20-patient, single-arm Phase II trial (NCT03155932) for its sphingosine-1-phosphate (S1P) receptor modulator etrasimod is ongoing.
CymaBay and Arena did not respond to a request for comment.
Ocaliva potential another barrier to PBC enrolment
Patients are more likely to opt to use an approved therapy like Ocaliva than sign on to a placebo-controlled trial where there is no guarantee of efficacy, said David Jones, Professor of liver immunology at the Institute of Cellular Medicine with the Newcastle University, UK, and Dr Christophe Corpechot, hepatologist with the Hôpital Saint-Antoine, Paris, France.
The European Medicines Agency granted a conditional marketing authorisation (approval) for Ocaliva in PBC in October 2016.
Since then, Ocaliva has established itself as a second-line option, said Dr Andreas Kremer, a clinician scientist with the Friedrich-Alexander-University, Erlangen-Nurnberg, Germany. Ocaliva was given accelerated US Food and Drug Administration (FDA) approval in May 2018.
Prior to Ocaliva, PBC trial enrolment was straightforward, as there was no approved second-line treatment, Mr Jones said. New trials should consider Ocaliva as an active comparator, added Mr Jones and Dr Michael Manns, Director of the Department of Hepatology and Endocrinology at the Medical School of Hannover, Germany.
Recruitment challenges were not experienced in Phase II elafibranor trial, and are also not expected in the planned Phase III, a Genfit spokesperson said.
Ocaliva's real-world success is supported by its positive Phase III efficacy data, said Dr Manns, Dr Kremer and Dr Walid Ayoub, gastroenterologist at the Cedars-Sinai Comprehensive Transplant Center in Los Angeles, California, US.
In the 217-patient Phase III Poise trial (NCT01473524), 47% of patients in the 10mg treatment arm achieved a reduction in alkaline phosphatase (AP), which was the primary endpoint and an indicator of disease progression, compared to 10% with placebo after 12 months (Nevens, F, et. al, N Engl J Med 2016; 375:631–643). The enzyme AP has a high concentration in the cells that comprise the liver; elevated AP in the blood is most commonly caused by liver disease.
However, Poise efficacy data is not as dramatic as hoped, so some patients will still be keen to sign on to clinical trials, said Dr Cynthia Levy, Assistant Director of the Schiff Center for Liver Diseases at the University of Miami, Florida, US.
New therapies show promising efficacy without Ocaliva's pruritus side effect, noted Levy. In the 116-patient Phase II seladelpar trial, AP decreases were similar to Ocaliva across various doses, at 45% with 5mg, 43% with 5–10mg, and 43% with 10mg after 26 weeks, an April 2018 Cymabay media release showed.
In 12 weeks, elafibranor delivered a 48% and 41% AP decrease with the 80mg and 120mg doses, respectively, versus 3% increase with placebo, Phase II data showed.
Possible improved pruritus attractive for future trial recruitment
Ocaliva's severe itch side effect would be enough for patients to consider signing on to PBC clinical trials, the Genfit spokesperson, Dr Levy and Dr Ayoub noted.
Patients who already suffer itching with the disease are less likely to consider Ocaliva, said Dr Ayoub and Dr Simone Strasser, Gastroenterology and Hepatology Clinical Associate Professor at the University of Sydney, Australia.
Seladelpar has no associated itching side effect. Phase II elafibranor data showed itching improvements, the Genfit spokesperson noted. However, this news service previously reported both Phase II elafibranor and etrasimod trials could be too small to estimate safety issues, as they enrolled only 45 and 25 patients, respectively.
Although Dr Kremer and Dr Manns agreed patients with severe itching would be averse to Ocaliva, they noted this side effect is manageable, especially with the use of various pre-treatment regimens.
Even if the itching is a side-effect concern, PBC trials could face enrolment challenges in areas where Ocaliva is already covered by government payers, such as in the UK, Mr Jones said.
US investigators can be more bullish with enrolment, as there are PBC patients who may not have medical insurance, Mr Jones added. Countries such as Australia are unlikely to see enrolment hurdles as Ocaliva has yet to be approved, Dr Strasser noted.
The Phase III seladelpar trial has all US sites, whereas the Phase II etrasimod trial has sites in the US and Australia, and elafibranor had sites in the US, Germany, Spain and the UK.
Even if Ocaliva were not approved, PBC trials might still have difficulty with enrolment because there is an increasingly limited number of patients who are fit for clinical trials, Dr Levy and Dr Ayoub said.
Dr Strasser agreed, noting established PBC patients suitable for ongoing and future second-line trials are all already in long-term trials. However, there is still an untapped group of second-line patients, as patients who fail UCDA may not be in centres that have clinical trials, Dr Levy and Dr Strasser said.
Ocaliva a temporary second-line SOC, UDCA king of first-line
Because Ocaliva is a potential new barrier to PBC trial enrolment, it raises questions about whether there is a need for another second-line therapy, Mr Jones said. In the first nine months of 2018, Ocaliva sales were estimated at $25.2 million excluding-US, versus $99.6 million in the US, Securities and Exchange Commission (SEC) filings show.
In Spain and France, off-label fibrates are well-established in the second line, so Ocaliva's market success in those countries is unclear, said Mr Jones, Dr Manns and Dr Kremer.
Fibrates are deep-rooted in France due to the tight PBC clinician network where most local clinicians were involved in PBC fibrate studies, Dr Corpechot said. The drugs have a positive efficacy/safety profile, he added. Fibrates are a medication class that lower blood triglyceride levels.
Perhaps yet-to-be-approved PBC therapies should be repositioned to first-line, Mr Jones said. While first-line SOC UDCA is efficacious in 60–70% of patients, patients who are unlikely to benefit can be given a new first-line treatment rather than wait for UCDA treatment failure, he added.
However, there is no available predictor on how to find patients who are unlikely to benefit from UDCA, Dr Levy and Dr Strasser said. One year of using UDCA has no negative, long-term effect on treatment outcome, so it is unlikely to be skipped, Dr Levy said. There is still some overall survival benefit with UDCA, Dr Kremer said. UDCA's positive safety profile and low price point will keep it unchallenged in the foreseeable future, Dr Levy and Dr Strasser added.
Nonetheless, there is still a possibility that Ocaliva could be pushed to the third line by any of the second-line therapies under investigation, Dr Ayoub and Dr Manns said. Although Ocaliva's lipid side effect is not significant, this issue is not at all a part of second-generation farnesoid X receptor (FXR) agonists under investigation for PBC, Dr Ayoub said. As per Ocaliva's FDA label, PBC patients exhibit hyperlipidemia, and clinicians are advised to monitor patients for serum lipid level increases during treatment.
by Reynald Castaneda in London
Reynald Castaneda is a Senior Reporter for Pharmaceutical Technology parent company GlobalData's investigative journalism team. A version of this article originally appeared on the Insights module of GlobalData's Pharmaceutical Intelligence Center. To access more articles like this, visit GlobalData.