On 1 September, the US Food and Drug Administration (FDA) approved both Pfizer/BioNTech and Moderna's Omicron-specific Covid-19 vaccine boosters. This followed news that Moderna had signed a contract with the US Government to supply 66 million doses, while Pfizer and BioNTech have a contract with the US Government to supply 105 million doses. Pfizer and BioNTech's booster has been approved for those aged 12 years and older, while Moderna's is currently only approved for those aged 18 years and older.
These FDA approvals come as the latest Covid-19 wave in the US, driven by Omicron variants, is declining. However, the contracts will provide boosters over the coming months just before a predicted winter wave, based on data from previous years. Yet it should be noted that the US's booster vaccine uptake remains poor.
Data from the CDC, presented in GlobalData's Covid-19 dashboard (Figure 1), show that only 27.5% of the population have received a booster dose within the 18–49 age group. Uptake is more substantial in the older age groups, yet only 26.8% of those aged older than 65 have received their second booster dose. This falls to 11.5% in those aged 50–64. It is thought that poor uptake is driven by the Omicron variants inducing milder disease, with a study by Joung and colleagues published in JAMA revealing that 56% of those infected were unaware that they had the Omicron variant, with 46% being asymptomatic. This, in turn, correlates with poor booster uptake rates: if you are unaware that you have ever had the disease, or do not observe your friends and family actively having the disease, you may be less inclined to get a booster.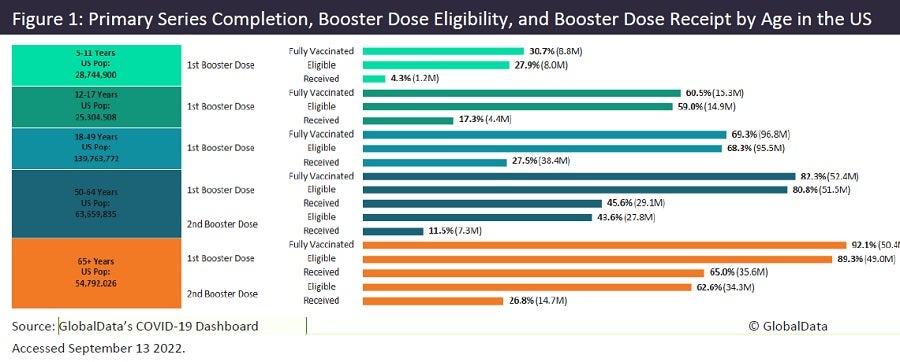 Attitudes towards Covid-19 and its severity has changed drastically this year. Most countries have not imposed public health measures or restrictions, despite the Omicron variant causing a higher number of infections than previous variants.
While hospitalisations in the US peaked in January this year, deaths were lower than the peaks in January and May last year. Much of this has been attributed to the vaccine rollout, which did not prevent all Omicron infections but did reduce serious disease, hospital admissions and deaths. Now that people are learning to 'live with Covid-19', individuals may prefer to risk having a mild illness rather than getting another booster vaccine. There is an acknowledgment that the public suffers from 'vaccine fatigue,' unwilling to get boosters and feeling overwhelmed by Covid-19 vaccine information.