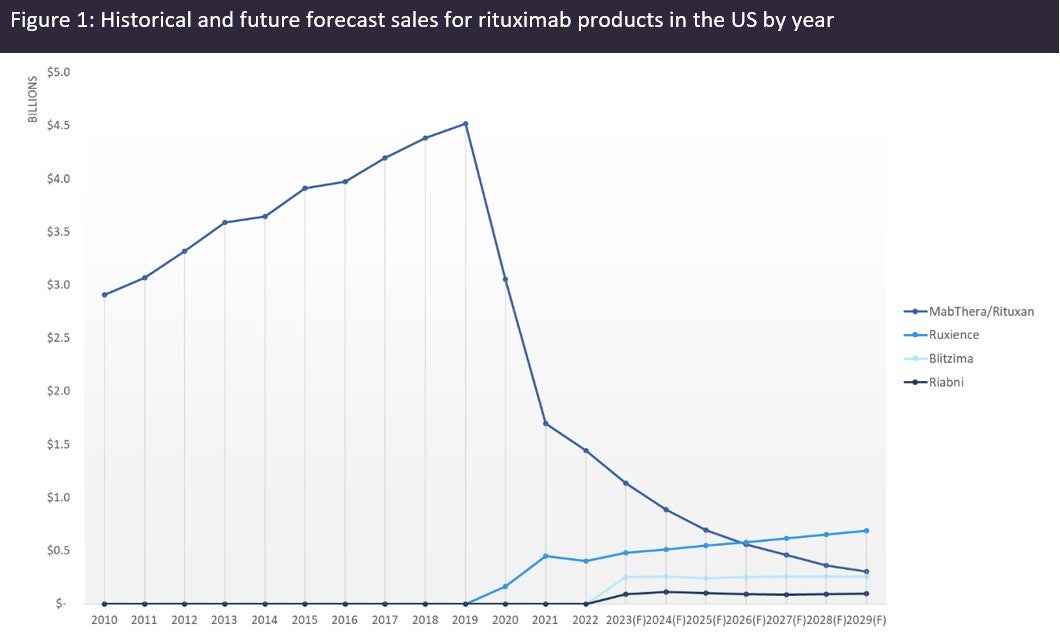 Roche's anti-CD20 monoclonal antibody Rituxan/MabThera (rituximab) is one of the most successful oncology drugs of all time. Rituxan received its first FDA approval in 1997 for the treatment of B-cell non-Hodgkin's lymphoma (B-NHL) and reached peak global sales of $7.5bn in 2014. Rituxan's success made it a prime target for biosimilar developers.
Globally, the first rituximab biosimilar, Dr Reddy's Laboratories' Reditux, was approved in India in 2007. The first approved biosimilar in the US and EU was Celltrion/Teva Pharmaceutical's Truxima/Blitzima in 2018 and 2017, respectively. In Japan, the first biosimilar was Pfizer's Rituximab in 2019. Rituximab biosimilars have since achieved notable commercial success, with global sales surpassing $900m collectively.
An analysis of the sales of rituximab products in the US (Figure 1, above), shows that the introduction of biosimilars did not have an immediate effect on Rituxan sales. However, in the second year of biosimilar competition, Rituxan sales started to significantly erode. GlobalData forecasts Rituxan sales to plummet to just over $300m by 2029, while biosimilars will collectively surpass $1bn in sales in the same year, becoming responsible for nearly 80% of the total market share for rituximab products. Given the lower price of biosimilars, the patient share will be even higher than the market share, meaning that over 80% of US patients will have switched to biosimilar rituximab by 2029. However, there is also competition with subcutaneous branded rituximab, which cannibalises Rituxan and complicates this assumption. As of 2022, over 20% of US patients, over 10% of EU patients, and over 70% of Japanese patients are estimated to have switched to biosimilar rituximab.
Company-reported data suggest that as of 2022, the US is the most valuable market for rituximab biosimilars, with 73% of the total market share, followed by Japan with 17%, the EU with 4%, and the rest of the world with 6%. According to GlobalData's consensus analyst and sales forecast database, Pfizer's Ruxience will be the first single biosimilar product to surpass the original Rituxan in global sales in 2028.
One limitation of the analysis is that not all biosimilar products have reported sales by their marketing company, so the biosimilar market penetration as of 2022 is certainly higher in reality. Another limitation is that rituximab is also used in immunology, and the exact split for oncology versus immunology sales for biosimilar products cannot be determined. Previous analyses by GlobalData suggest that oncology accounts for 85% of Rituxan sales.