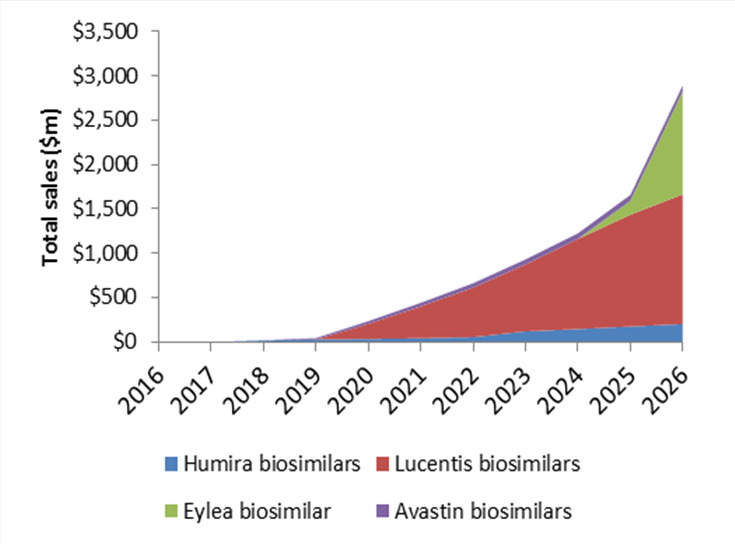 2017 has proved to be a remarkable year for biosimilars in ophthalmology, with the EMA approval of Amgen's Amgevita in March 2017, followed by Biogen/Samsung Bioepis's Imraldi in August and BI's Cyltezo in November. These three Humira biosimilars were the first to be approved in the 7MM for an ophthalmology indication, which are indicated for the treatment of non-infectious uveitis, and are anticipated by GlobalData to launch in Europe in 2018.
The US patents for Roche's Lucentis and Regeneron's Eylea, the two major anti-VEGF agents for macular edema (ME) and age-related macular degeneration (AME), will expire in 2020, and their European patents will respectively expire in 2022 and 2021, several companies are developing biosimilars for these two anti-VEGF agents.
GlobalData anticipates the launch of the first Lucentis biosimilar, FYB201, which is co-developed by Bioeq and Formycon, in 2020 in the US, 2022 in the EU, and 2023 in Japan. GlobalData further predicts that the first Eylea biosimilar, Bioeq/Formycon's FYB203, will launch in 2025 in the EU and 2026 in the US and Japan.
Avastin has been used off-label for many years as an anti-VEGF treatment for ME and AMD, there are currently no companies investigating this drug in ophthalmology-specific indications; however, it is likely that prescribers will use biosimilar versions of the drug in the same way.
Is there a future for biosimilars in ophthalmology?
Although GlobalData anticipates a slow initial uptake of biosimilars due to physicians' initial reluctance to prescribe biosimilars for patients who are already stable on the branded products, in the long term, GlobalData anticipates that biosimilars will be able to maximize commercial potential in the ophthalmology markets due mainly to patent expiry of the marketed anti-VEGF therapies including Lucentis, Avastin, and Eylea and hospitals and pharmacies favour of cheaper products, especially in today's cost-conscious environment.
The majority of KOLs interviewed by GlobalData for three ophthalmology reports (ME, AME and uveitis) emphasized the belief that payers will likely dictate the necessity for biosimilars as a cheaper option. Overall, the projected total sales of biosimilars in key ophthalmology markets are forecast to reach $2.9bn in 2026.
Projected total sales of biosimilars in key ophthalmology markets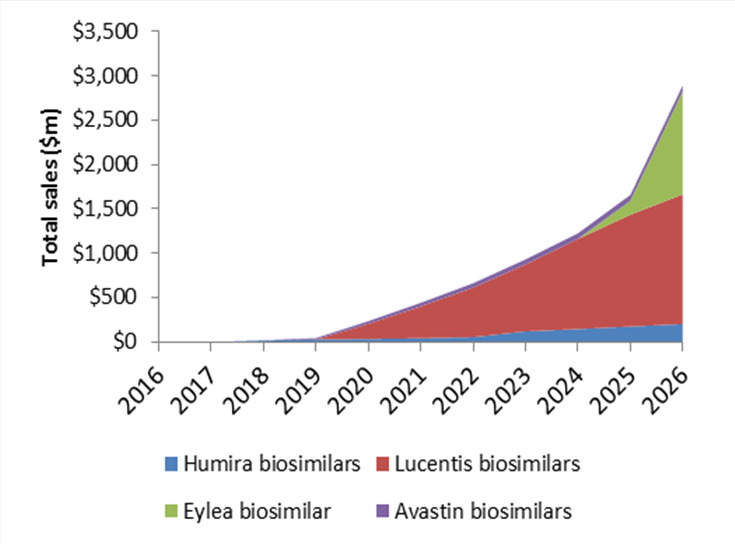 Source: GlobalData Pharma Intelligence Center. Figures represent projected global sales during the 2016-2026 period.
Related Reports
GlobalData (2017). OpportunityAnalyzer: Uveitis – Opportunity Analysis and Forecasts to 2026
GlobalData (2017). PharmaPoint: Macular Edema – Global Drug Forecast and Market Analysis to 2026
GlobalData (2017). PharmaPoint: Age-Related Macular Degeneration – Global Drug Forecast and Market Analysis to 2026