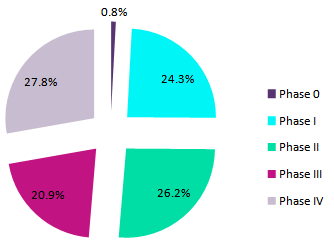 In 2017, the FDA approved 80 drugs with orphan drug designation. GlobalData's Pharma Intelligence Center database covers the clinical trials for those 80 drugs, including a key analysis of the top 10 drugs with the most clinical trials, by therapy area, trial status, and trial phase.
Orphan drugs in 2017
Clinical trials for the top 10 drugs occupy only three therapy areas, with majority of them in Infectious Disease (70.4%), followed by Oncology (23.8%) and Hormonal Disorders (5.8%) (Figure 1). Also, over 57% of these clinical trials have been completed, with 30.2% ongoing, 7.3% planned, and 5.5% terminated (Figure 2). At least 20% of trials are in each phase between Phase I and Phase IV, while only 0.8% are in Phase 0 (Figure 3).
Figure 1:Top 10 orphan drug designation drugs with most clinical trials, by therapy area
Source: GlobalData, Pharma Intelligence Center
Figure 2: Top 10 orphan drug designation drugs with most clinical trials, by trial status
Source: GlobalData, Pharma Intelligence Center
Figure 3: Top 10 orphan drug designation drugs with most clinical trials, by trial phase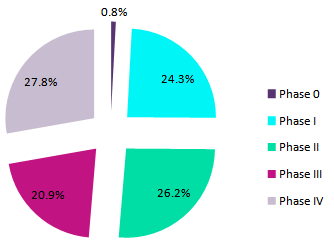 Source: GlobalData, Pharma Intelligence Center