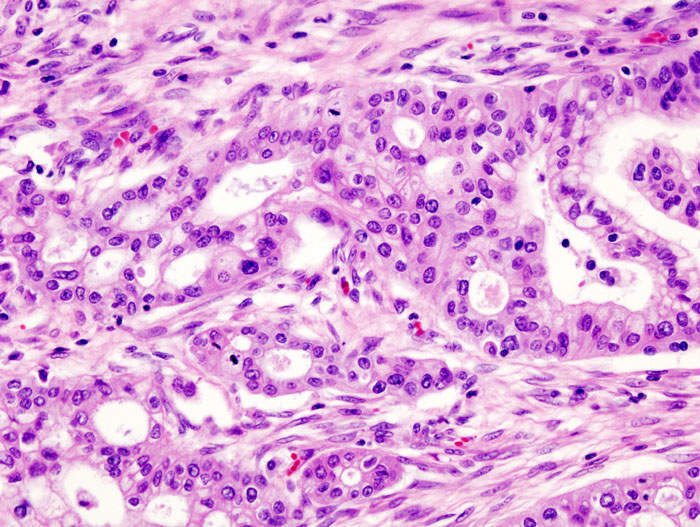 Halozyme Therapeutics' Phase III HALO-301 trial investigating PEGPH20 for first-line pancreatic cancer with high levels of tumour hyaluronan (HA-high) has so far enrolled slightly more than 150 patients out of a target of 570, as of the past month.
PEGPH20 (pegvorhyaluronidase alfa) is the PEGylated version of Halozyme's recombinant human hyaluronidase enzyme, rHuPH20. rHuPH20 temporarily degrades hyaluronan (HA), which is a naturally occurring chain of natural sugars that can accumulate in the tumour microenvironment of certain solid tumour types.
Phase III trial enrolment started a year and a half ago, a source said on the sidelines of the recent European Society of Medical Oncology (ESMO) Congress in Munich, Germany. At this rate, enrolment could complete in the second quarter of 2019, with results potentially presented at the American Society of Clinical Oncology Gastrointestinal Cancers (ASCO GI) symposium in 2020, he added. He declined to comment on the trial's contract research organisation (CRO). A CRO provides support to the pharmaceutical, biotechnology and medical device industries in the form of outsourced research services. 
Halozyme has yet to comment on enrolment numbers. The company did not respond to a request for comment. 
Progress in HALO-301 trial
In Halozyme's second quarter 2018 financial report, it noted continued progress in screening and enrolling patients in the HALO-301 trial with an interim analysis scheduled when a target number of events is reached, which is anticipated between December 2018 and February 2019. The interim analysis will address the trial's first primary endpoint, or key measurement, of progression-free survival (PFS). PFS is the length of time during and after cancer that a patient lives with the disease but it does not get worse.
The source said Halozyme is fairly aggressive in updating clinicians about the trial –like enrolment numbers– via emails, with the company hosting investigator meetings such as one at ESMO, with another anticipated at ASCO GI in January 2019.
Although the source declined to comment if the trial is ahead or behind schedule, he noted that a trial challenge is that patients need to be confirmed as HA-high before recruitment, and this constitutes only 40% of all pancreatic cancer patients. This news service reported in June that, if approved, PEGPH20 would have to be approved with Ventana Medical Systems' Ventana HA companion diagnostic test as there are no such tests available to find HA-high patients outside clinical trials.
However, the source also noted, in general, it is not challenging to find pancreatic cancer patients as there is an unmet need with an increasing number of patients.
Mixed success
HALO-301 is investigating PEGPH20 with 'gemabraxane" –featuring generic gemcitabine and Celgene's Abraxane (paclitaxel)– versus gemabraxane alone. An analyst report shows PEGPH20 is estimated to have $1.1bn peak sales in 2027. Halozyme has a market cap of $2.3bn.
The aforementioned news report stated experts have mixed success expectation for the HALO-301 trial. Although some experts said the second successful 279-patient Phase II trial in HA-high patients should be the more critical trial in predicting HALO-301 success, others noted PEGPH20 should have also succeeded in the first failed 172-patient Phase II trial across all pancreatic cancer patients to inspire further positive HALO-301 data potential.
by Reynald Castaneda in London
Reynald Castaneda is a senior reporter for Pharmaceutical Technology parent company GlobalData's investigative journalism team. A version of this article originally appeared on the Insights module of GlobalData's Pharmaceutical Intelligence Center. To access more articles like this, visit GlobalData.