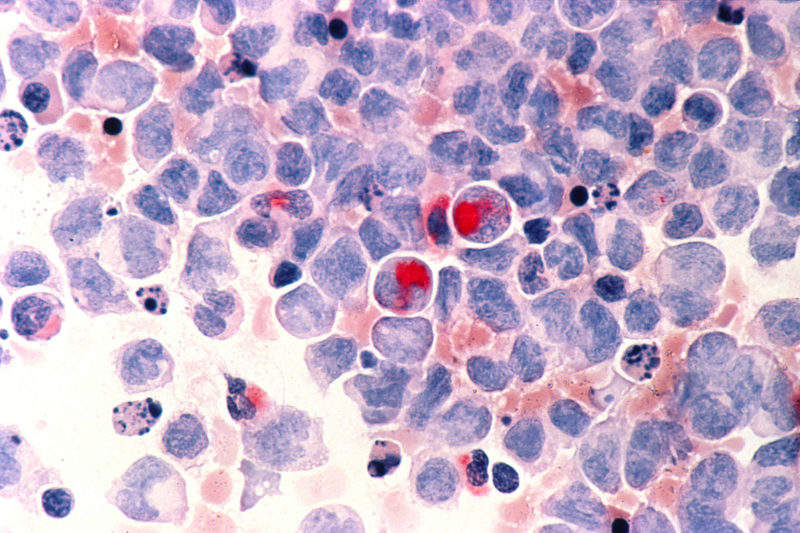 Approximately 340 patients have been enrolled in the Phase I/II BEAT AML Master Trial testing seven experimental targeted therapies for newly diagnosed acute myeloid leukaemia, a cancer of the blood and bone marrow, said a spokesperson for the Leukemia & Lymphoma Society (LLS). The trial is based on biomarkers, which are measurable indicators of the severity or presence of a disease state.
LLS is sponsoring the study, which is testing Alexion Pharmaceuticals' ALXN6000 (samalizumab), Boehringer Ingelheim's BI 836858, Celgene's Idhifa (enasidenib), Gilead Sciences' entospletinib, Takeda Pharmaceutical's MLN4924, Astellas Pharma's ASP2215 (gilteritinib) and Agio's Tibsovo (ivosidenib).
While the original targeted enrollment was 500 patients, LLS has decided to increase this number to 1,000 after enrollment greatly exceeded initial expectations, said Amy Burd, PhD, vice-president of research strategy, LLS, and lead of the BEAT AML initiative. The study (NCT03013998), which was launched in 2016, is recruiting patients 60 years or older. While the trial now has 11 arms and is open at 12 cancer centres in the US, the number of clinical sites will likely go up to 20, Burd said. Most of the 11 arms of the Beat AML Master Trial are currently in Phase II, she added.
LLS is expecting to release the trial's earliest clinical data at the American Society of Hematology annual meeting in December, Dr Gwen Nichols, chief medical officer, LLS, said. The organization has submitted multiple abstracts for the meeting, Burd noted, adding that at least a couple of arms should have its clinical data released at the event. At this point, however, it is unclear which arms will have results presented, Burd said.
Patients enrolled in the Beat AML Master Trial are screened with a leukaemia-specific genomic test (a type of medical diagnostic test) that identifies mutations associated with AML, Nichols said. An algorithm determines the most important mutations in each patient, who is then accordingly allocated to one of the experimental treatment arms. Patients who do not test positive for any of the mutations are also eligible for the trial, Burd confirmed. They are allocated to the biomarker-negative arm and may receive one of the investigational agents that might work in broader AML.
The drug companies involved in the trial are paying for their own arms of the study, but LLS was able to fund the trial's infrastructure after a fundraising campaign, according to Burd. Raleigh, North Carolina-based Syneos Health is the CRO on the study.
The trial could potentially open new arms if a new agent shows promising results in other trials, noted Burd. The current standard-of-care (SOC) for AML is the combination of two chemotherapies – cytarabine and daunorubicin or idarubicin – while elderly AML patients, who tend to be unfit for intense chemotherapy, may receive other chemotherapies such as Celgene's Vidaza (azacitidine) or Otsuka Pharmaceutical's Dacogen (decitabine), Burd noted. Available treatments lead to a five-year overall survival rate of around 25%, she added.
Of the seven drugs being evaluated in the BEAT AML Master Trial, a New Drug Application to the FDA  for gilteritinib was filed in April. Analysts forecast $268.99m in 2023 for US and Japan sales. AG-221 and pevonedistat, on the other hand, are in company-sponsored Phase III studies for AML. Analyst sales projections are, respectively, $953m in 2022 (AML only) and $409 in 2024.
BI 836858 and entospletinib are further behind in development, with the former in a Phase I/II for AML and myelodysplastic syndromes, a group of cancers in which immature blood cells in the bone marrow do not mature and therefore do not become healthy blood cells, and the latter in a Phase Ib/II AML study. BI 836858's sales are projected to reach $400m by 2025, according to analysts.
Both Tibsovo and Idhifa are FDA-approved for relapsed or refractory (when a disease reappears or grows again after a period of remission) AML with IDH1 and IDH2 (key metabolic) mutations, respectively. Analysts expect AML sales of $820m in 2034 for Tibsovo and $953m in 2022 for Idhifa. Samalizumab, on the other hand, went through a Phase I/II study for relapsed or refractory chronic lymphocytic leukaemia (a type of cancer affecting the white blood cells) and multiple myeloma  (cancer of plasma cells), but in 2017 Alexion announced it was deprioritising the drug's development programme.
by Mariana Lenharo in New York
Mariana Lenharo is a reporter for Pharmaceutical Technology parent company GlobalData's investigative journalism team. A version of this article originally appeared on the Insights module of GlobalData's Pharmaceutical Intelligence Center. To access more articles like this, visit GlobalData.