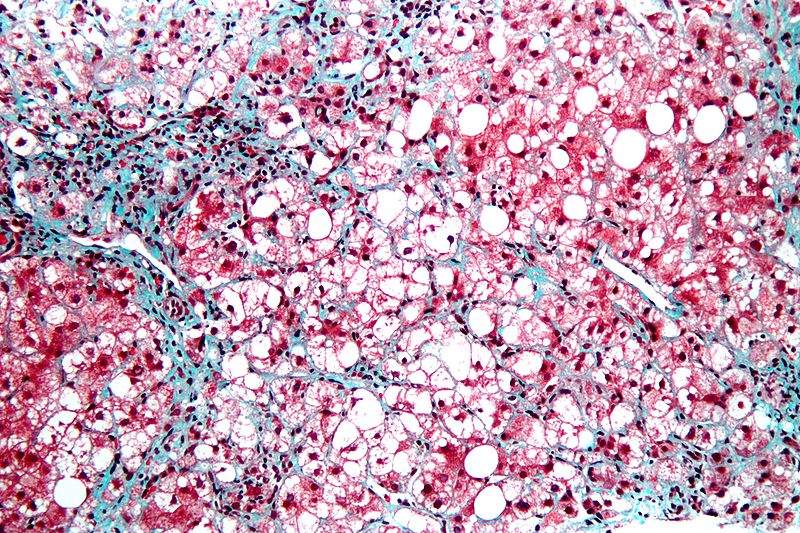 On October 29, Pfizer and Novartis announced that they will be entering into a collaborative agreement for the development of non-alcoholic steatohepatitis (NASH) therapeutics. Both companies have solid NASH pipelines, each possessing three drugs in clinical development.
This collaborative agreement will not only allow the companies to pool resources and expertise, but it also opens up the potential for co-development of combination therapies for NASH, which GlobalData has previously identified as being one of the greatest untapped opportunities in the NASH space.
NASH is a disease often associated with unhealthy diet and lifestyle choices. It is caused by the excessive build-up of fat in the liver resulting in the onset of inflammation, which in severe cases can lead to cirrhosis or hepatocellular carcinoma. Despite the fact that NASH is highly prevalent across developed nations, there are currently no approved NASH drugs—resulting in significant unmet medical need. Because of this, many pharmaceutical companies currently have active NASH development programmes, and GlobalData forecasts that the NASH market will surge to $18.3B across the 7MM (US, France, Germany, Italy, Spain, the UK, and Japan) by 2026.
The crowded NASH pipeline has led some companies to search for strategies that could give their drugs an advantage over competitors. The development of combination therapies for NASH is one strategy that key opinion leaders (KOLs) have highlighted as an opportunity for drug developers.
Most developmental NASH drugs fall into two broad categories—drugs that reduce the build-up of hepatic fat, and drugs that reduce the hepatocellular inflammation in NASH—and there is a consensus that these two mechanisms of action could complement each other well in NASH patients as parts of a combination therapy approach.
Despite the fact that there are no approved NASH drugs, some companies are already investigating combination therapies. Gilead has an ongoing Phase II trial investigating two different combinations of drugs within its NASH portfolio, and Novartis also recently teamed up with Allergan to investigate a combination of tropifexor and cenicriviroc in NASH patients.
Although companies such as Gilead have the opportunity to develop a fixed-dose combination (FDC) therapy using drugs from its own portfolio, most companies face the challenge of collaborating with a competitor should they intend to develop an FDC. The recently announced programme of collaboration between Novartis and Pfizer will drastically reduce the barriers to the co-development of combination therapies between these two companies, thereby generating further momentum towards this approach to treating NASH patients.
Novartis and Pfizer both currently have three compounds in clinical development for NASH. Furthermore, none of Pfizer and Novartis' drugs share therapeutic targets, maximising the potential for combination therapies. However, one possible shortcoming of the combined portfolio is that there is only one drug that targets hepatocellular inflammation pathways, Novartis' emricasan, meaning that this drug will likely need to be part of any FDC the companies decide to investigate.
Overall, the collaboration between Novartis and Pfizer in the NASH space should help the companies stand out from the crowded pipeline and place them in a position to challenge Gilead in the development of FDCs for the disease. However, as emricasan is currently the only drug directly targeting hepatocellular inflammation in the companies' combined portfolio, they may want to look at further diversifying their options in this therapeutic class through an expanded development programme or acquisition of other products to ensure they are best positioned to pursue a combination therapy approach for NASH.