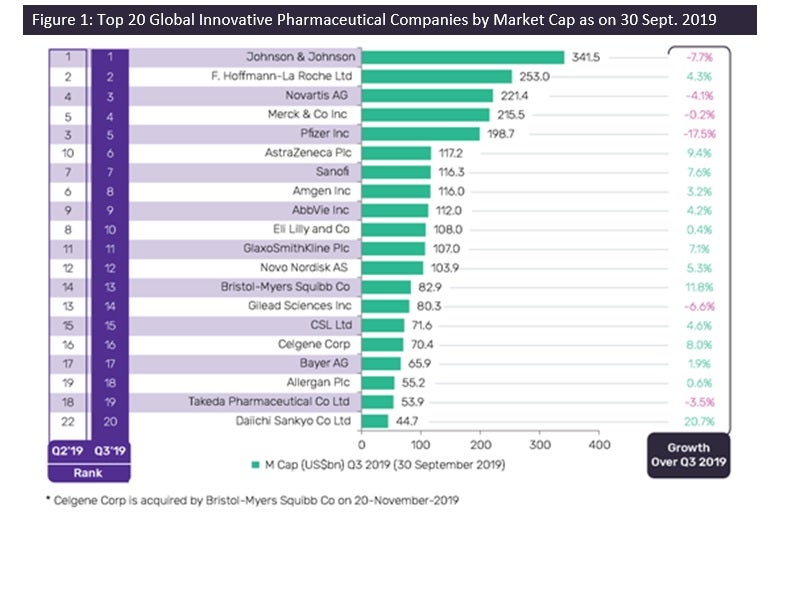 Mega cap pharmaceutical companies (those with revenue greater than $200bn) have suffered in Q3, with four out of the top five bio/pharma companies by market capitalization (market cap) showing declines between the end of Q2 and Q3, according to GlobalData's Company Financials database. In contrast, large cap companies (those with revenue between $10B and $200B) performed better; while the top 10 companies by market cap—including five mega cap companies—showed an average decline of 0.04%, the next 10 (all large cap) showed an average growth of 4.98% between quarters.
Figure 1 (above) shows the top 20 pharma companies by market cap as of the end of Q3 2019. F. Hoffman La-Roche was the only top-five company to report growth, with an increase of 4.3%. AstraZeneca rose from tenth to sixth place with growth of 9.4%, thanks mostly due to impressive sales from its newest oncology drugs such as Tagrisso and Imfinzi. However, Bristol-Myers Squibb (BMS) and Daiichi Sankyo showed the greatest market cap increases of 11.8% and 20.7% respectively. BMS' increase over Q3 is unsurprising as its acquisition of Celgene—which itself reported market cap growth of 8%—neared the finish line, closing on 20th November 2019. BMS seems set to have the greatest growth in Q4 too, showing an extremely significant increase in market cap as of December 5th 2019.
Johnson & Johnson (J&J) maintains its position at the top of the list even though it had a market cap decline of 7.7% from Q2 to Q3. This is likely due to the barrage of litigation charges facing the company on several fronts, including a landmark ruling in Oklahoma relating to J&J's accountability for the US opioid crisis.
Another key player reporting significant decline by the end of Q3 was Pfizer, with a decline in market cap of 17.5%, falling from 2nd to 5th place in the list. This is likely due to its lower-than-expected Q2 sales, and a patent expiry that led to loss of exclusivity for its blockbuster drug Lyrica in June 2019.
However, the merger between Pfizer's off-patent branded and generic company Upjohn and generics maker Mylan JV, set to occur mid-2020, may well lead to market cap growth for Pfizer in the near future. Either way, mega cap companies such as Pfizer and J&J will have to focus on market cap growth to maintain their top positions in 2020.