The Russian pharmaceutical pipeline is dominated by private pharmaceutical companies, which account for over two-thirds of all companies involved in Russian novel drug development. The remaining companies are largely controlled by the government and various academic institutions. This creates a distinct company make-up that is unique in Europe. In the wake of Russia's invasion of Ukraine, there have been significant financial sanctions on the country, crippling the Russian economy. As such, questions have arisen about how private pharmaceutical companies in Russia will fund their pipelines.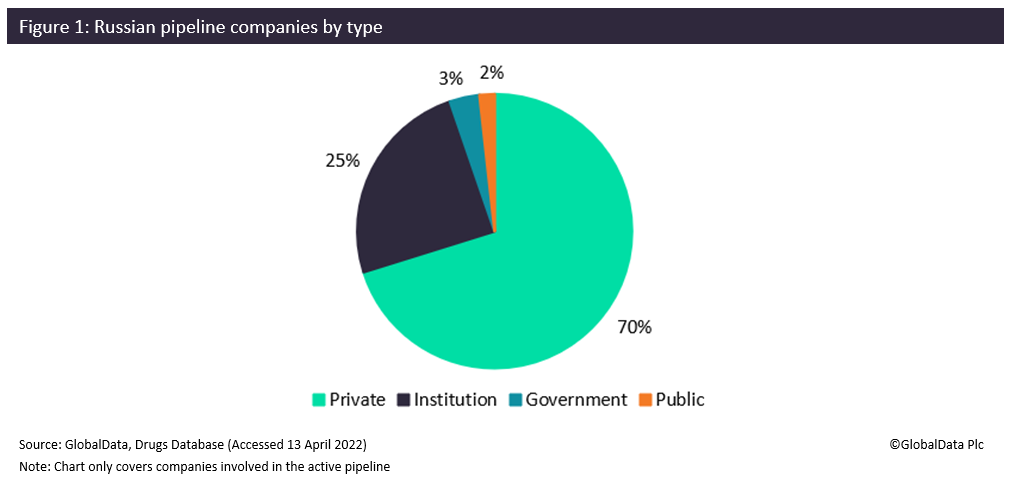 Russia's active pipeline covers drugs in all active novel clinical and preclinical stages of development, including the pre-registration stage of development, and excludes drugs considered to be inactive or discontinued. The pipeline is dominated by private companies, which account for 70% of all companies involved. Government and institution-based entities make up the bulk of the remainder of the pipeline with 28% of all companies, and public companies make up only 2% of the pipeline. This company-based makeup is unique in Europe. Public companies make up a greater percentage of the pipeline in Europe compared to Russia, at an average of five times more, accounting for 12% of all companies in Europe. Government entities make up less than 0.2% of the European active pipeline companies.
The international community has imposed a series of some of the most punitive sanctions on Russia, its finances, and many imports. The cumulative effect of these sanctions has been to devastate the Russian economy. While they do not directly target the pharmaceutical industry, the knock-on effects will certainly be felt by the pharma companies. As the majority of pharma companies within Russia are private entities, these sanctions will have a large impact on their financial viability. With Russia's economy suffering, it is unclear who will have the money available to finance drug development, as it has famously been a long and costly process. Similarly, as the remainder of Russian pharmaceutical companies are largely institution based, they will likely struggle to find funds as fewer people invest in their institutions and government funds become stretched thin. The Skolkovo Foundation is a government-backed scientific and technological center for the development and commercialization of advanced technologies and a key investor that has supported many pharmaceutical companies, including PharmaDiall and Pharmenterprises. It has also been identified by the US government as part of Russia's state security and spying apparatus, and may come under direct sanctions, further limiting financial investors in the country, especially for drug developers.
As the war enters its seventh week, showing no signs of stopping anytime soon, so too will the deep sanctions that are so detrimental to Russia and its finances. Russia's unique company make-up within the pharmaceutical sector, prioritizing both private companies and government-linked institutions over public entities, may prove to be the market's downfall. As long as the sanctions continue, these companies will struggle to raise the funds needed to develop drugs, setting the Russian pharmaceutical pipeline back years.