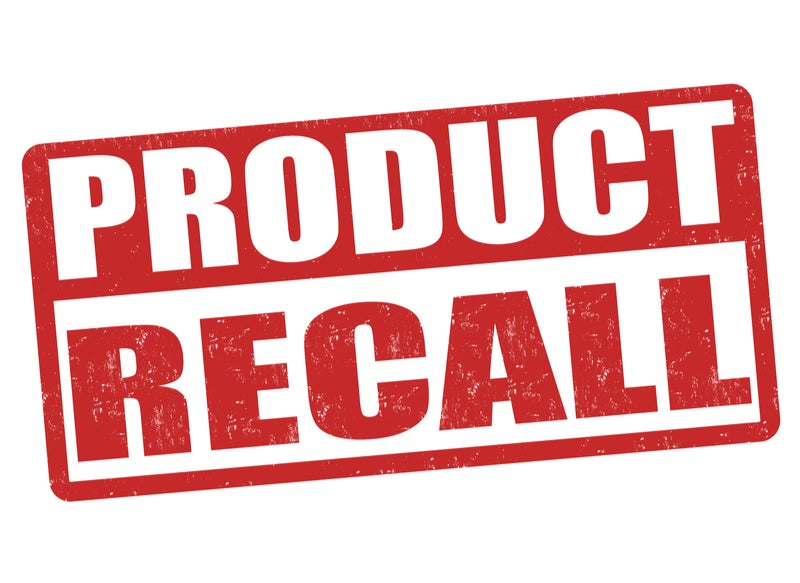 The APIs implicated by the ongoing "sartan" manufacturing impurity scandal are used in the production of more than 1,000 marketed products worldwide, a GlobalData analysis shows.
Manufacturing impurities and FDA and EMA recalls have become a recurrent and worrying trend for angiotensin II receptor blocker medicines, namely valsartan, losartan, and irbesartan, since the scandal broke in July 2018.
The GlobalData Drugs database shows 580 losartan-, 349 valsartan-, and 262 irbesartan-based products are marketed globally, either alone or in combination products paired with other active ingredients (Figure 1).
The three aforementioned sartan APIs have been FDA- and EMA-approved since the 1990s, are well-established among prescribers, and are sold as numerous generic versions. Regulators have not stated that sartan APIs from all sources are contaminated. However, given how many sartan products have been recalled by different companies and the high number of versions on the market, it is apparent that the contamination issue has only been detected in a relatively small number of marketed products to date.
Includes Innovator and generic products. Pipeline drugs and drugs that are inactive or withdrawn are excluded. © 2019 GlobalData Plc
The FDA has suggested that these impurities can be introduced as a byproduct of the manufacturing process or through changes made to that process. A better understanding of the chemistry is required and sartan product manufacturers may have to introduce testing to detect the level of nitrosamine (NDMA) impurities. Which manufacturers will be affected and how many of these are CMOs?
Figure 2 shows manufacturing sites and relationships for innovator-only losartan and valsartan products approved in the US and/or EU. 
From the seven innovator sartan drugs in Figure 2, it is plain to see that API is more heavily outsourced than dose, with the outsourced valsartan API being manufactured by Dr Reddy's Laboratories Ltd (Hyderabad, India) and outsourced losartan API being manufactured by Teva Pharmaceutical Industries Ltd (Tel Aviv, Israel), Divi's Laboratories Ltd (Hyderabad, India), and Fareva SA (Luxembourg). If, as expected, regulators impose additional testing methods and expertise to reduce byproduct contamination during the API manufacturing process, then it will disproportionately affect CMOs rather than pharma companies.
Sartan drugs are among the most commonly used treatments for hypertension (high blood pressure) and heart failure; GlobalData's Epidemiology Database estimates one billion individuals in the 16 major markets suffer from hypertension and 31.8 million suffer from heart failure. These 16 major markets include Australia, Brazil, Canada, China, France, Germany, India, Italy, Japan, Mexico, Russia, South Africa, South Korea, Spain, UK, US.
Mylan Site Receives Latest FDA Letter
The FDA issued its latest warning letter in the sartan saga in November 2019 to Mylan Pharmaceuticals Inc (Morgantown, WV, US) for its facility in Chodavaram Village, Andhra Pradesh, India, which manufactures valsartan in-house for Mylan, among other commercial-scale small molecule API manufacturing. The letter cited GMP deviations around equipment cleaning and handling of raw materials, stating that testing and handling raw materials were inadequate to ensure the suitability of materials used in manufacturing, including preventing contamination and cross-contamination with nitrosamine impurities such as NDMA and N-nitrosodiethylamine (NDEA), making frequent references to previous valsartan issues. 
Mylan is one among several pharma companies subject to an ongoing global investigation into NDMA impurities in the sartan class of products (E/MOR September 2018). On 13 September 2018, the FDA and European Medicines Agency (EMA) announced they had discovered a second carcinogenic chemical, NDEA, in batches of Chinese-made valsartan, in addition to NDMA revealed in July 2018 (E/MOR September 2018).
The affected drugs were produced by Zhejiang Huahai Pharmaceuticals (Linhai, China) and a second company, Zhejiang Tianyu Pharmaceutical Co. Ltd. (Taizhou, China). After this discovery, Zhejiang Huahai's clients Prinston Pharmaceutical Inc. (Cranbury, NJ, US), Major Pharmaceuticals (Livonia, MI, US), Solco Healthcare (Cranbury, NJ, US), Teva Pharmaceuticals Industries Ltd, and Torrent Pharmaceuticals Ltd. all recalled products containing valsartan API (E/MOR September 2018). 
NDMA Contamination Recently Affected Zantac
Recently the FDA also detected NDMA contamination in Zantac and generic ranitidine-based antacids.
In October the FDA issued a warning letter to Torrent Pharmaceuticals (Gujarat, India) regarding its Ahmedabad-Mehsana Highway, Taluka-Kadi, Indrad, Gujarat facility, where Torrent manufactures its own losartan potassium tablets. In its findings, the FDA indicated numerous violations such as a failure to adequately investigate batch discrepancies, referencing the fact that multiple batches of losartan potassium were recalled for unacceptable amounts of nitrosamine impurities. Torrent has recalled the greatest number of lots of sartan products, according to the FDA, but is just one of many manufacturers whose sartan APIs were found to contain unacceptable levels of the suspected carcinogen N-Methylnitrosobutyric acid (NMBA). 
This analysis uses GlobalData's Drugs and Drugs by Manufacturer database, which provides world-class insight into the pharma and contract manufacturing industries.