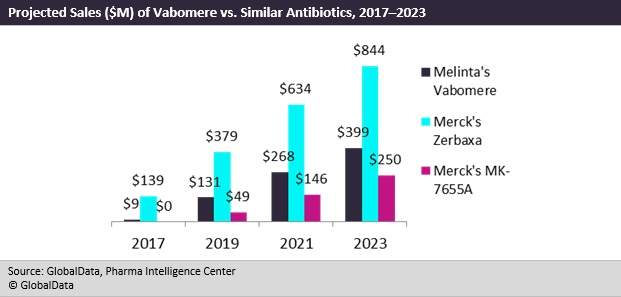 In November 2017, Melinta Therapeutics acquired The Medicine Company's infectious diseases business unit as part of a $270M agreement, capping off an active 12 months for small-cap pharmaceutical companies in the antibiotics R&D space.
Melinta now owns the global rights to Vabomere (meropenem/vaborbactam), which received FDA approval in August 2017 for adults with complicated urinary tract infections (cUTI), including pyelonephritis, caused by susceptible strains of E. coli, K. pneumoniae, and E. cloacae species complex.
GlobalData expects Vabomere to carve out a solid niche in the antibiotics space due to its potency against carbapenem-resistant Enterobacteriaceae (CRE) and its superior efficacy to piperacillin/tazobactam.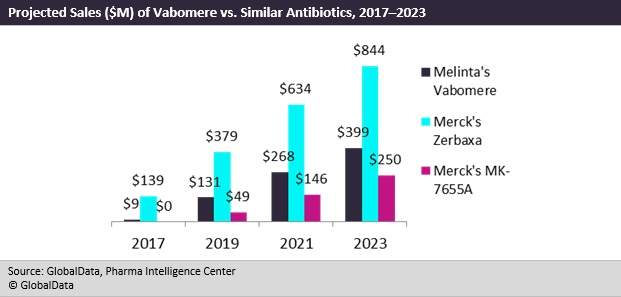 In addition to its deal with The Medicines Company, Melinta and Cempra Pharmaceuticals agreed to a merger that resulted in Melinta's shareholders owning 52% of the new company. As part of the deal, Melinta acquired the rights to the next-generation macrolide solithromycin.
Melinta's Baxdela (delafloxacin) also received FDA approval for the treatment of adults with acute bacterial skin and skin structure infections (ABSSSIs) caused by susceptible bacteria, including methicillin-resistant S. aureus (MRSA). The ability of Baxdela to be administered either orally or intravenously, combined with its ability to inhibit both bacterial topoisomerase IV and DNA gyrase, should allow the novel fluoroquinolone to carve out a niche in the increasingly competitive antibiotics marketplace.
While Melinta dominated antibiotic approval and M&A news in 2017, other firms were active. In January 2017, Johnson & Johnson (J&J) acquired Actelion as part of a $30B agreement. The deal netted J&J the rights to cadazolid, an investigational antibiotic in Phase III of clinical development for the treatment of C. difficile.