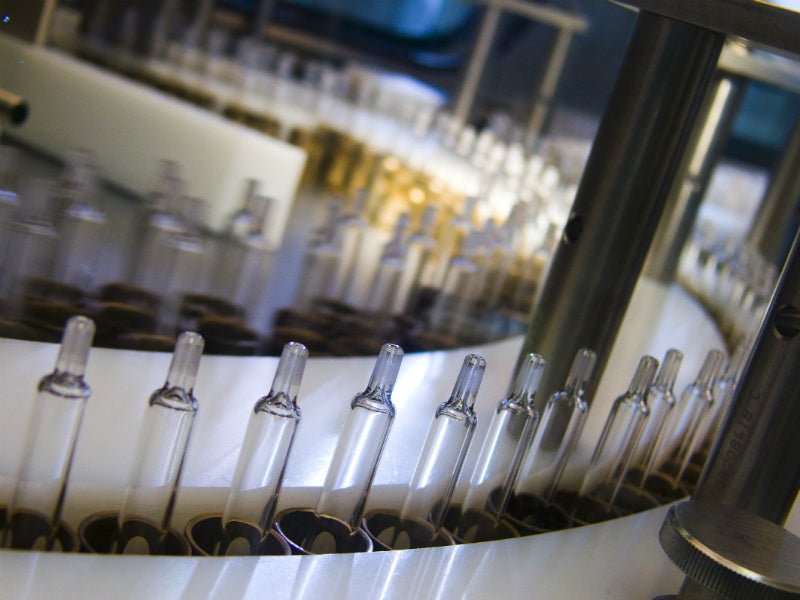 Sharp movements in exchange rates between the US dollar and major developed countries' currencies could harm the competitiveness of future US-based CMO operations. At the same time, they might contribute to even more consolidation of the CMO industry.
Foreign exchange rates are influenced by a range of factors including interest rates, inflation, economic growth, and geopolitical events such as those related to Brexit and the US-China trade war. Stronger national currency generally tends to mean there is good economic growth and higher interest rates.
Political events can produce severe and uncharacteristic fluctuations of currency exchange rate within minutes of occurring, for example following the Brexit vote the value of sterling slumped to a 31-year low on currency markets. However, a GlobalData survey providing findings for PharmSource's Brexit and the Healthcare Industry report indicated that this was a boon for UK-based CMOs, with many finding they had become more competitive globally.
Figure 1 shows the equivalent of one US dollar in British pounds, Canadian dollars, and Euros on 15 June of every year for the last decade. Across the period of 2008 to 2018, the general trend shows that the US dollar's value is significantly higher than it was ten years ago.
For US-based CMOs attempting to encourage British, Canadian, and European clients to enter into manufacturing agreements, the growing US dollar value will be a significant disincentive. For instance, a British client considering a $1m manufacturing or development contract will be facing a £749,030 expense in 2018 compared to £513,390 in 2008. The Canadian and European equivalents for this would be CAD 1.3m and €853,640 in 2018 compared to CAD 1.1m to €649,960 ten years ago, respectively.
CMO financial performance is also affected by rate changes: as US-based CMOs report financial results in US dollars, revenues and profits growth will be lowered by the less favourable conversion of the British pound, Canadian dollar, and Euro revenues and profits into US currency. Conversely, British, European and Canadian CMOs will benefit from the currency conversion impacts when they conduct business in the US. One of the main reasons to devalue national currency is to boost exports, a tactic being considered by China as part of the ongoing China-US trade war; however, devaluation may carry the disadvantages of potentially increasing inflation and higher pricing of imports.
Almost half of all revenue for companies in the S&P 500 comes from outside the US, mainly Europe and Asia. The relatively lower dollar value in the past has benefitted US CMOs by incentivising use of their services by non-US clients and producing larger revenue increases in annual reports. The strengthening dollar may also result in greater outsourcing of manufacturing capabilities to CMOs in Asia, particularly India. However, due to regulatory pressure and supply chain security concerns, certain manufacturing operations in Asia have been repatriated to North America.
Furthermore, because the US pharmaceutical market is the most attractive from the standpoints of volume and pricing, many pharma companies prefer to keep manufacturing close to their customers. Over the last few years, the FDA has issued Warning Letters to Indian and Chinese manufacturing facilities at an increasing rate; for example, the FDA issued a Warning Letter to Yicheng Goto Pharmaceuticals Co Ltd on 26 July 2018 regarding its Yicheng API manufacturing facility (B/POR August 2018). Moreover, it would be difficult to outsource all manufacture of innovative drugs to non-US sites as the facilities with the necessary capability and capacity are limited.
Increasing consolidation in the CMO industry
In recent years the CMO industry has experienced increasing levels of consolidation with an increasing average value per deal. PharmSource's recent Contract Dose Manufacturing Industry by the Numbers report showed there were a particularly high number of European facility acquisitions in 2017. US-based CMOs could use the opportunity afforded by the stronger US dollar to expand their networks through European acquisitions.
A recent example is PCI Pharma Services (Philadelphia, Pa., USA) acquiring contract packager Millmount Healthcare (Stamullen, Co. Meath, Ireland) on 10 September 2018 (B/POR October 2017).  Although the currency exchange effect should mean it is unfavourable for European CMOs to acquire US assets, in reality, North American assets are highly sought after and purchased by European buyers.
Relatively close geographic proximity between the US and Canada means there is less reason for US-based CMOs to acquire Canadian facilities or CMOs, as Canada would already be easily supplied to by US facilities. The challenge for any acquiring contract manufacturer will be finding CMO operations that enable the buyer to satisfy client demand and become closer to offering a one-stop shop.
Figure 2 shows the equivalent of one US dollar in British pounds, Canadian dollars, and Euros on the 15th of each month for the last year. Even across the course of the last year, there have been considerable fluctuations in the value of the US dollar relative to the currencies of other developed countries.
One US dollar could have been worth €0.81 or €0.88, €1.26 or CAD 1.31 , or £0.72 or £0.78 depending on the exact time and date it was exchanged in the last year. Although these seem like small differences, when multinational CMOs gain multi-million dollar revenues or acquire companies or facilities for large sums, from abroad, even these fluctuations can produce a big difference for the companies' profitability or its expenditure.
For this reason, exchange rates play a major role in executive decision-making, as they will impact the asset's price and the financing available for the deal; companies use financial instruments such as currency swaps and forward contracts to hedge risks posed. The depreciating rupee has assisted the profitability of Aurobindo (Hyderabad, India), Dr Reddy's Lab (Hyderabad, India), Sun Pharma (Mumbai, India), and Glenmark (Mumbai, India). These Indian companies heavily export to the US and generate most of their revenues from overseas markets.
There are limits to the influence of exchange rates on industry: companies will only benefit from their country's currency depreciation if they generate most revenues abroad from exports. Although exchange rates play a factor in CMO M&A activity, so too will strategic considerations and client demand.