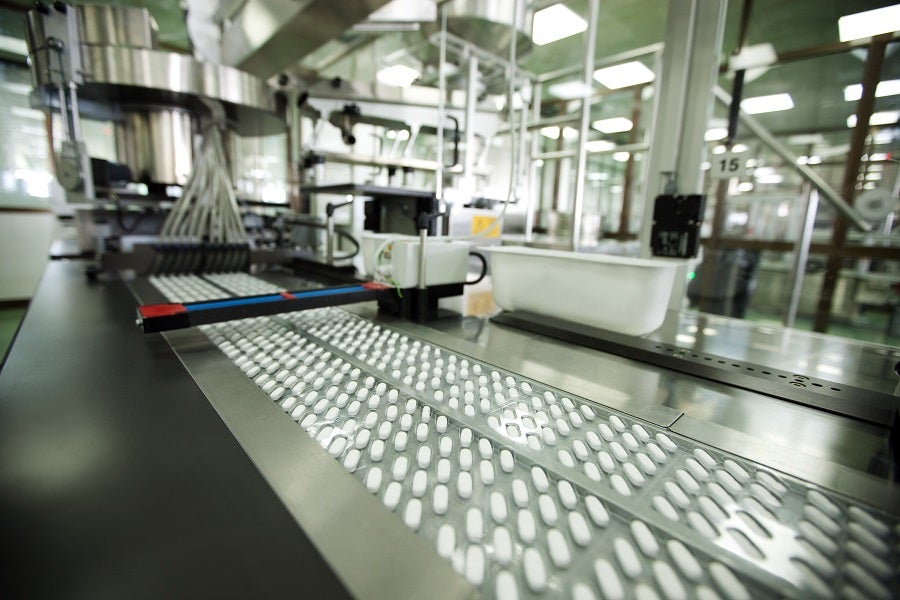 The US Food and Drug Administration (FDA) should make drug supply chain information public, including naming the contract manufacturing organisations (CMOs) and facilities making drugs, manufacturing volumes and capacity, according to a report commissioned by the US Congress.
The report, 'Building Resilience Into the Nation's Medical Product Supply Chains', also calls for an end to export bans on critical medicines and their active pharmaceutical ingredients (APIs), more funding for advanced manufacturing technology, and guaranteed prices for in-demand drugs during emergencies.
The non-profit National Academies of Sciences, Engineering and Medicine (NASEM) wrote the report as part of an ad-hoc committee set up in 2020 during the height of the Covid-19 pandemic to examine the security and resilience of US drug sourcing.
The Covid-19 pandemic threw a spotlight onto existing drug supply chain vulnerabilities and created new shortages, increasing both public and political awareness of US reliance on other countries for manufacturing. While some groups have called for more manufacturing to move to the US – and the Biden administration is funding some of this 'onshoring' (B/POR, December 2021) – NASEM's report recommends against large-scale onshoring and says that making supply chains transparent, diversifying suppliers and improving stockpiles is a better way to protect supply.
Moving a product's dose manufacture to the US does not guarantee security if the API comes from abroad, the report notes. "Moving only the final assembly stage to the US, as is often proposed in glib onshoring proposals, will have a limited impact on resilience because it leaves the supply chain vulnerable to disruptions of component and raw material supplies," says the report. "Moreover, concentrating production inside the US can make supplies more vulnerable to regional disasters, such as hurricanes." It also notes that stockpiling may be a cheaper option: "If holding a vast stockpile of a critical medical product would provide more protection for less cost than onshoring the product, why wouldn't we do it?"
Instead, the report recommends that the FDA 'should make sourcing, quality, volume and capacity information publicly available for all medical products approved or cleared for sale in the US', and should also 'establish a public database to promote analyses of these data'.
Manufacturers would need to publicly disclose the manufacturing location, including the FDA Establishment Identifier (FEI) for APIs, dose forms, major excipients, packaging and delivery devices for all drugs sold in the US. This information would be printed on drug labels and also kept in a publicly accessible database.
If the recommendations are followed, the FDA would also need to publicise its risk-based Site Selection Model scores and Office of Pharmaceutical Quality (OPQ) scores for all manufacturing facilities.
Drug volume data is currently required to be reported to the FDA since the passing of the 2020 Coronavirus Aid, Relief and Economic Security (CARES) Act (B/POR, February 2022). The report would require this data to be made public, along with reporting manufacturing capacity and volume.
Report advises stockpiles but no more export bans
The report plans for future emergencies with a combination of stockpiling and 'capacity buffering' – the ability to ramp up manufacturing volumes in an emergency.
Although the report advises against large-scale on-shoring, it says that the federal government should fund research into advanced manufacturing technologies so that onshoring could be 'a reasonable strategy for some drugs'.
It also recommends that the Office of the Assistant Secretary for Preparedness and Response (ASPR) could manage the Strategic National Stockpile more effectively in future than it has so far during the Covid-19 pandemic. The ASPR and FDA could set 'a list of guaranteed 'crisis prices' that the government would pay for certain products under specified conditions', the report says. "This would provide an incentive for firms to find creative ways to deliver pop-up capacity during emergencies."
The report calls for a treaty between countries and the World Trade Organisation (WTO), prohibiting export bans on components of critical medical products, or else sanctions could be imposed.
During the Covid-19 pandemic, many countries, including the US and India, widely used export bans on medicines and personal protection equipment (PPE) to deal with domestic shortages. By May 2020, 85 countries had enacted pandemic-related trade restrictions, according to the WTO. Many have now been lifted but the bans severely disrupted supply chains. India banned exports of Covid-19 vaccines for several months from last April so that it could vaccinate its own population, which was being badly affected by the Delta variant.