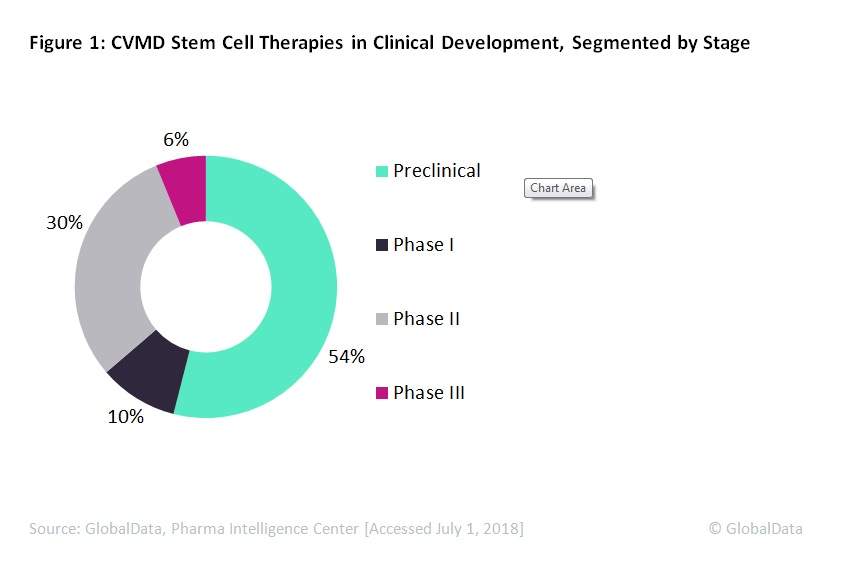 Regenerative medicine could potentially cure diseases and replace palliative treatments for chronic diseases such as heart failure or diabetes. Stem cells in particular have been studied for their potential to repair or replace damaged or diseased human cells or tissues to restore normal function. Currently, small biotechs are leading R&D efforts on a variety of cardiovascular (CV) stem cell therapies, while big pharma drives metabolic disorder (MD) stem cell therapy research, with AstraZeneca , Johnson & Johnson, Novo Nordisk , and Sanofi gearing up to develop novel treatments for diabetes.
Despite big pharma investment in MD stem cell therapies, the majority of the candidates are still in early R&D stages, whereas several CV stem cell therapies are already in Phase II or Phase III clinical trials. It is therefore highly probable that marketed "off-the-shelf" CV stem cell therapies will become available within the next decade.
Within the entire cardiovascular and metabolic disorder (CVMD) space, the current stem cell pipeline features approximately 116 candidates. As seen in Figure 1, the majority (54%) of the pipeline candidates are in preclinical development, with only 6% of candidates being evaluated in Phase III clinical trials. Of these CVMD stem cell pipeline therapies, 73% target cardiovascular indications, and 27% target metabolic indications, as seen in Figure 2. Regarding the CV stem cell therapies, a disproportionately large number of them target heart disease indications, such as heart failure, cardiomyopathy, left ventricular dysfunction, and myocardial infarction.
Regenerative therapies targeting cardiovascular indications aim to demonstrate that stem cells introduced into the body can induce the formation of new capillaries or/and improve function of impaired or injured heart tissue. Prominent mid- to late-stage CV stem cell pipeline candidates, such as Mesoblast 's Revascor, Celixir 's Heartcel, and Capricor 's CAP-1002, target heart failure, a chronic disease with a slew of unmet needs.
Key opinion leaders (KOLs) interviewed by GlobalData are eager to have these novel treatments at their disposal, especially for patients with advanced heart failure who are unable to receive a heart transplant, patients with non-ischemic cardiomyopathy, and heart failure patients with preserved ejection fraction.