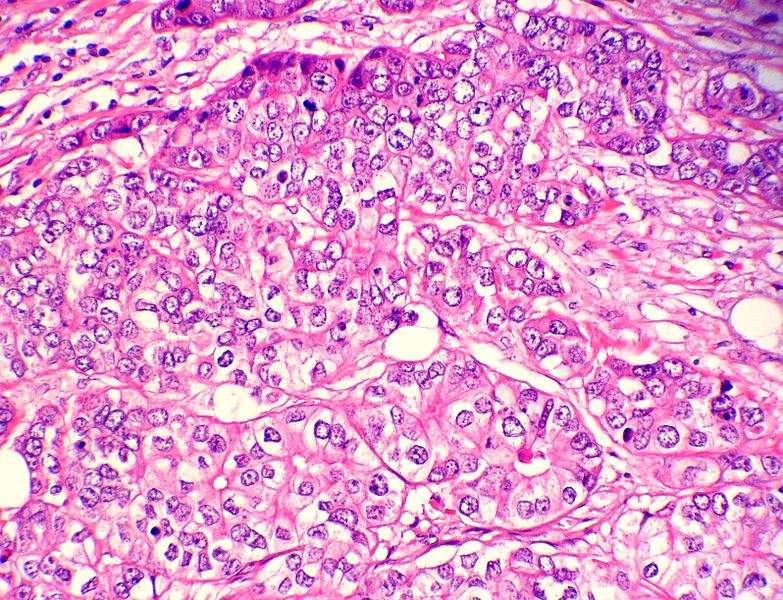 Triple negative breast cancer (TNBC), an aggressive cancer that constitutes 12% of all breast cancers and has a poorer short-term prognosis than other subtypes, has limited treatment options beyond conventional chemotherapy and radiotherapy.
However, there are numerous ongoing late-stage studies investigating Roche 's Tecentriq (atezolizumab) in combination with chemotherapy in the neoadjuvant or untreated metastatic settings, which highlights the potential of programmed cell death protein 1/programmed cell death ligand 1 (PD-1/PD-L1) checkpoint inhibitors in combination regimens. This provides hope for TNBC patients, especially those whose tumours have sufficient infiltrating lymphocytes, which have been shown to respond better to immunotherapies.
There is compelling evidence to suggest that immunotherapies may have their greatest potential earlier in the treatment course, before a patient's immune system is compromised. Although it is unlikely that monotherapy with checkpoint inhibitors will see a future in this setting, given the lack of demonstrated activity, the combination of the PD-L1 inhibitor Tecentriq with chemotherapy holds more promise. Earlier this month, Roche announced that its Phase III IMpassion130 study of Tecentriq plus chemotherapy versus chemotherapy alone had met its co-primary endpoint of progression-free survival (PFS) in PD-L1-positive metastatic patients.
In a different approach, a Phase I/II trial sponsored by Novartis is exploring the ability to improve immune infiltration in TNBC through the combined use of the novel PD-1 inhibitor spartalizumab with LAG525—an inhibitor of another checkpoint target known as lymphocyte-activation gene 3 (LAG-3). This method aims to render the tumour microenvironment less immunosuppressive, and therefore may enhance the activity of PD-1 blockade. Pre-clinical studies have demonstrated synergistic anti-tumour activity with this approach, but it remains to be validated in the clinic.
Checkpoint inhibitor combination therapies
Immunotherapy is also being explored in TNBC in combination with other agents, including biologics and small-molecule targeted drugs. For instance, combining a PD-1/PD-L1 inhibitor with a poly ADP-ribose polymerase (PARP) inhibitor, such as the Phase Ib combination of Lynparza (olaparib) with Imfinzi (durvalumab), is being explored to assess whether affecting the repair of tumour DNA can improve the response to checkpoint inhibitor therapy. However, it is not yet clear whether adding PD-1/PD-L1 blockade leads to synergistic or additive activity over PARP inhibitor monotherapy in TNBC, and thus larger studies evaluating the safety and efficacy of this approach are essential.
An alternative strategy to checkpoint inhibitor combination therapy that may also be valuable is the use of antibody-drug conjugates that target TNBC-enriched surface proteins.
Immunomedics' sacituzumab govitecan is the only conjugate currently being investigated in a Phase III trial for TNBC, and on 18 July, the FDA accepted Immunomedics' Biologics License Application (BLA) for filing and granted Priority Review, with a Prescription Drug User Fee Act (PDUFA) date of 18 January 2019. If approved, sacituzumab govitecan will provide metastatic patients with another treatment option in the relapsed/refractory setting and hence will not compete with Tecentriq plus chemotherapy regimens that are being studied in the neoadjuvant and untreated metastatic settings.
Combination strategies involving PD-1/PD-L1 inhibitors, as well as novel modalities such as antibody-drug conjugates, are encouraging for the future treatment of TNBC. Although more mature data from these trials are awaited, it is expected that TNBC patients will benefit from immunotherapy regimens in the future, echoing the existing success of this paradigm in other cancers.