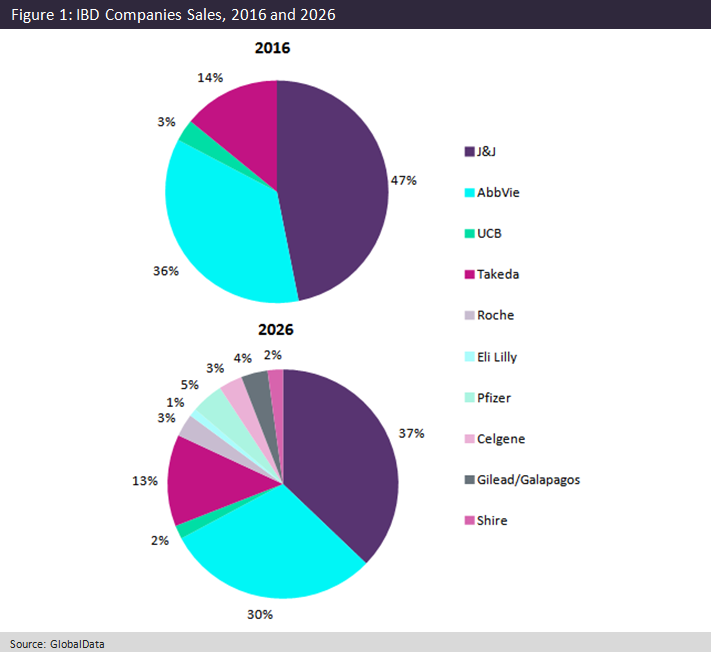 Currently there are five major companies that have approved branded drugs in the inflammatory bowel disease (IBD) market—Johnson & Johnson (J&J), AbbVie, Takeda, UCB, and Pfizer (the newest entrant with Xeljanz's recent approval).
The latter two companies each have one marketed drug, in Crohn's disease (CD) and ulcerative colitis (UC), respectively. J&J is currently the market leader due to Remicade's extensive use in both CD and UC and because it was the first branded biologic that was approved in both indications. AbbVie follows J&J closely because of the influence of Humira, while Takeda is trying to make a mark in the market with Entyvio. GlobalData forecasts that in 2026 the leading pharmaceutical company in IBD could see its influence diminish and brand new players are set to break into the top companies for IBD.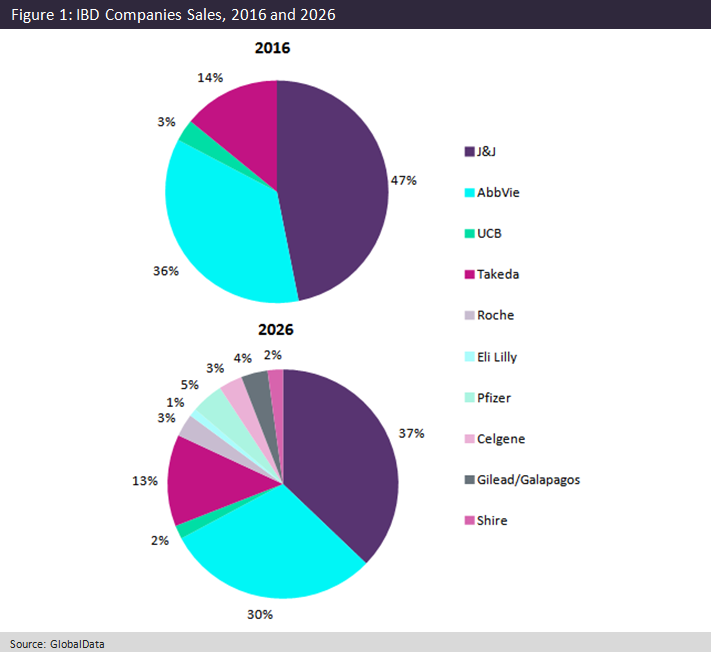 In 2016, J&J had 47% of the market share for branded drugs in IBD; however, GlobalData has predicted that in 2026 its influence will diminish to 37%, as shown in Figure 1 above. The decrease in J&J's influence is primarily due to new entrants into the market and the introduction of infliximab biosimilars that will steal Remicade's patient share in the seven major markets (7MM: US, France, Germany, Italy, Spain, UK, and Japan).
Furthermore, AbbVie's influence will decrease in the market because of similar factors as J&J, causing Humira use to decrease. Over the next eight years AbbVie will be seeking approval for two new drugs, risankizumab and upadacitinib, to help with the decrease of sales of Humira. Takeda will only be seeking the approval of Entyvio SC, which is a subcutaneous formulation of Entyvio IV. Although Entyvio is projected to gather momentum in UC, GlobalData does not expect its rise to be similar in CD and as a result Entyvio's share of the market will decrease by 1%.
Among the new players, Pfizer, which has recently gotten approval in the 7MM for Xeljanz in UC, could be set to make its mark on the IBD market. It will be the first company that will introduce a new novel oral drug for patients suffering from moderate to severe UC, fulfilling a key unmet need in the space.
Although Pfizer's influence is primarily based in UC, GlobalData has forecast Pfizer to generate $455.1m by 2026. Celgene is another strong entrant in the IBD market, with its oral drug ozanimod in Phase III trials for both UC and CD. Lastly, GlobalData forecasts that Gilead/Galapagos will be a new entrant into the market due to its IBD therapy filgotinib, a first-in-class Janus kinase (JAK) inhibitor to treat CD. Compared to Xeljanz, another JAK inhibitor, filgotinib has a slightly improved safety profile because of its selective JAK1 inhibitory action. With an entrance in 2021, Gilead/Galapagos is forecast to generate $375.7m, with 76% of its revenue coming from CD.