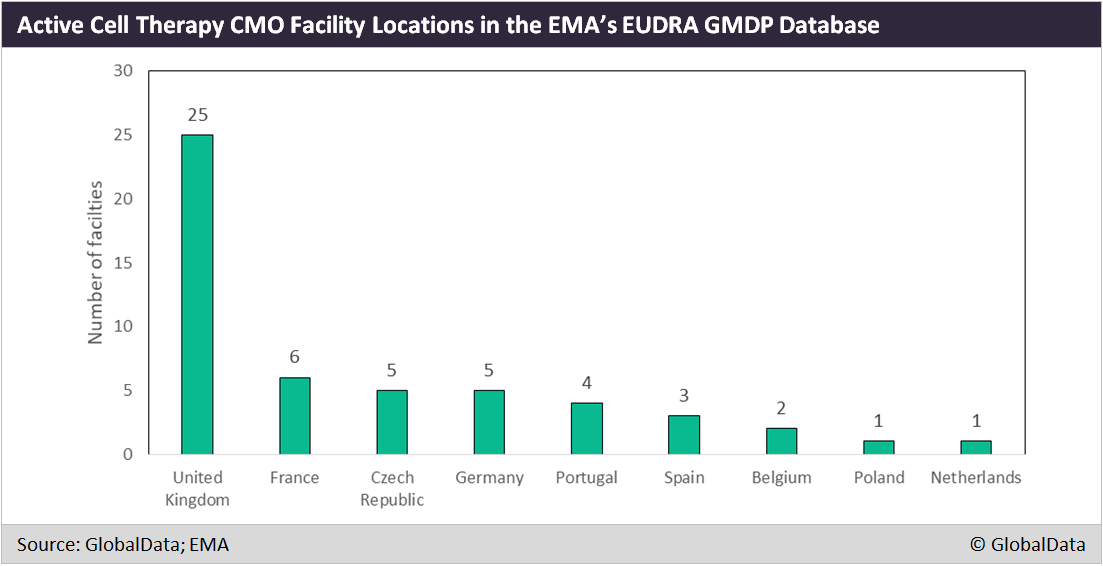 Of the 52 registered cell therapy contract manufacturing organisation (CMO) facilities in the EU, according to EudraGMDP, the registry of all facilities approved to process pharmaceuticals for sale in the EMA's regulatory area, 25 (48%) are located in the UK.
France, Germany, and Spain combined claim 14 facilities (see Figure below). Almac Clinical Services, which also has its own drug pipeline, and Oxford BioMedica account for a significant proportion of the UK sites, with Oxford Biomedica already involved in the active pharmaceutical ingredient (API)  manufacture of Novartis' Kymriah (March 2018 B/POR).
Philip Vanek, general manager of Cell & Gene Therapy Strategy at GE Healthcare Life Sciences, told PharmSource that the relatively large number of UK sites is likely due to a dedicated government-level strategy to pursue cell therapy development, especially through the UK Cell and Gene Therapy Catapult (CGTC), which has centres in London and Stevenage aimed at driving sector growth. The UK Government has cited this as a long-term strategic priority.
Similarly, the Canadian Government has invested heavily in cell therapies with the Centre for Commercialization of Regenerative Medicine. The US Government has largely lagged behind its Canadian and UK counterparts in terms of its focus on cell therapies, with the exception of the California Institute for Regenerative Medicine (CIRM), Vanek added.
Reimbursement schemes will Influence cell therapy market share
The EU has the second largest pharmaceutical market revenue in the world, with Western Europe accounting for the majority of pharma revenue. In the future, cell therapies may account for a large proportion of Europe's drug revenues. However, this will depend significantly on the cost-effectiveness of the treatments, which will need to be approved by bodies such as the UK's National Institute for Health and Care Excellence (NICE) and Germany's Institute for Quality and Efficiency in Healthcare (IQWIG) for reimbursement by various countries' public healthcare services. For this reason, the current cell therapy cost, technological, and regulatory hurdles are particularly important to overcome for these therapies to see widespread adoption in the European market.
Maintaining market authorisation also involves financial costs. The EMA in recent years has withdrawn authorisation for several products at the request of the marketing authorisation holder: Sanpower's Provenge, formerly a Dendreon product; Vericel's Maci; and TiGenix's ChondroCelect. Vericel suspended the marketing of Maci in Europe as of September 2014 primarily due to low utilization and an unfavourable pricing environment. Dendreon and TiGenix likewise cited commercial reasons for withdrawal.
Increasing interest in CAR-T therapies for the oncology space, and perhaps technological advances enabling greater scalability and automation, could all result in increased EMA cell therapy approvals and use.
Among the aforementioned 52 cell therapy contract manufacturing sites in the EU, the number able to provide API or finished dose manufacture at commercial scale is smaller still, with some facilities like Catalent's Bolton, UK site and CSM Clinical Supplies Management's Schwalbach am Taunus, Germany site providing exclusively clinical supplies.
The EudraGMDP database lists an additional 141 EU facilities related to cell therapies that do not provide contract manufacturing services (see Figure below). Healthcare providers and universities/medical schools have a relatively large number of cell facilities in the EU—36 and 21, respectively. Academic institutions are well-represented as they often conduct early-stage cell therapy research, however, they lack the financial resources to provide clinical or commercial supply capabilities.
Industry updates such as this one are covered in the Bio/Pharma Outsourcing Reports from PharmSource, a GlobalData product. If you do not subscribe to PharmSource or the Bio/Pharmaceutical Outsourcing Report, please contact a GlobalData sales representative to gain access.
For more insight and data, visit the GlobalData Report Store – Pharmaceutical Technology is part of GlobalData Plc.