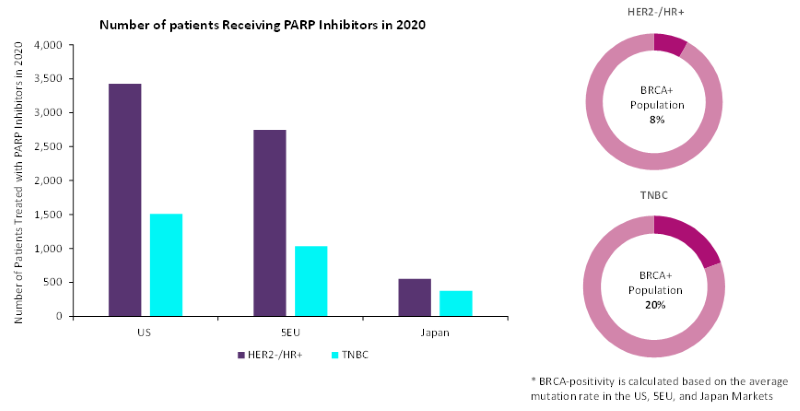 On 12 January, AstraZeneca's Lynparza (olaparib) was the first enzyme poly ADP ribose polymerase (PARP) inhibitor to receive FDA approval for use in patients with BRCA-mutated metastatic breast cancer. GlobalData forecasts that Lynparza will become the market leader among PARP inhibitors in the human epidermal growth factor-negative (HER2-) market, generating blockbuster sales.
PARP inhibitors are targeted therapies that can induce the apoptotic processes by altering the DNA repair pathway. These drugs are particularly potent where the cellular DNA repair machinery is already compromised, as in patients with BRCA gene mutations.
Figure 1: projected adoption of PARP inhibitors in breast cancer by disease subtype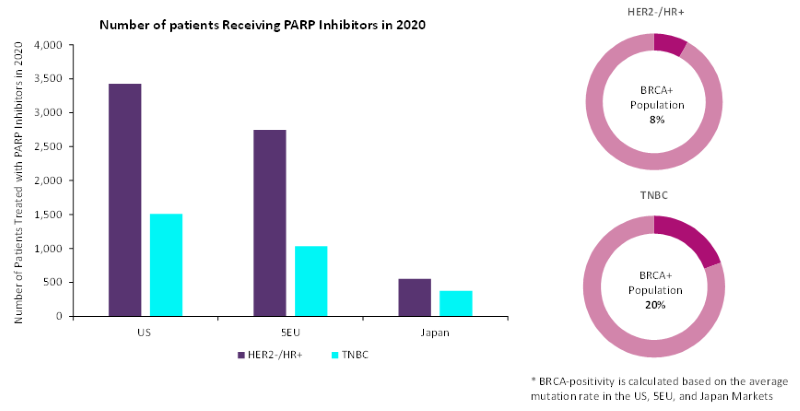 Source: GlobalData. 5EU = France, Germany, Italy, Spain and UK; HR+ = hormone receptor positive; TNBC = triple-negative breast cancer
The use of PARP inhibitors will differ substantially between breast cancer subtypes. While TNBC patients have the highest BRCA mutation rate, at 20%, they represent only 14% of the overall HER2- patient population versus 86% for HER2- and HR+ breast cancer. Thus, despite a lower BRCA mutation rate in HER2-/HR+ breast cancer patients (8%), more than twice as many HER2-/HR+ patients will be eligible to receive PARP inhibitors in comparison with TNBC patients.
TNBC patients have the highest level of unmet need among breast cancer patients, and BRCA-mutated TNBC patients are likely to benefit substantially from PARP inhibitors. However, due to the prevalence of the disease subtype, GlobalData anticipates that market opportunities for PARP inhibitors are greater in the HER2-/HR+ breast cancer population.
Upcoming related reports
GlobalData (2018). Dynamic Market Forecast: HER2-Negative/HR+ and Triple Negative Breast Cancer, to be published