TamperStop is a company dedicated to the detection and prevention of tampered, counterfeited, adulterated, pilfered and purposefully bio-contaminated pharmaceutical medications. Two US patents with a total of 31 patented technology claims ensure that there are thousands of combinations of inexpensive but highly effective proven technology solutions.
Counterfeiters continuing with their illegal acts will suddenly find themselves in an overwhelming, self-defeating and highly unprofitable activity.
Fractal molding and sealing of closures, caps, pouches and lids
The protective umbrella of multiple level security options (MLSP), fully reverse-compatible technologies and the use of proprietary FDA-approved intelligent polymers, which have been crosslinked with extremely high levels of radiation, enable the fractal molding and sealing of all forms of closures, caps, pouches and lids which cannot be analyzed, duplicated, glued, or opened in any manner without the parts fracturing, dramatically shrinking or showing obvious visual distortion, or the option of setting off electronic (RFID) tamper alerts.
Non-reversible thermo-chromic inks and embedded phase-changing intelligent polymers
Additionally, there are thousands of possible combinations of printable non-reversible thermo-chromic inks, or embedded phase-changing intelligent polymers that change state from a liquid to a solid if tampering is attempted. This can be complemented by patented and specifically custom-tailored real-time software, which tracks, records and constantly ensures the unique unalterable, or counterfeitable, lifetime pedigree of the product.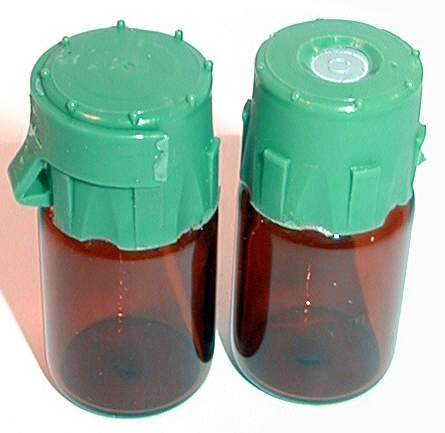 TamperStop fractal molded caps (pull-tab or standard opening).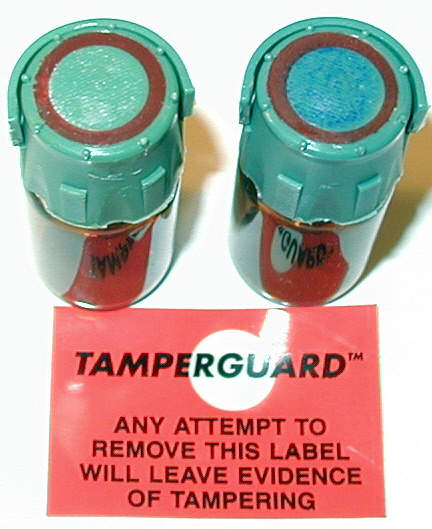 TamperGuard sterile-lock seals (non-reversable, thermo-chromic, with tamper indicator).
TamperStop (RFID) patented electronic tamper and pedigree verification.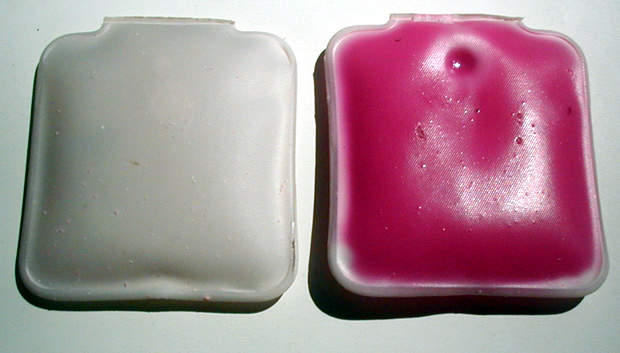 TamperStop micro pouches (non-reversible, featuring thermo-reactive technology).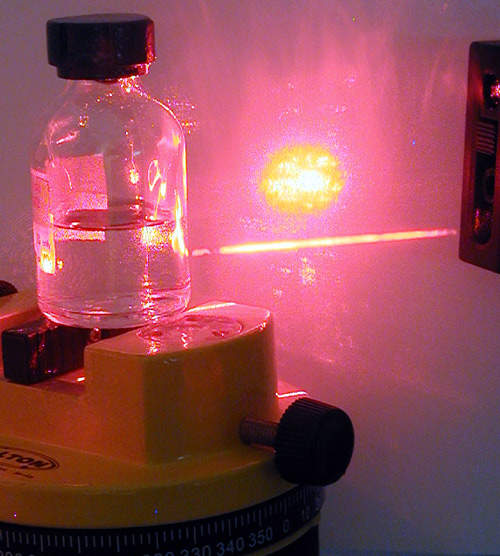 SensorVial™ laser analysis holograms for solution verification.
Binary optically encrypted holograms
Other options include patented binary optically encrypted (BOE) (3D) holograms (digital images) that can be inexpensively added into customers' molds to produce visual or non-visible (machine readable) parts. Additionally, raised company logos, a choice of thousands of custom colors, Braille, and even non-reversible thermo-chromic (temperature sensing) and magnetically encoded, encrypted date codes can be added in a single operation.
Light-diffraction hologram elements for standard product labels
The final option is SensorVial™, which uses proprietary light-diffraction hologram elements embedded in a standard product label. These elements are as small as 1mm², in order to be non-evasively scanned and interrogated with a standard hand-held laser reader.
Temperature, solution authenticity and concentration of medications can be assured within 40ppm. A single 1mm² chip in a paper label can hold up to 1MB of non-alterable digital encrypted information. Counterfeiting, tampering and adulteration can be stopped.
Anti-counterfeit pharmaceutical enclosures and security technology
The all-new, patented TamperStop family of security products and technology is carefully designed for enhanced manufacturing excellence and profitability. Particular considerations are given to:
Security features can be added individually, in any combination, or as an interleaved security umbrella
Use of 100% FDA-approved materials, crosslinked for -40°F to +305°F
Suitable for all sterilization temperatures
Uniform scalable architecture meets EPC Global / EPCIS Pedigree mandates
Patented tactile sensor protrusions can be verified even with surgical gloves and are extremely difficult to counterfeit
All 13mm and 20mm caps are compatible with in-line capping, sealing, sterilization, and cryogenically treated medication packaging
Improved efficiency with 100% in-line, in-house manufacturing
Phase-changing intelligent polymers – micro-pouches change state from a liquid to a solid, and permanently change color, if tampering is attempted
Patented child-friendly pull-tab opening feature
High throughput with polymer construction, meaning lower machine wear and tear
Extremely affordable
No sharp edges to cut through surgical gloves
No Al2O3 contaminants, 100% clean room compatibility
Two-second removal of TamperGuard sterile-lock seal, or pull-tab opening
Patented RFID tamper, counterfeit indication, and pedigree tracking with optional multi-zone encrypted chip
RFID modules – virtually any RFID chip can be adapted, or the standard Atmel Crypto RF and Phillips chips can be used for military applications with full encryption requirements – 64bit Mutual Authentication Protocol and random number generator with keys
Vivid or machine readable-only holograms in 2D or 3D, some with digital encryption and information storage as optional features
Once installed, TamperStop fractal molded caps resist all attempts at non-destructive removal
Available with embossed corporate logos, custom colors and Braille
Non-counterfeited, non-tampered products provide increased profits
*TamperStop products are protected under two US patents with 31 patented claims. Additional US and foreign patents are pending.