Climet Instruments Company is a global leader and manufactures industrial-grade cleanroom air particle counters and microbial air samplers primarily for the pharmaceutical and life science industry.
What makes Climet unique is a high degree of accuracy and precision of measurement, upwards of 283% or greater precision versus the competition.
All our instruments have integrated data integrity features and are fully compliant with FDA 21 CFR Part 11. Additionally, all our prototype designs are drop and vibration-tested to ensure long product life cycles.
Innovation and global capabilities
Climet is an innovator, having pioneered many industry-standard features today, including higher flow rates of 50 LPM and 100 LPM portable particle counters, continuous monitoring sensors with built-in vacuum pumps and more.
Climet products are made to a high degree of accuracy and precision of measurement.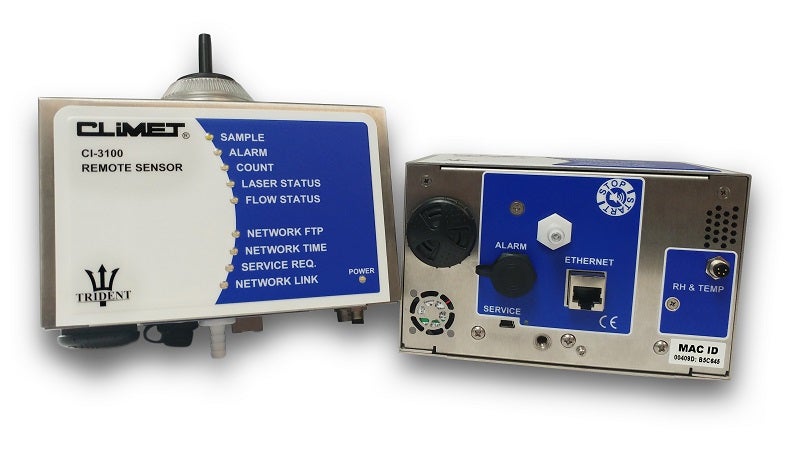 All Climet's prototype designs are drop and vibration-tested to ensure long product life cycles.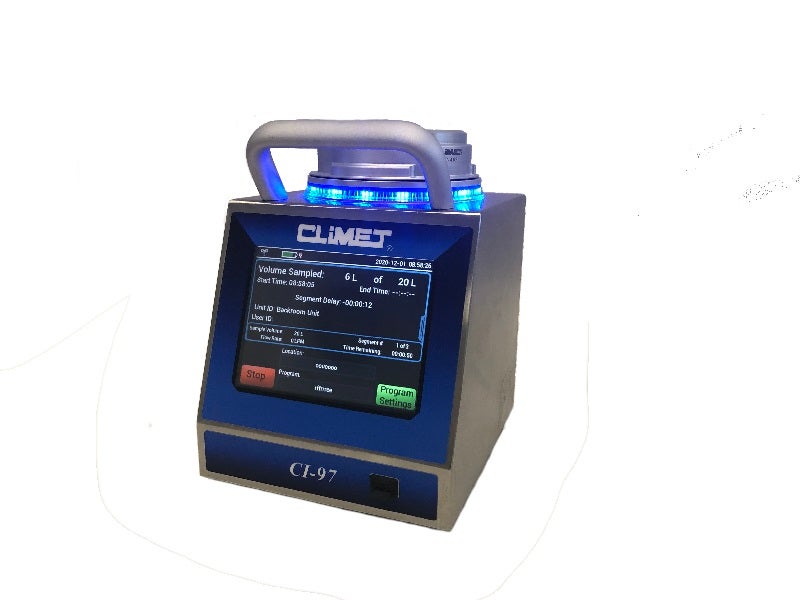 The Climet CI-97 100 LPM microbial air sampler offers data integrity automation to ensure regulatory compliance.
Global presence, including local calibration and repair service, is virtually guaranteed by our network of over 20 international distributors. These include Optical Science in the UK and Ireland, Aerometrik serving France and the Benelux region, and Rigel Life Sciences headquartered in Italy.
Total cost of ownership
What sets Climet apart from the competition is our proprietary manufacturing methods, high-quality materials and over half a century of engineering experience. As a result, our interval calibration out-of-tolerance (OOT) rate for instruments 10 years old or less is 0.5%.
This is more than an order of magnitude less than our competition, who have OOT rates on average of 20-40 times higher. As a result, customers can rest assured that deviation reports and failure investigations from interval calibration OOTs are significantly mitigated if not virtually eliminated.
According to a 2018 survey of pharmaceutical Quality Managers, the cost of a 'simple' failure investigation averages $8,000 to $12,000. Given Climet's extremely low OOT rate, the calculated Total Cost of Ownership (TCO) for Climet is significantly less than that of our competition.
In fact, our competitors could literally give their equipment away for free and, in most cases, Climet would still provide a lower TCO. Contact us and we'll show you how.
Industrial-grade cleanroom particle counters
Climet uniquely tests each new prototype design for a cleanroom portable particle counter and microbial air sampler. Specifically, our engineering team uniquely conducts vibration and drop testing on prototypes to ensure production instruments lasts a decade or more.
Additionally, each new instrument undergoes a 48 or 72-hour burn-in to mitigate pre-mature failures, plus the internal HEPA filter is factory-tested and certified to meet or exceed ISO Class 3 limits.
These processes are unique to Climet.
Viable cleanroom air particle monitoring solutions
Viable monitoring is a critical process in both life science manufacturing and research and development (R&D). To achieve compliance with regulatory guidance, Climet offers the following:
Data integrity automation with our CI-97 100 LPM microbial air sampler:

Programming: 300 programmes, 300 user IDs, 1,000 location IDs and five user access levels
Metadata: data, time, user ID, location ID, sample volume, duration and alarm status
Network Time Server: ensures accuracy of date/time stamps (ALCOA / Contemporaneous)
PDF reports: user audit trial, audit logs, stored data and program settings
Onboard Solid State Sample Data Buffer: 50,000 records

Internal HEPA-filtered exhaust mitigates cross-contamination
Automatic flow control ensure your Climet air sampler is always in calibration
Remote sampling accessories for BSCs, isolators and RABS
Accessories to monitor argon, CO₂ and other compressed gases
Theoretical d50 = 1.08 µm, and experimental d50 < 1 µ; these meet or exceed the validation requirements of ISO 14698-1:2003 and BS EN 17141:2020
The CI-97 seamlessly integrates and exports sample records directly into Lonza MODA and other LIMS providers.
Cross-platform paperless data integrity
Climet particle counters (and the new CI-97 microbial air sampler) have a well-earned industry reputation for easily and seamlessly integrating with Lonza MODA and other LIMS/SCADA software providers. This is accomplished without the need for middleware, which only creates an additional point of failure and puts your sample data at risk.
Climet also uniquely provides Lonza Moda users with the industry's only true point-to-point data integrity.