Labworks International Inc.
Environment Controlled Rooms, Cleanrooms, ICH Stability Chambers, Freezers, and Coolers for Temperature-Sensitive Pharmaceutical and Medical Products
Labworks International designs and constructs turn-key cleanroom and controlled environment solutions for the life sciences sector.
260 Edgeley Blvd, Unit 4,
Vaughan,
L4K 3Y4 Ontario,
Canada

---
---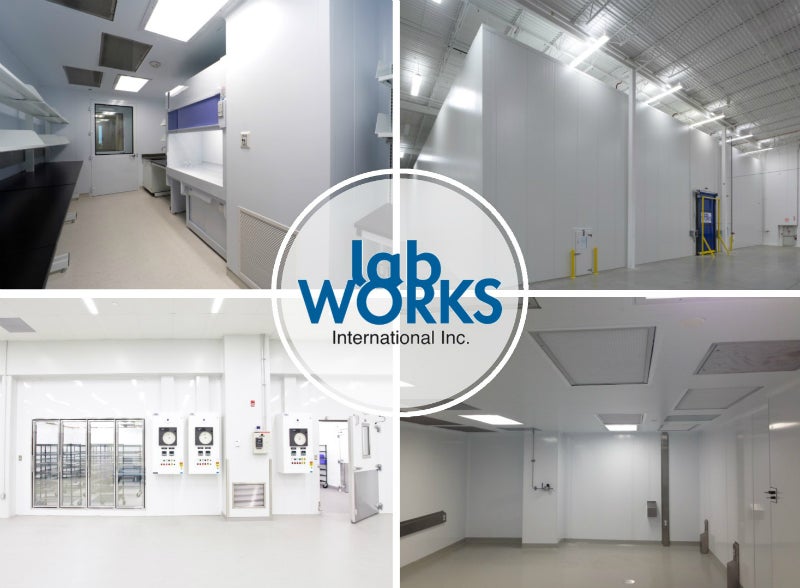 Labworks International designs and constructs turnkey cleanroom and controlled environment solutions for the life sciences sector.
Providing installations throughout the US and Canada, the company's controlled environment rooms, cleanrooms, and specialty environments offer dependable storage solutions for temperature-sensitive goods.
Each unit features high-quality components designed for reliability and ease-of-maintenance.
Modular cleanrooms for biopharmaceutical applications and scientific research
Labworks International supplies modular cleanroom solutions designed by professional engineers, who have been trained and certified to the specific requirements of the biopharmaceutical industry.
Labworks International Inc.
The company provides a wide array of modular units for applications such as pharmaceutical research laboratories, USP797/800 pharmacy compounding, and drug manufacturing. Labworks also provides customizable solutions, with panel offerings such as 50mm honeycomb aluminum with unplasticized polyvinyl chloride (uPVC) coatings, plastic laminate panels, and microelectronic dissipative panels.
All Labworks International cleanrooms are also custom-engineered to ensure compliance with international regulatory standards. The company's extensive development and application experience allows it offer designs suitable for any facility.
Labworks provides independent certification and testing for all cleanrooms to ensure they meet the required performance criteria.
ICH Stability Chambers with accurately controlled conditions for drug testing
Labworks' stability chambers are available in a full range of sizes and operating temperatures. This fully qualified environment control solution can be provided as part of a combination package of two or more, or as a stand-alone unit, with parameters such as 25°C, with 60% relative humidity (RH); 30°C / 65% RH; 35°C / 70% RH; and 40°C / 75% RH.
Featuring individual calibration, testing, and mapping abilities, these units are customizable to meet client requirements. The company provides temperature and humidity resistant shelving, specialty floor finishes, custom doors, and other accessories, which can all be made-to-measure. Wall panel finishes can also be customized to incorporate stainless-steel for durability and resistance.
Labworks optimizes storage capacity without compromising on temperature or humidity levels. Offering custom layouts and advanced air circulation strategies, the company ensures a uniform environment in small or large chambers.
Featuring highly accurate sensor technology, Labworks' stand-alone chambers are efficient and flexible, reducing the environmental footprint and cost.
Validated walk-in coolers and freezers for a complete cold chain solution
Labworks provides walk-in cold rooms and freezers, which meet US Food and Drug Administration (FDA) requirements for temperature performance.
The custom-sized rooms include a range of wall finishes and high-performance refrigeration systems for water or air cooled configurations.
Using engineered control systems, Labworks' coolers accurately maintain temperatures from 2°C-8°C under a variety of operating conditions.
Labworks' Constant Temperature Freezers utilize patented equipment to ensure it operates through defrost cycles with no impact to the storage temperature. They are available in -20°C, -30°C, and -35°C models.
These reliable and cost-effective walk-in coolers and freezers have long lifecycles and a consistent thermal performance. They are available with options such as powered doors, glazing, high-density shelving, and a choice of finishes.
About Labworks International
Since inception in 2005, Labworks International has been providing innovative solutions to the cleanroom and controlled environment room market. The company provides solutions across the US and Canada.
Labworks designs solutions tailored to fit your exact business needs. Comprised of professional engineers, its team will work with you to design a solution that provides the best value for your site.
The design of validated spaces requires specialised engineering to ensure the system is reliable, delivers the proper temperature, and provides the temperature mapping required for the product being stored in the room.
This video is an animation showing a LabWorks environment room being assembled.
Labworks International Inc.
260 Edgeley Blvd, Unit 4
Vaughan
L4K 3Y4
Ontario
Canada
Labworks International USA Inc.
1415 Panther Lane, Suite 378
Naples, 34109
Florida
United States of America