Quality Assurance Management (QAM)
Inspection and Analytical Services for the Pharmaceutical Industry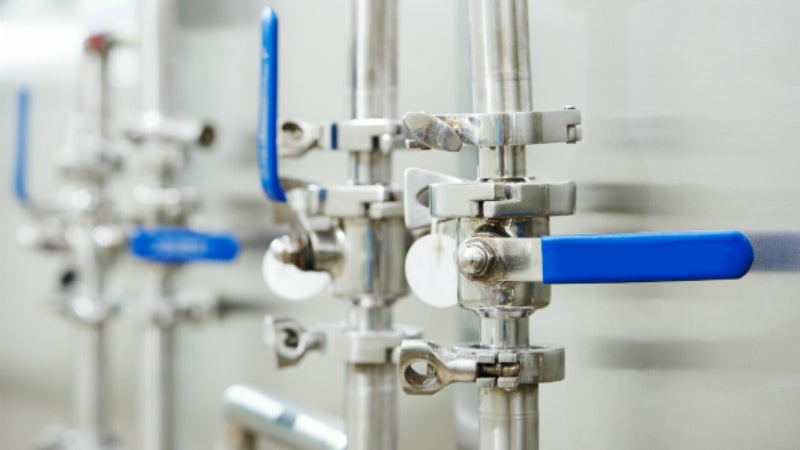 Quality Assurance Management (QAM) provides quality assurance and control (QAQC) services to pharmaceutical and biotechnology manufacturing facilities.
Inspection and analytical services for bioprocess systems
QAM specialises in cost-effective examination, testing and commissioning services for bio-pharmaceutical facility systems worldwide.
The company maintains one of the largest inventories of analytical equipment in the world.
Inspection and analytical services for hygienic bioprocess systems are available, including testing and commissioning of gas, chemical, compressed air and water systems.
Internal visual weld inspection borescope of hygienic piping systems
QAM conducts internal visual inspections of stainless steel piping systems using video detection tools and image management software.
Company personnel are qualified to perform American Welding Society (AWS) and ASME BPE weld inspections.
The company can support ASME bioprocess code installations with onsite weld assessment, quality surveillance, welder certification and procedure qualification services.
Particles, water, microbial and oil content analysis for compressed air
QAM provides ISO: 8573 based analysis of clean, dry and oil-free compressed air used in biotechnology and pharmaceutical manufacturing.
The company offers the latest analytical technologies for moisture analysis, particle counting, oil mist and total hydrocarbon analysis.
Microbial impact sampling for biological contamination monitoring is available, and is part of QAM's qualification and commissioning services for compressed air and other process gases.
Ferrite content, positive material identification and surface finish analysis
QAM supports factory acceptance testing (FAT) and pre-fabrication for biotechnology and pharmaceutical projects by analysing materials and facility subsystems.
QAM conducts contact profilometry for surface finish analysis of sterile product contact surfaces used in the vessels, tanks, skids, and other facility equipment.
The company works to ensure that construction materials meets the required specification by positive material identification (PMI) and analysis of ferrite content in 304l, 316l and 316l welded subassemblies.
Leak testing services for critical process systems, vessels, tanks and heat exchangers
QAM deploys advanced equipment and procedures to test, certify and commission newly installed equipment and guarantee it is leak-free. Field tested experts can help identify, locate, quantify and repairs leaks in operating facility systems.
Its personnel are qualified according to American Society for Non-Destructive Testing (ASNT) standards.
Helium leak detection services provide the fastest, safest and most sensitive leak detection technology. The company uses ASTM and ASME standard practices with advanced helium mass spectrometer leak detectors.
Source inspection services
QAM's domestic and international offices provide support for construction projects requiring FAT and IQ-related pre-delivery inspection of facility or process equipment such as tanks, vessels, skid and process equipment.
On-premises pre-delivery inspection services include materials analysis, supplier quality audit, surface finish analysis, weld inspection, drawing, installation and documentation verification, as well as pre-shipment functional tests.
Third party independent QA/QC
QAM is a trusted partner of facility owners and vendors serving biotechnology and pharmaceutical construction projects.
System experts supervise process piping and facility equipment installations and ensure project specifications are met and critical facility systems are validated.
Quality Assurance Management (QAM) Images
Quality Assurance Management (QAM)
Quality Assurance Management (QAM)
1620 Valwood Pkwy, Suite #128
Carrollton
972.331.5800
75006
Texas
United States of America
QM Services (Malaysia) Sdn Bhd
No 1168, Lot 91
Lorong KS 2/4
Kulim Square
09600
Kedah Darul Aman
Malaysia
Robert Adward
+60 490 959 3492
+60 016 415 0817
+60 490 573 792
robert_adward@qam.com.sg
Quality Assurance Management (QAM)
Room 603, Dehong building
No 665 Zhangjiang Road
Zhangjiang Hi-Tech Park
201203
Shanghai
China
Tang Jinfeng
+86 21 5855 8101
+86 21 5855 8518
tangjf@qam.com.sg
Quality Assurance Management (QAM)
1st Floor, Room 102, Tam Diem Building
No 10B Nguyen, Thi Minh Khai Street, Da Kao Ward
District 1
Ho Chi Minh
Vietnam
Rory Ramon
+848 6291 8505
+848 6291 8508
rramon@qam.com
Quality Assurance Management (QAM)
Room 2, 8 Floor, no 293
Chunghsiao East Road
Section 4
106
Taipei
Taiwan
Tan Jinfeng
+886 22712 7768
+886 22773 2892
tangjf@qam.com.sg
Quality Assurance Management (QAM)
#501, 23-11, KuenJaeBongGil (Samsung Cherevil)
Hwasung-si
445-170
Gyeonggi-do,
South Korea
Lizzie Choi
+82 10 4094 7292
+031 613 4696
lizzie@qam.com.sg