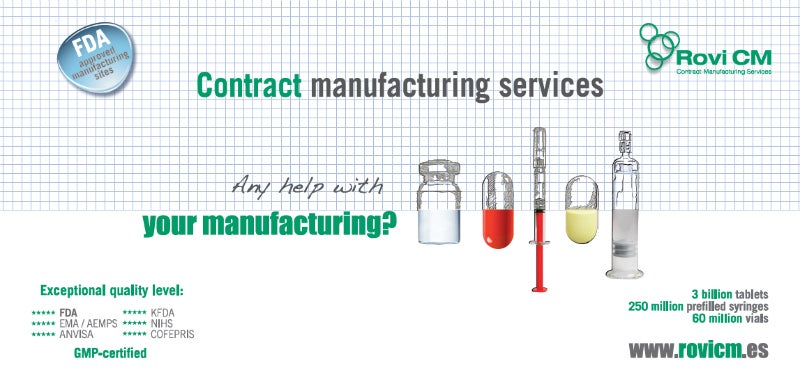 ROVI CM provides contract manufacturing services for injectables, including pre-filled syringes (PFS), vials, and tablets for pharmaceutical manufacturing plants.
Manufacturing, testing and packaging for the pharmaceutical industry
ROVI has US Food and Drug Adiministration (FDA) approved and good manufacturing practice (GMP) certified production plants in Spain and has an annual capacity of 250 million PFSs, 60 million vials, and three billion tablets.
Manufacturing plants for injectables
ROVI has a high-quality injectables plant certified by the FDA, Agência Nacional de Vigilância Sanitária (ANVISA, Brazil), Korea Food and Drug Administration (KFDA), Medicines and Healthcare Products Regulatory Agency (MHRA) and the Spanish Agency of Medicines and Medical Devices (AEMPS).
The plant is also approved by Gulf co-operation countries and holds several ISO certifications.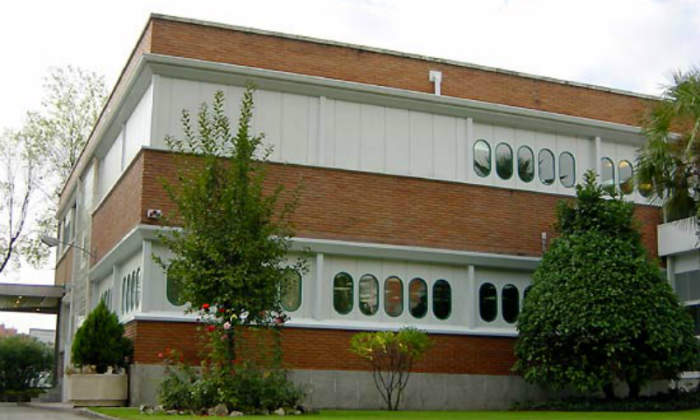 Contract manufacturing facilities in Madrid, Spain.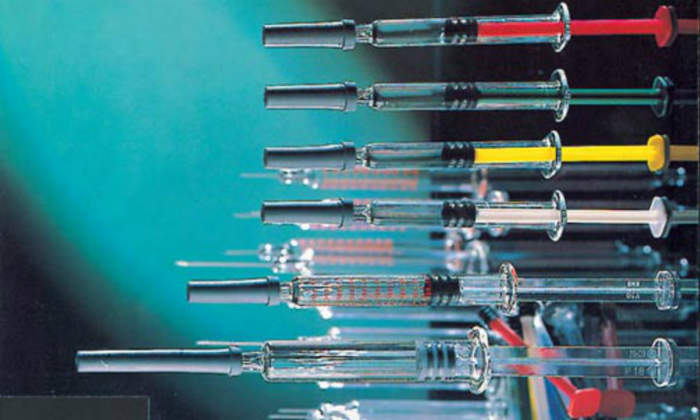 Pre-filled syringes of 0.2ml to 20ml.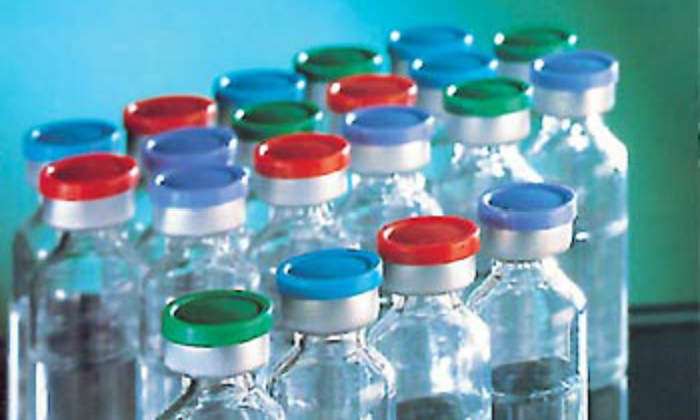 Vials of 2ml to 10ml.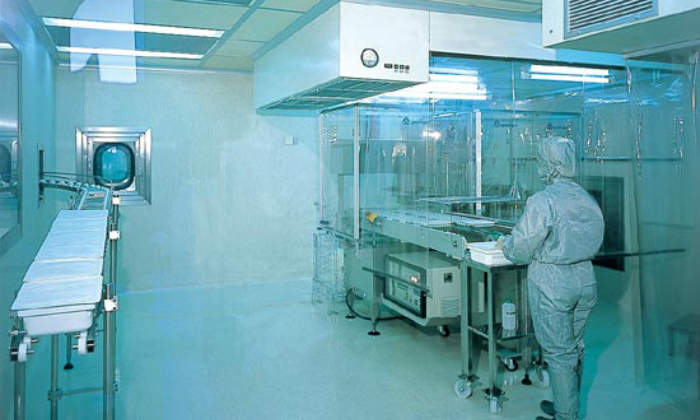 Clean areas for aseptic filling.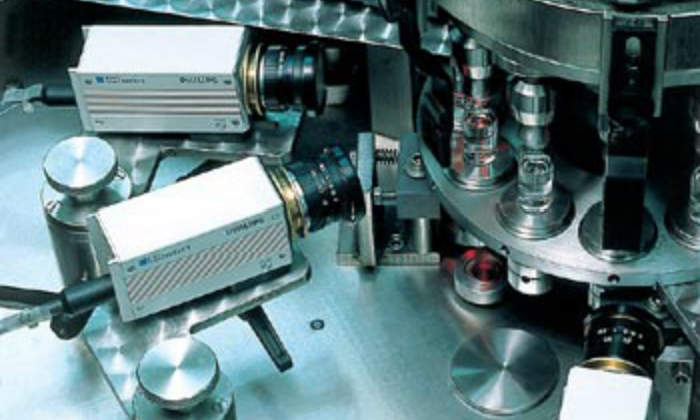 Visual inspection system for pre-filled syringes and vials.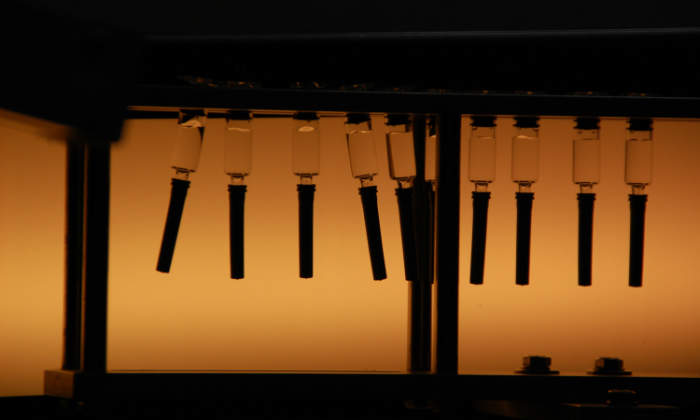 ROVI has a high-quality injectable plant certified by the US Food and Drug Administration (FDA)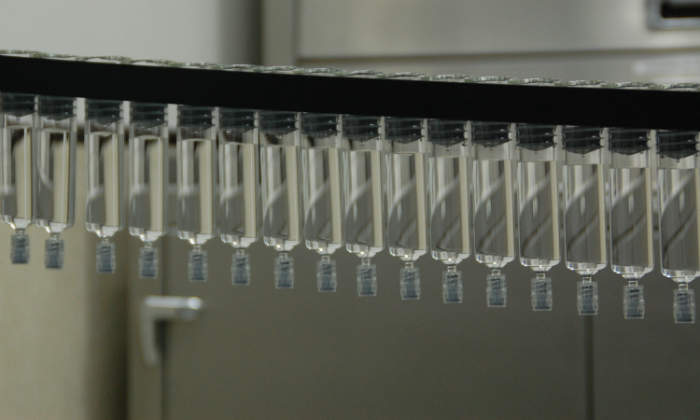 ROVI's injectable plant offers sterile, prefilled water for injection (WFI) and syringes for the reconstitution / dilution of drug products.
Pre-filled syringes, vials and suppositories
Drug products manufactured in the company's pharmaceutical plant are currently exported to more than 50 countries worldwide. ROVI's core business is filling and packing small volume parenterals (SVP) in PFS and vials.
The company covers all syringe formats available in the market from 0.5ml to 20ml, which can be filled to the same limits. Vials are available from 2ml to 10ml.
Water for injection
ROVI's injectables plant offers sterile, prefilled water for injection (WFI) and syringes for reconstitution / dilution drug products.
Ready to submit documentation (common technical document (CTD) Module 3 & drug master file (DMF)) is available for Europe and the US (with stability data ICH) to facilitate registration and speed up product launches.
Clients can choose the volume required, including:
0.5ml WFI in 1ml STD syringes
1ml WFI in 1.25ml syringes
2ml WFI in 3ml syringes
5ml WFI in 10ml syringes
10ml WFI in 10ml syringes
15ml WFI in 20ml syringes
20ml WFI in 20ml syringes
Solid forms plant
ROVI's plant is one of the biggest FDA approved plants for solid forms in Europe at 83,000m².
The plant has been certified by various agencies, including the FDA, ANVISA, AEMPS, and Gulf co-operation countries. It is also certified by Comisión Federal Para la Protección Contra Riesgos Sanitarios (COFEPRIS, Mexico), the National Institute of Health Sciences (NIHS, Japan), and meets Belarusian and Kenyan standards.
Tablets, coated tablets and hard capsules
ROVI exports 75% of its production and serves 50 markets with 25 different languages. The company's core business is specialising in manufacturing and packaging solid form pharmaceuticals.