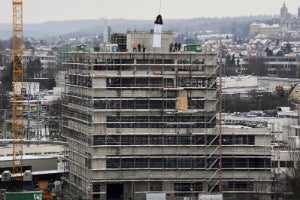 Following 16 months of construction, the first phase of a modern, multi-functional building at Vetter's Ravensburg Schuetzenstrasse site has been completed.
Estimated to be fully operational by the beginning of 2016, the new facility will contain high-tech laboratories and workplaces for Vetter Development Services, as well as a highly secure data centre and additional office space for a total area of 8,500sqm.
The €26m investment is a result of increased demand by customers for support in drug development, as well as the need for enhanced IT systems to meet future requirements.
Through facilities located in Chicago, US, and Ravensburg, Germany, Vetter Development Services offers its customers support in all phases of clinical drug development, including pharmaceutical analysis, process development, and clinical trial supply.
Due to increased demand by customers for these services over the past several years, the company made the commitment to invest in a new building at its Schuetzenstrasse facility.
The six-story building will contain laboratory space for microbiological analysis, and will have sufficient spare capacity to meet future growth, such as additional cleanrooms and labs.
The multi-functional building is also an investment in future-oriented IT systems, which helps Vetter meet quality and security needs of customers and regulatory authorities.
For example, the data centre will have enhanced security systems and a safety cell that protects technology and data from external physical hazards, as well as a state-of-the-art gas extinguishing system to minimise damage in the event of an emergency.
Vetter managing director Thomas Otto said: "With this new building, we are addressing the growing demand of our customers in the area of clinical drug development and manufacturing."
"Furthermore, with the installation of the sophisticated IT systems, Vetter will be well-prepared to meet future challenges that present themselves."