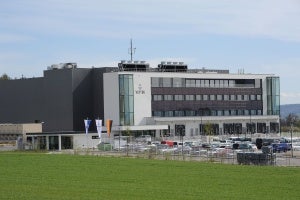 The pharma and biotech industries are increasingly seeking safer and more efficient supply chain processes. To meet these challenges Vetter has invested in a new, state-of-the-art Center for Visual Inspection and Logistics. The new facility offers high-bay warehousing capacity for cool and room-temperature goods, employing state-of-the-art technology. The contract development and manufacturing organisation (CDMO) is also setting high safety standards for quality control at the location. The €35m facility will serve as a workplace for up to 400 employees.
Quality, reliable delivery and efficient logistics play an increasingly important role in the highly competitive drug market. As a leading CDMO, Vetter supports many of the world's key drug manufacturers in the development and manufacturing of their products. To continue to offer a high level of services, Vetter makes an effort to be among the best in all areas of manufacturing. With the brand new Ravensburg Vetter West facility, the company raises its quality control and material supply processes to an even higher level. With its state-of-the-art systems and technology for warehousing and administration of goods, the CDMO's entire supply chain is now adapted to the needs of the separate supply and manufacturing processes. In January 2012, the company was granted manufacturing approval and cGMP certification from the RP Tuebingen, Germany.
"With the new site, we are enhancing the logistics and quality processes to a new level," says Vetter managing director Thomas Otto. "Efficient and safe processes respond to current and future challenges in the pharmaceutical and biotech industries, while our state-of-the-art Center for Visual Inspection and Logistics is a fundamental part of our system of rapid and reliable delivery to our customers worldwide."
Ravensburg Vetter West is also setting high standards in terms of renewable energies. The installation of a large number of innovative technologies for producing electricity and promoting efficient use of resources allow for the generation and utilisation of energy in an ecological way.
To achieve this goal, photovoltaic panels have been affixed to the façade to generate solar power, while regional farmers are also running a biogas plant to supply a block heating and power plant at the facility for heating purposes. Geothermal energy has thus been tapped to regulate temperatures in the high-bay warehouse, while excess energy is being recycled.