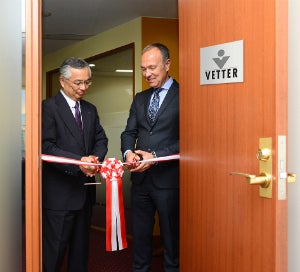 Vetter has announced the opening of a new business entity in Tokyo, Japan.
The announcement was made at a ceremony attended by executives of customer and partner companies with a presence in the Asian region, as well as Vetter and industry executives.
Vetter Pharma International Japan KK business development manager Mr Hiroaki Suzuki will lead Vetter's business activities in Japan, reporting to Asia Pacific director key account management Ms Chervee Ho in Singapore.
The new office underlines the importance of Japan for Vetter's business activities.
As the second largest pharmaceutical single market, Japan is home to leading global companies, which offers a promising injectable pipeline. It is also a point of departure for several established Japanese companies for increasing their global reach.
The office will support customer relations and aid in the development of new business within Japan, while strengthening the global position of Vetter, particularly in selected Asia Pacific markets.
As a strategic partner, Vetter supports its worldwide clients through every phase of their drug product's lifecycle, from early product development to launch to commercial supply.
Vetter Advisory Board chairman Udo J Vetter said: "For more than 35 years, the name Vetter has been synonymous with high-quality aseptically prefilled drug delivery systems.
"With our office opening in Japan, we continue to build upon that history with a further demonstration of our strategy to better service the needs of our growing customer base worldwide, including Asia."
Managing director Peter Soelkner said: "Our presence in Japan will help to increase awareness of Vetter's services in this growing healthcare market by presenting our expertise and market position onsite."
"Following the creation of our Asia Pacific hub in Singapore last year, the new office is a further development, establishing a dedicated presence in the most important single market of the region.
"This activity affords us the opportunity to strengthen personal contacts with national audiences."
Chugai Pharmaceutical, Pharmaceutical Technology Division general manager Dr Hitoshi Kuboniwa said: "Vetter's decision to expand their presence in the Asia Pacific region and to open their first office in Japan is a strong message of their commitment to service the needs of this important market.
"As a trusted partner, we appreciate that step, wishing Vetter as a company in general, and Ms Ho and Mr Suzuki in particular, a promising start for their onsite activities in Japan."
The new office is located in the Shinagawa district, which is one of the 23 wards of Tokyo, and a rapidly developing area.
Situated on the 28th floor of a business tower directly across from Shinagawa station and one of the transportation hubs in Tokyo, the office offers ease of accessibility for many JR Rail lines, with proximity to international Haneda and Narita airports through direct train connections.