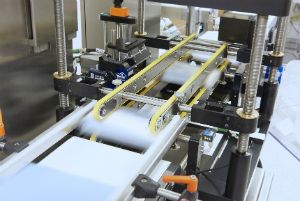 Vetter has announced the manufacture of the first commercial batches with single-use identification numbers.
Following the introduction of a comprehensive serialisation service in 2014, the company has implemented product serialisation for secondary packaging for one of the world's leading pharmaceutical companies.
In accordance with requirements from the South Korean Ministry of Food and Drug Safety (MFDS), Vetter's solution identifies drugs on the folding boxes using a 2D data matrix code with a serial number, GTIN, expiry date and batch number.
As the number of counterfeit drugs continues to grow, regulatory authorities worldwide are increasingly relying on clear identification of products through serialisation.
Regulatory authorities are demanding that the smallest packaging unit be marked with a single-use identification number.
South Korea is among those countries requiring serialisation with an aim towards protecting against counterfeiting, as well as a more secure supply chain.
Vetter managing director Thomas Otto said: "Together with our customer, we prepared for these requirements very early on. We have been active in filling and final packaging for the company for years.
"Thanks to our serialisation service, our partner can now meet the regulatory requirements for South Korea.
"We are, however, also aware of the fact that regulatory requirements differ from one country to the next.
"Therefore, we offer pharma and biotech companies a wide range of options that will give them flexibility when reacting to different regulatory standards."
South Korea has currently only asked for serialisation on the folding package. China has legislated use of 1D linear codes, including aggregation with the shipping box.
Vetter provides a range of services in secondary packaging, primary packaging and final assembly that give its customers a great deal of flexibility to accommodate various regulatory or market needs.
The company's comprehensive serialisation service includes a range of formats for serial numbers and different code systems such as 2D data matrix codes, interfaces and reports, as well as various aggregation depths.
Pharmaceutical and biotech companies can use Vetter's individually customisable solutions as a basis for their own track-and-trace programs to optimise their supply chain.