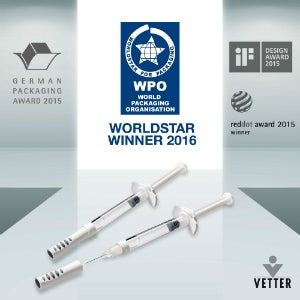 The World Packaging Organization (WPO) has awarded Vetter the WorldStar award 2016 for its syringe closure system Vetter-Ject.
The WorldStar competition is one of the major events of the WPO, and its award represents the pre-eminent international award in packaging.
Vetter has won four internationally recognised awards for a product released in July 2015. Two of the awards, won prior to the products launch, are the IF Design Award and the Red Dot Design Award.
Vetter-Ject recently won the German Packaging Award 2015. Vetter has also been awarded a CMO Leadership Award 2016 in four categories.
The WorldStar competition is open to any pack or packaging material that has won a recognised or domestic international award related to packaging in 2014 or 2015.
The German Packaging Award 2015 assured Vetter's submission to the WorldStar competition. Representatives from 19 packaging associations judged 293 projects from 35 countries.
The judging session took place over two days in October 2015 as part of the 95th WPO Board Meeting activities. Vetter previously won the WorldStar award in 1998 for the Vetter Lyo-Ject dual chamber syringe.
Vetter Development Service senior vice-president Dr Claus Feussner said: "The winning of this award, certainly one of the most prestigious in the field of global packaging, is very gratifying to Vetter, and yet another affirmation of the value that Vetter-Ject brings to the biopharmaceutical industry.
"The three awards we had already received, combined with the WorldStar Award, are a validation of the novel design and technological advances of Vetter-Ject."
Since its introduction in July, Vetter has received positive feedback both from the market and its customers about this system.
Vetter-Ject offers more options for filling highly sensitive compounds. Pharmaceutical and biotech companies are increasingly developing drugs that incorporate sensitive and complex compounds.
Administering these drugs requires an injection system that can be used flexibly, while being safe and simple to handle.
Vetter-Ject is such a system, consisting of a needle hub and a needle shield. Due to the baked-in siliconisation process for the glass barrel, less silicon oil is necessary, making Vetter-Ject suitable for silicone-sensitive drug products.
The silicon content of the syringe can also be adjusted according to customer requirements. The amount of silicon used and related particle load, can be reduced by up to 80% when compared to the standard siliconisation process applied to conventional syringe systems.
Vetter-Ject is ready-to-use with an integrated needle that is simple to handle and user-friendly. Tamper-evident closure means any attempt at opening of the closure system will be immediately and permanently visible.
Vetter-Ject can be used with a wide range of primary packaging options such as different stoppers and glass barrels, which can be customised according to the needs of the drug product.