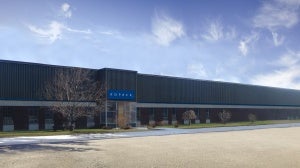 Ropack, provider of solid dose contract packaging services to the pharmaceutical and consumer healthcare industries, announces an expansion of its production campus. The new site, strategically located directly next to its main pharmaceutical manufacturing plant, increases Ropack's total operating space to nearly 250,000 square feet.
The fully licensed site will complement Ropack's broad contract manufacturing and packaging services by providing an additional 36,000 square feet of validated ambient and cold storage warehousing space. Ropack is also adding five new Class 100000 clean rooms to the existing 31 validated Class 100000 clean rooms to accommodate the growing pharmaceutical packaging needs of our customers. The site will be fully operational by 1 June 2012. Space is available to add an additional six Class 100000 rooms at a later date.
"This facility reflects Ropack's unconditional commitment to providing the capacity and technology that allows our clients to succeed," says Yves Massicotte, Ropack president and CEO. "Pharmas are feeling pressure to bring new products to market, so as they focus more intently on core competencies, they are turning in greater numbers to contract packagers like Ropack. This expansion allows us to accommodate their increased requirements flexibly, agilely and competitively."
The expansion is just one component of Ropack's growth. In 2011, Ropack launched a 15,000 square foot dedicated facility with low RH and controlled temperature for the production of stick-packs.