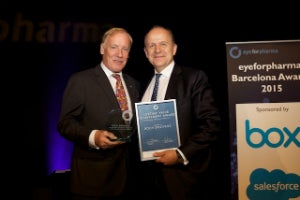 Two of UCB's biggest patient innovators were announced as winners at the eyeforpharma Barcelona Awards for their long-term commitment to improve patient experiences.
Christi Marsh, Director of North American Medical Information and Communications and responsible for UCBCares, as well as departing CEO Roch Doliveux were commended for innovation and focus on the needs of patients.
Marsh won the Customer Innovator Award, while Doliveux joined Patrick Cashman of Lundbeck Canada as the second ever winner of the Lifetime Value Achievement Award.
UCBCares, which combines all call-centres and sources of patient and customer services under one number and office, was commended by 2014 winner of the Customer Innovator Award, John Pugh from Boehringer Ingelheim.
Patients are assigned a solutions manager to personally address their concerns from assistance, medical information and healthcare referrals to clinical study guidance and even non-UCB medication.
Nominated for the Lifetime Value Achievement Award for the second year in a row, Mr Doliveux is now recognised for developing UCB into a focused, patient-centric industry leader recognised for growth and a strong pipeline.
In 2012, Mr Doliveux unveiled UCB's new tagline 'Inspired by patients. Driven by science.'
The focus on empathy and innovation reflects the core of what UCB has become under Mr Doliveux's leadership, with the company annually surveying all 9,000 staff to determine the level of patient-centric employee attitudes.
The awards both befit a consistent and determined approach to innovation, resilience and value creation over many years.
eyeforpharma chairman Paul Simms said: "Roch is very deserving of this award, showing that true innovation and patient-centricity in pharma should be driven right from the top of the business.
"His approach combines successful business with what truly matters in pharma: improving the lives of others."