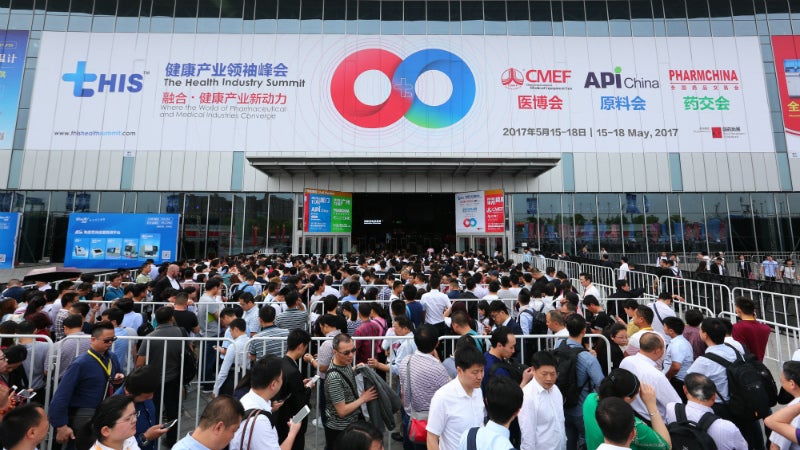 The Health Industry Summit (tHIS) 2017 opened in Shanghai at the National Exhibition and Convention Center on May 15th with well over two hundred thousand healthcare industry professionals from more than 150 countries and regions in attendance.
Now in its third edition, tHIS is one of the world's largest health industry events, with more than 350,000m² of exhibition space and 160 individual events and conferences. It comes at a crucial time, as China drives forward its Healthy China 2030 Plan initiative to realise an industry growth target of RMB 16 trillion ($2.3 trillion) by 2030 and an increase of average citizen lifespan by three years to 79.
Key events at tHIS 2017 included three of China's top medical equipment and pharmaceutical exhibitions CMEF, PHARMCHINA, and API China. The healthcare investment forum Healthcare China 2017 was also featured. This year's forum was co-organised by Reed Sinopharm, JP Morgan Asset management, CICC, and Sinopharm Capital and was attended by more than 1,000 chief executive officers (CEO), investors, and institutions.
tHIS featured the entire industry value chain and showcased tens of thousands of the latest technologies and products. Emerging technologies such as virtual reality (VR), augmented reality (AR), wearables, and artificial intelligence (AI) featured strongly on the show floor, as well as in the key forums. In addition, the World Medical Robots Innovation and Development Summit was held to reflect the growing trend for robotics and AI applications.
More than 7,000 exhibiting companies from 30 countries were at the show, including medical device giants such as GE, United Imaging, Siemens, Philips, and Mindray, as well as major pharmaceutical groups in China including Sinopharm, Shanghai Pharma and CR Pharmaceuticals.
A wide range of innovative companies in the medical field chose CMEF as their Global or Asia Pacific new product launch platform and more than 600 new product launches took place during the four days of the show. Among the new products released, United imaging launched its uVR 4D vision explorer platform, which is said to enable a more detailed dissect structure and spatial information. GE launched its first cloud based digital application for medical equipment management asset performance management (APM), which was developed by its China team. BGI also attended with its gene sequencer BGISEQ-500, a benchtop, high-throughput, open sequencing platform that provides end-to-end solutions.
Natural Health and Nutrition Expo were among the fastest growing segments in the portfolio, helped by an expected population boom in light of the reversal of the single child policy last year, as well as a growing health conscious middle class in China. Popular international brands such as Blackmores, Nature Made, and Garden of Life made their debuts at the show, along with 700 suppliers of health food and supplements, bringing with them popular product lines tailored to the Chinese market.
tHIS is organised by Reed Sinopharm, a joint venture between event organiser Reed Exhibitions and China's state-owned medical and pharmaceutical group Sinopharm, which is ranked 205 on the fortune 500 list. tHIS's next edition will be held in April 2018 in Shanghai.