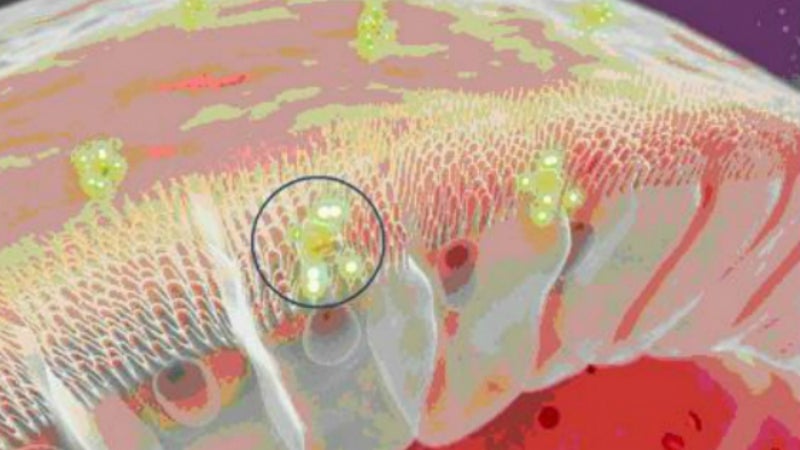 Emisphere Technologies is a drug delivery company that develops improved oral formulations of poorly permeable active pharmaceutical ingredients (API) such as peptides, proteins, oligonucleotides, and polysaccharides, as well as polar small molecules.
Emisphere launched its first commercial product using their proprietary delivery system, Eligen Technology in March 2015.
Oral delivery enhancement of large and polar APIs
Emisphere has developed a unique technology for enhancing the oral delivery of drugs that are normally given by injection or have poor oral bioavailability because their permeability through cell membranes is inadequate.
Eligen Technology has brought more than half a dozen oral formulations of peptides normally given by injection such as GLP-1 and insulin into clinical development.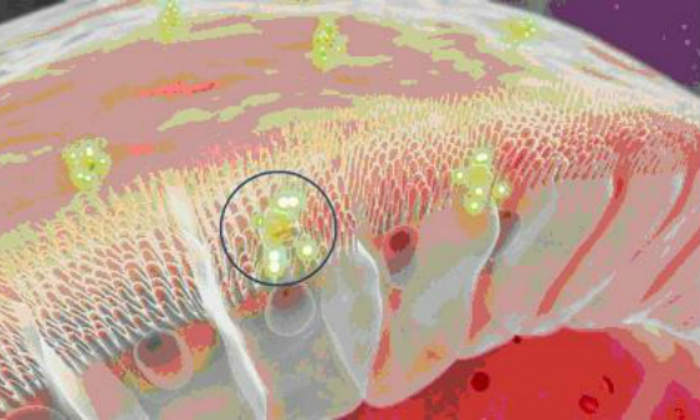 Carriers (the white dots) increase the permeability of peptides, proteins or oligonucleotides (green entity), which are shown as they start their passage through an epithelial GI cell to the bloodstream (on the bottom).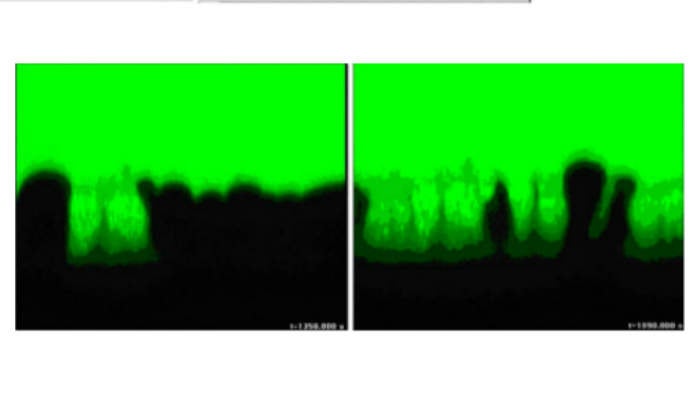 Peptide (insulin) labelled with green dye is transported into CACO-2 cells. Early in the process is shown on the left and later on the right. No drug enters the cells without a carrier present.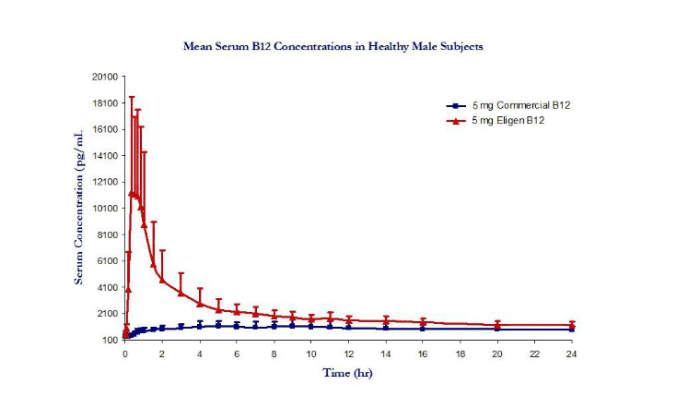 Eligen B12 shows a large increase in oral bioavailability. In B12 deficient patients, Eligen Technology's differentiated mechanism of absorption can be an advantage.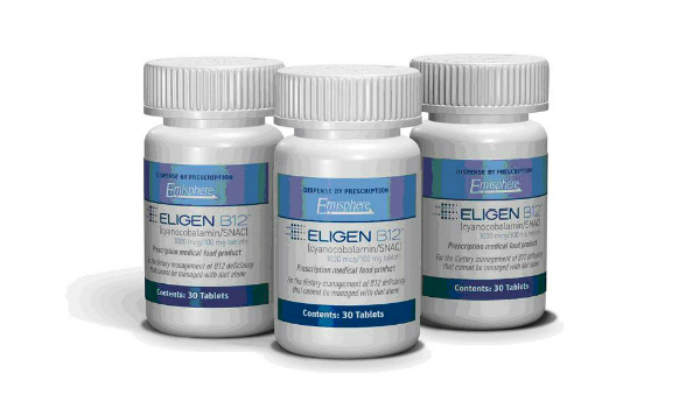 Eligen B12 tablets allow for a switch from injections to oral dosage for individuals with low levels of B12. The tablets are a blend of B12, carrier and standard pharmaceutical excipients.
In addition, oligosaccharides, polar small molecules and even metals have been shown to have significant increases in oral bioavailability in the clinic.
Oral delivery of injectable drugs
Eligen Technology uses small molecule carriers to orally deliver biologics and other normally impermeable drugs into the bloodstream.
These carriers help the drug molecules through the cell membranes of the epithelial cells lining the GI tract by a passive transport mechanism. Tight junctions remain intact so that no drug-drug interactions are observed, even when a second drug is given orally in a different dosage form at the same time.
The technology aims to alter the absorption phase, affecting the rate and extent, while the elimination phase is not affected.
In most cases, absorption is rapid with Tmax typically within an hour of dosing and can even occur within 30 minutes. Due to this attribute, Eligen can be used to create fast acting formulations.
Carrier and drug separate on reaching the bloodstream. The drug has been demonstrated to be in the same active form when injected, showing the expected pharmacological activity.
The carriers have an excellent safety profile. One of the carriers, SNAC, has been granted GRAS status. Other carriers in Emisphere's library possess safety profiles which are amenable to becoming GRAS.
Manufacturing tablets and capsules
Because the carrier needs to be blended with the API, the manufacture of the dosage forms is simple. Eligen Technology employs only standard pharmaceutics processes, so scale-up is easy and inexpensive.
The technology works with both tablet and capsule solid dosage forms. Solutions and suspensions have also been demonstrated to be effective.
Improved compliance for oral formulations
Emisphere's drug delivery technology provides an improved convenience and compliance that an oral formulation brings.
In addition, oral dosing may improve safety and efficacy due to the ease of more frequent dosing compared to bolus dosing of biologics or small molecules.
The company can also bring new life to old products through lifecycle management using the registration of abbreviated procedures such as 505(b)2.
Many carriers in Emisphere's library are NCEs and have a strong patent position. In addition, combination patents of drugs and carriers can provide further protection.
Oral drug delivery
In a major milestone for oral drug delivery, Emisphere brought to market the first prescription product in a market that uses absorption enhancers of poorly permeable drugs.
In the first quarter of 2015, Emisphere launched Eligen B12 in the US. This product is directed to individuals with low serum B12 levels. In clinical testing Eligen B12 was shown to return B12 to normal levels in a manner that is comparable to a standard course of B12 injections.
Emisphere is partnered with Novo Nordisk in the area of diabetes. One of Novo Nordisk's GLP-1 analogs is currently slated to begin Phase III development as an oral formulation using Emisphere's drug delivery technology in 2016.
Novo Nordisk has recently expanded its relationship with Emisphere by licensing the technology for the oral delivery of four molecules targeting metabolic indications.
Emisphere also counts Novartis as a valued partner in which three peptides have been brought into development.
Please use the form below to send us your business enquiry.