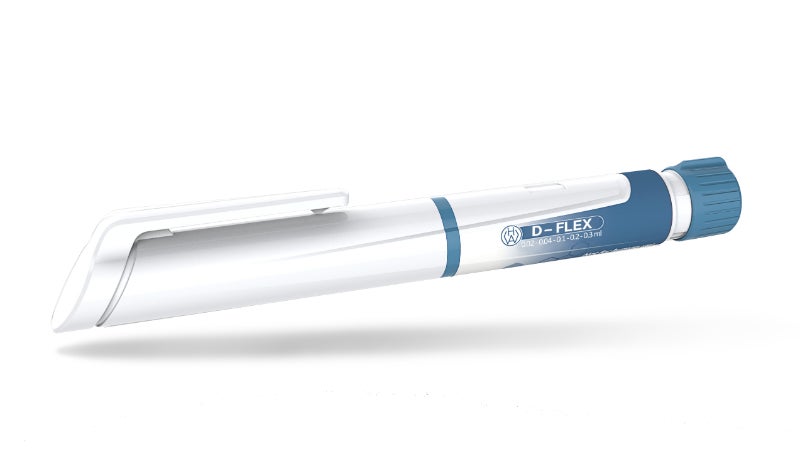 The Haselmeier D-Flex is a disposable pen for use with 3ml cartridges.
Its design covers a freely selectable regular or irregular dose regimen. The platform can be set to deliver just one single dose (Single Fix Dose) or a variable number of fixed doses (Multi Fix Doses). An easy adaption to a different number of pre-selected doses is also possible.
The D-Flex presents all required fixed doses in only one device, where other solutions would be using multiple devices for each one of the fixed doses. The pen-system is equipped with a proprietary mechanism to prevent unintended dose selection.
D-Flex is the ideal and flexible platform designed for easy customisation of preset dose volumes. This platform accompanies and supports you from dose escalation studies to commercial product and adds potential to reduce 'time-to-market' and 'capital index (CAPEX)'. The dynamic D-Flex is available in a high-quality plastic version.
The D-Flex pen system incorporates the following features:
• Disposable pen
• Singe fixed or variable fixed dosages in one pen
• Manual injection
• Multiple injection
• Dose correction to avoid injection errors
• Easy adaption to different dose requirements
• Prevention of unintended dosages
Type 2 diabetes is a global health problem. According to expert estimates, the number of patients worldwide will increase by 48% by 2045.
The D-Flex injection pen can do more than previous pens. D-Flex can be configured for several fixed-dose values and is thus a variable fixed-dose pen.