Fabtech Technologies International has been providing turnkey solutions to the pharmaceutical industry for the last 12 years. The company, which has over 400 employees, supplies a large range of granulation machinery for use in pharmaceutical manufacturing.
Wet mixing with FT Granulator
Fabtech's FT Granulator is a mixing unit with a bottom-entry agitator and side-mounted chopper for granulation. It is used for dry blending, wet mixing, preparation of dough and granulation, by cutting the wet mass into small granules. It agitates the contents of the bowl at a moderate speed with mixing blades, and then runs specially profiled cutter blades at high speed to shear the circulating powder and break down the lumps and aggregates.
This technique ensures uniform granules and distribution of ingredients, while increasing productivity and reducing mixing time. The machine is cGMP-compliant.
Drying / granulation and coating with FT Processor
Fabtech's FT Processor is a specially-designed machine used to mix various types of powders together. It uses turbulence created by the air coming through its air handling unit, with the introduction of a binding solution causing the particles agglomerate together during fluidisation. Agglomeration taken place when the surface of the particles partially dissolve and stick together. The dehumid / hot / clean turbulent air, measured binder spray and sequential bag shaking make Fabtech's FT Processor ideal for rapid formation of uniform size granules and minimum batch time.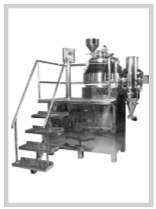 FT Granulator.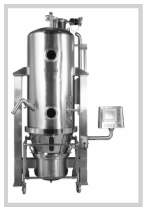 FT Processor.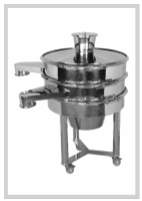 FT Sifter.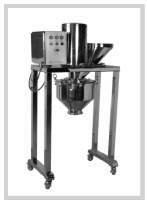 FT Co-Mill.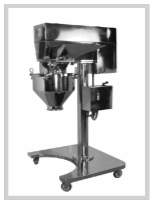 FT Multi-Mill.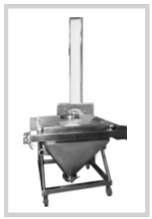 FT Blender.
As well as being cGMP-compliant, the machine has precise temperature control, intelligent process control and safety interlocks to ensure efficient operation.
Sifting with FT Sifter
FT Sifter contains circular gyratory screens used to separate solids from solids. FT Sifter also consists of a specially-designed motor mounted vertically at the centre of the screen's base plate. The screen is located between the feeding hopper and bowl, with material fed onto the centre of the top screen. The undersized material passes rapidly through the screen during its travel to the periphery. The oversized material gets continuously discharged through a tangential outlet.
This cGMP-compliant machine is designed to be easily dismantled for cleaning, and operates noiselessly.
Particle reduction through variable force with FT Co-Mill
FT Co-mill is designed to utilise the principle of variable force swing blades having both knife and impact edges rotating within a carefully selected screen to control size reduction. Material fed into the processing chamber moves to the periphery and passes through the screen radially and tangentially. Finally, the processed material gets collected into a container that is kept below the processing chamber.
Wet / dry granulation and pulverisation with FT Multi-Mill
Multi-Mill machines are widely used for wet / dry granulation and pulverisation. FT Multi-mill is designed to utilise the principle of variable force swing beaters with knife and impact edges rotate within a selected screen. The material fed in the hopper enters into the processing chamber, moves to the periphery and passes through the screen.
The Multi-Mill has been designed for maximum efficiency; contact parts can be quickly and easily dismantled for cleaning, and the machine is designed to be operated continuously. It also comes with castors so the machine can be easily moved.
Homogenous mixing with FT Blender
We provide a range of blenders that are extremely effective for mixing dry powders and granules in a homogeneous manner. These are the Conta, Double Cone, Octagonal and 'V' Blender. In order to ensure proper mixing, the blender is filled up to two-thirds of its maximum volume.
The Conta and Double Cone blenders are designed to be flexible, and are compatible with a variety of bin sizes. The blenders also feature a limit switch to prevent accidental operation.
Automated tablet coating with FT Coater
Fabtech's Autocoater is an automated tablet coating system for efficient film coating of tablet cores. The machine is cGMP-compliant.
The main unit consists of a cylindrical perforated pan with conical ends in a SS double-walled enclosure. During the coating process, coating fluids are sprayed (film coating) through multiple airborne spray guns mounted within the pan.
A peristaltic pump is employed for precise delivery of coating fluids. The tablet bed is gently and efficiently mixed during pan rotation, with the aid of mixing baffles attached internally within pan. The coated tablet cores are dried with heated, dehumidified air supplied from an AHU inlet that contains a heating system. It also has a filtration system of 10μ, 5μ and 0.3μ HEPA filters. As a result, the applied coating is uncontaminated, dust-free and has optimised air volumes once dry, producing uniformly-coated tablet cores.
For more information about Fabtech's range of granulation products, please contact us using the details or form below.