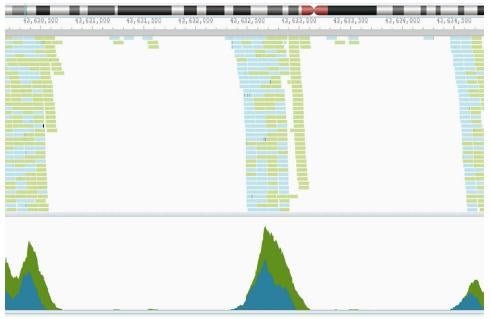 In humans, only 1%-2% of the genome is protein coding, the so-called exome. Exome sequencing is favoured over whole genome sequencing due to costs, efficiency and the easier interpretability of a much lower data volume compared to whole genome sequencing.
It gains more and more clinical relevance in the determination of rare diseases as well as for cancer research and diagnostics.
Furthermore, it's a very important screening tool for genetic variations e. g. involved in mental disorders such as schizophrenia and is therefore increasingly used as one genomic application in drug discovery.
Exome analyses are frequently conducted as trio analyses with one patient plus healthy parents, who serve as controls to filter out benign variants. They are not only performed on behalf of companies or academic research organisations, but also gain more importance in diagnostic applications for individuals.
The most common technologies for exome analysis are based on in-solution hybridisation. They use a protocol that first generates a whole genome library, and then enriches the exome portion of the genome.
The well-established kits for this kind of analysis are from NimbleGen, Agilent and Illumina. The exome enriched DNA is then primarily sequenced with Next Generation Sequencing systems from Ilumina, like Illumina HiSeq. This approach is typically selected for projects with large sample numbers.
One limitation is the incomplete coverage for some genetic loci. More consistent sequence coverage can be achieved by using a PCR-based exome capture approach offered by Ion Torrent. This approach allows a very fast and a more uniform exome analysis ideal for small to mid-size sample numbers.
Eurofins Genomics offers all the described technologies to guarantee an optimal solution for every exome sequencing project. Further, we offer DNA extraction from different kinds of samples such as cell lines or FFPE, library construction, target enrichment and sequencing followed by data analysis using state-of-the-art bioinformatics pipelines.
Which process fits best with the project needs will be discussed in detail with the client.
Pharmacogenetic and pharmacogenomic analysis of the effects of pharmaceutical compounds helps to realise the concept of individualised drug therapy or personalised medicine.